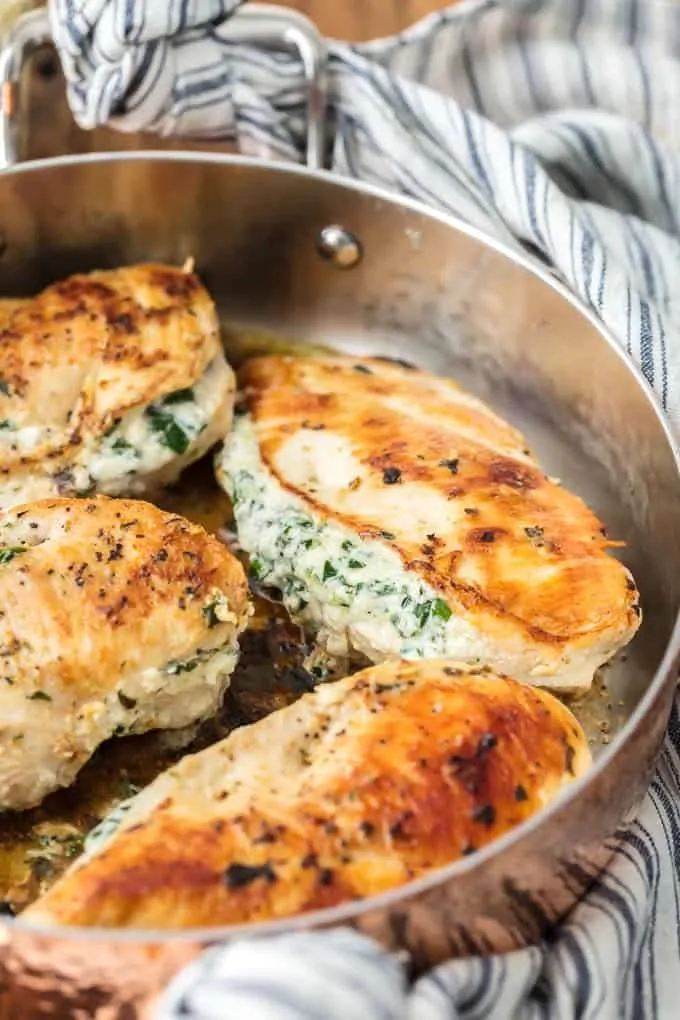 This Spinach Cream Cheese Stuffed Chicken is one of the recipes that touch my heart. I tried this recipe last night, and it turns out great. I feel so excited to be able to share this recipe to you guys! A recipe that you can't wait to try at home. This Spinach Cream Cheese Stuffed Chicken is definitely a keeper!
I've always been a chicken breast fanatics. Oh! Is that even new to you? If you have been following this food recipe blog, you can tell that it is obvious. Some chicken breast recipe  that I made are:
Easy Lemon Chicken Breast Recipe
Easy Baked Chicken Breasts with Brown Sugar and Garlic In Under 30 Minutes and 4 Ingredients.
Chicken with fresh Tomatoes-Basil
Chicken cooked in Coconut Milk Recipes
Who says that chicken breast is boring? If you want something new and healthy this Spinach Cream Cheese Stuffed Chicken will make your chicken breast recipes never be boring again. Well, I don't usually cook stuffed chicken so this shot makes me super excited.
The Simplest Stuffing Ever
When we talk about stuffing recipe thing, people might think it's a hassle and consumes time. But I'll assure you this recipe can be done in just 20 minutes if you don't mess up. Especially, if you're good at multitasking. While heating up the oil, chop the spinach and prepare the other ingredients.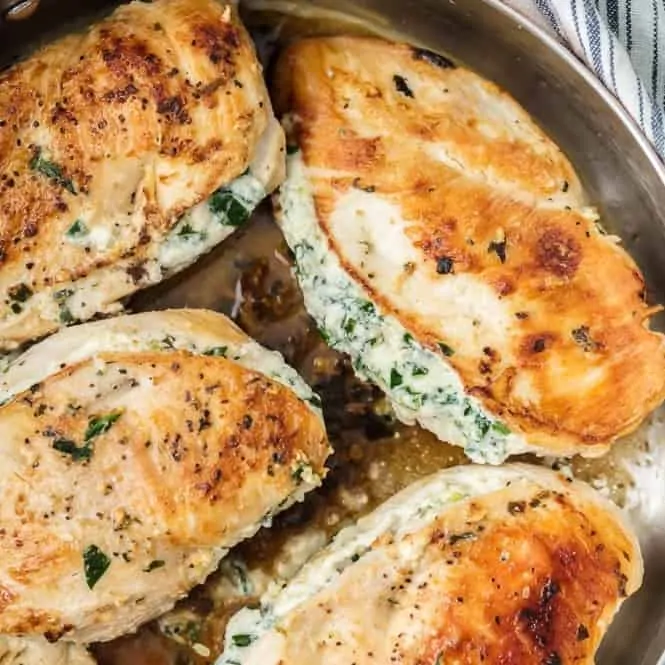 For this recipe I use fresh baby spinach, but, you can also use dried spinach to prevent the dish from producing too much water.
It is also good when you have a guest at home, something casual but impactful. Since most children love chicken but don't like vegetables, this stuffed chicken is a great idea to sneak vegetable in their favorite food without noticing. Well, kids aren't blind but even they notice the veggies in there, they will still love the taste of cream cheese/chicken/spinach.
Spinach Cream Cheese Stuffed Chicken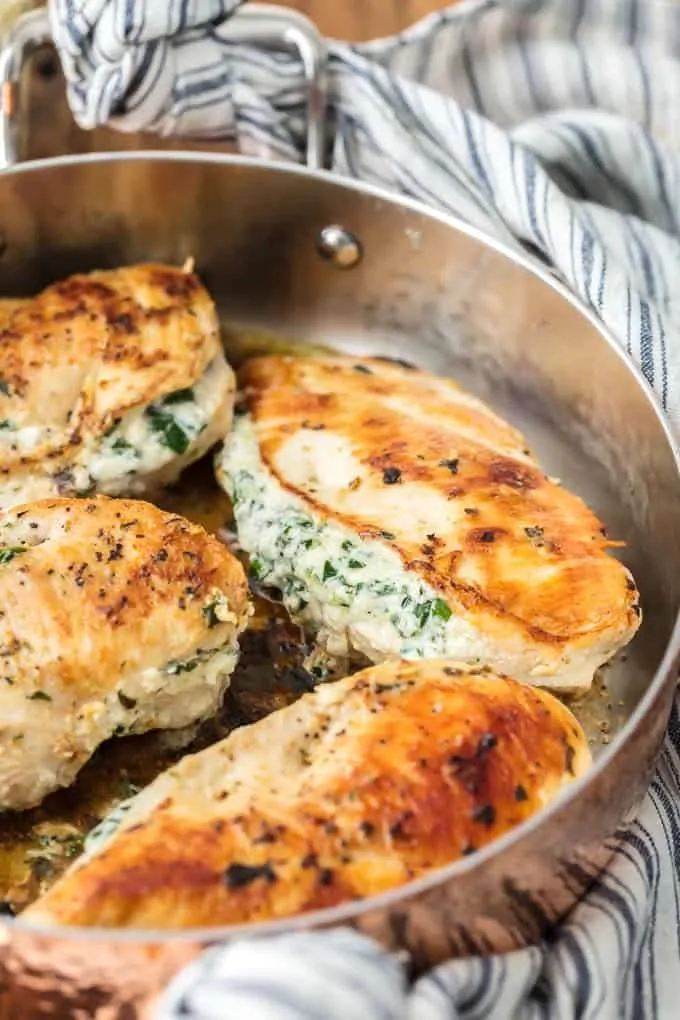 Ingredients
4 chicken breasts
salt and pepper to taste
3 tablespoons canola peanut or olive oil
2 cups fresh baby spinach leaves
1 5.2 ounce package garlic-herb cheese such as Boursin cheese
½ cup dry white wine optional
Instructions
Cut about a 3-inch wide pocket into a thick side of each breast almost to the other side, but don't cut all the way through. Season both sides of each breast with kosher salt and freshly ground black pepper.
Heat oil & butter in a large skillet over medium-low heat. Turn the heat to medium.
Place the spinach in the skillet and sauté the spinach about 30 seconds, just long enough to wilt but not burn. Dab the spinach on a paper towel to remove excess oil.
In a medium bowl, mix the cheese and spinach until combined. Stuff the chicken breasts with the spinach/cheese mixture and secure the breasts with toothpicks.
Place the breasts in the hot skillet and leave for 4 minutes or until the chicken turns golden brown. Carefully turn the breasts over and cook another 3 minutes or until golden brown.
Reduce heat to low, add wine (if using), cover and cook another 3-5 minutes or until the meat is no longer pink in the middle. A meat thermometer should read 160°F when placed in the thickest part of the meat.
https://appetizergirl.com/chicken/spinach-cream-cheese-stuffed-chicken/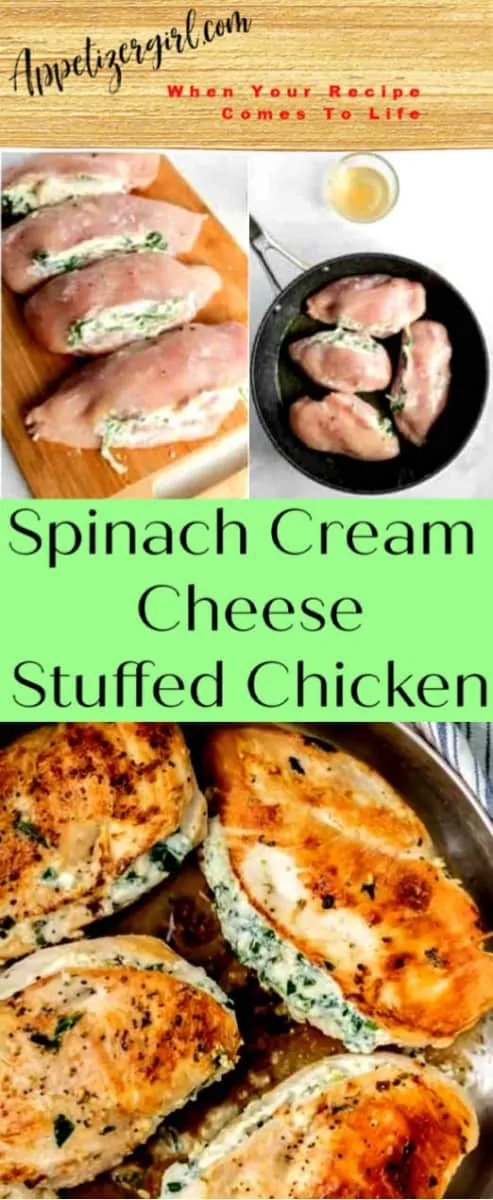 I currently teach baking courses and have worked in a number of cafes and restaurants.
Check out my About Us page to find out more about me and my passion for cooking.
Welcome to Appetizer Girl