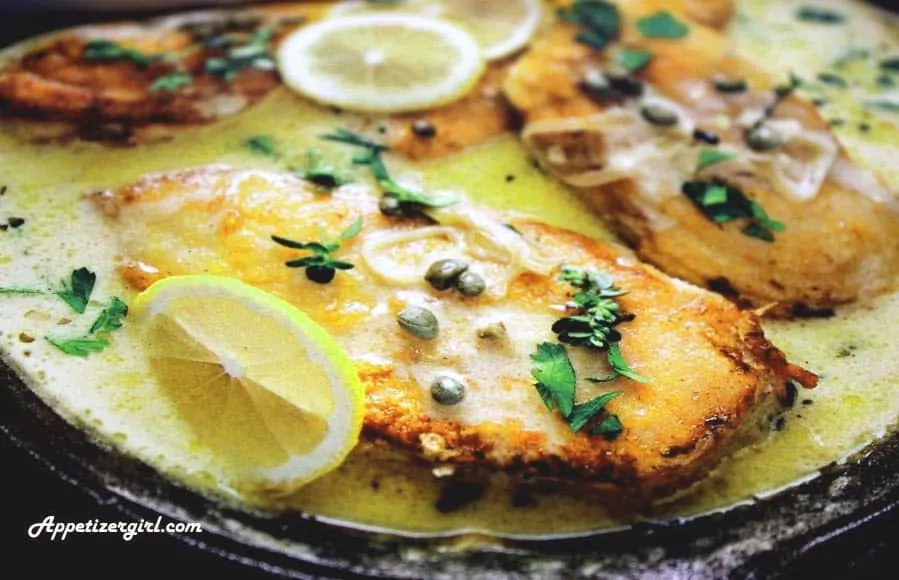 Piccata is an Italian term that describes the process of preparing food mainly slicing, dredging the sliced meat into flour, then sauteed in lemon juice, capers, and butter.
Italian cuisine is one of my favorite dishes. When we go out for dinner, I often order Italian dishes. Since most of the restaurants are closed due to this COVID-19 pandemic, I decided to make my version of chicken piccata. It is a good thing to save money while making a restaurant-quality meal. This chicken piccata is a win-win recipe at home.
Everything with this chicken piccata is perfect:  the chicken, the sauce, and the salty capers. With the easy-to-follow instructions, you can enjoy this dinner in under 30 minutes.
What is Chicken Piccata?
In Italy, it is considered a "second course" or "secondo". They call it that name because piccata is usually serve after a pasta course. But, in other countries like here in the U.S it serves as the main course but with sauce.
Chicken Piccata is a simple dish made from chicken breast fillet. The chicken fillet was dredged into the mixture of flour salt and pepper, after that, fried in the pan using olive oil and butter until it becomes brown. Transfer the chicken breast fillet to a plate.
I'm really impressed with the outcome, in fact, my husband likes it soo much that he requested me to make it again the next day. I'm begging you, friends, to give this recipe a try, you would like this.
You probably familiar with this recipe, but just want to make sure that you are doing this recipe right, so I won't disappoint you.
How to make Best Chicken Piccata Recipe Ever
In order to make the best chicken piccata, the chicken should be perfectly golden brown. How to make this possible?
Fry the chicken with olive oil and butter.
Does frying chicken with oil and butter new to you? Well to be honest I don't think so, most of us know about this technique. I'll give you two reasons why you have to start frying your chicken with butter and olive oil.
It can make the chicken cook beautifully
Since butter has a very low burning point it prevents the oil from burning quickly, on the other hand, olive oil can help the butter not to brown quickly.
It can enhance the flavor.
Try this next time you cook and see the difference. This can be a technique that you can practice every time you fry chicken.
In the same pan where you fry the chicken, add the remaining olive oil and butter. Add the garlic, eschalot, and thyme leaves, stirring it until the eschalot has softened. I bet the aroma of herbs making this recipe appetizing.
Then, you can add lemon juice, thickened cream, and chicken stock. At this time, season it with salt and pepper, then let it simmer.
Now, put back the chicken in the pan, simmered it for 10 minutes until the sauce thickened, and add the slices of lemon. Finally, remove the pan from heat and add capers, parsley, and more thyme on top.
This recipe is easy, delicious and you can adjust the ingredients to suit your taste. I have tried this recipe with mushrooms as well which was incredibly tasty. I love mushrooms and I hope you will forgive me cause I'm running out of mushroom when I cook this recipe.
Some prefer to use white wine instead of chicken stock, up to what you prefer to use.
What can I serve with Chicken Picatta?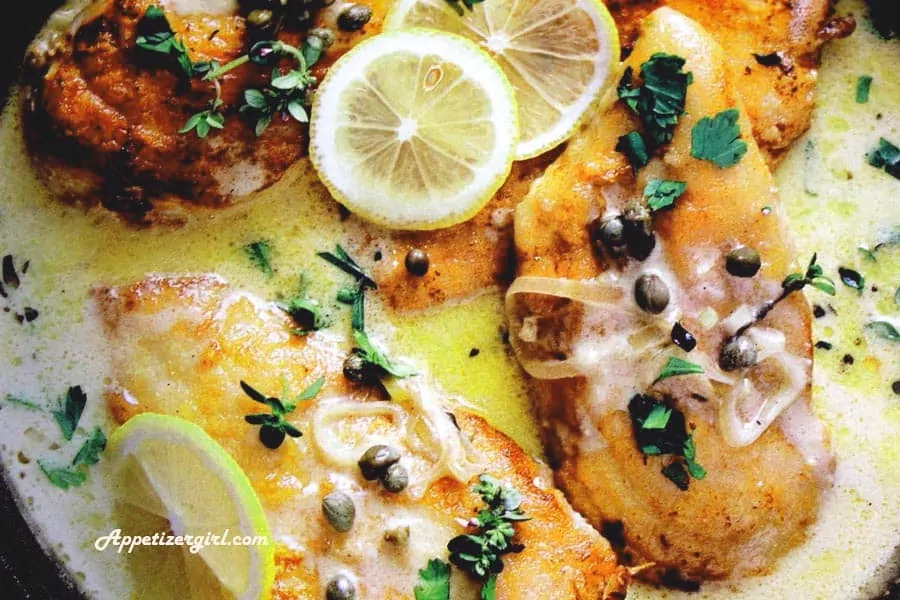 This best chicken piccata can be served with a salad:
You can serve this with starchy carbs:
mashed potato
brown rice
pasta
steamed green beans
I usually serve it with a fine pasta with long strands like angel hair, drizzled with a little lemon olive oil, red pepper flakes, chopped cilantro, or Italian parsley (Baked Spaghetti).
The direction is easy to follow. Even if you are not a great cook, you will not miss up with this recipe.
More of Our Favorite Chicken Recipe
You can give a try at some of my Chicken Recipes:
If you will try this recipe, feel free to leave a comment below. Your feedback is appreciated.
Best Chicken Piccata Recipe Ever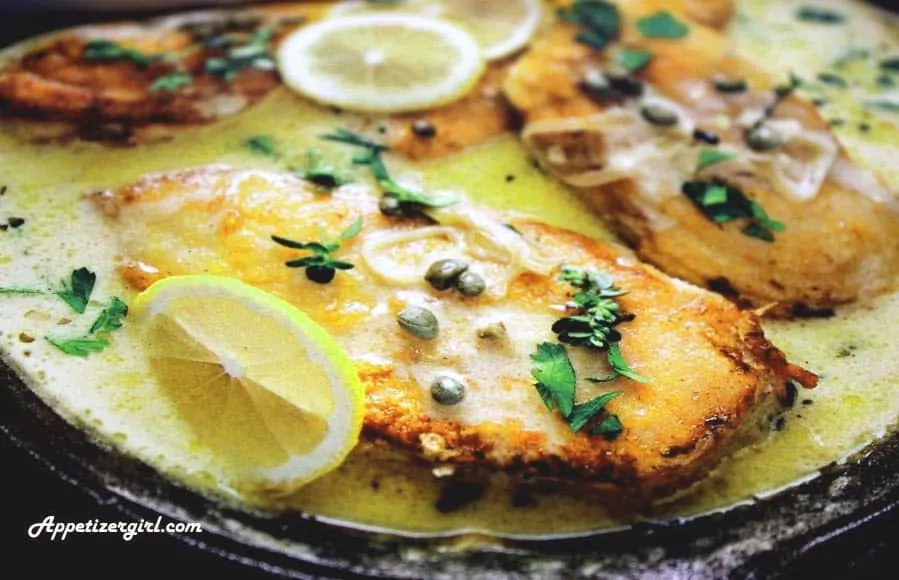 Ingredients
4 small Chicken Breast Fillet
2 tbsp Extra Virgin Olive Oil
1/4 cup plain flour
40 g butter
2 eschalots, thinly sliced
2 garlic cloves, crushed
1 tsp thyme leaves, plus extra to serve
1 cup chicken stock, salt-reduced
1/4 cup lemon juice
300 ml tub light thickened Cream for cooking
1 small lemon, thinly sliced
2 tbsp drained Baby Capers, rinsed
1 tbsp fresh chopped Parsley leaves, flat-leaf
Salt and Pepper
Instructions
Place Flour in a large snap-lock bag. Season with salt and pepper. Place Chicken in the snap-lock bag.Seal the bag and shake to coat chicken in flour.
Heat half the oil and half the butter in large frying pan over medium high-heat. Add chicken to pan, shaking off excess flour. Cook for 4 to 5 minutes each side or until it turn golden brown. Transfer to plate.
In the same pan, add the remaining oil and butter into the pan. Add garlic, eschalot, and thyme. Cook and stir for 2-3 minutes, until eschalot has softened. Add the chicken stock, lemon juice and cream. Season with salt and pepper. Stir to combine. Bring to a simmer. Return chicken to pan. Reduced the heat to low. Simmer, uncovered, for 10-12 minutes, or until chicken is cooked through and the sauce has slightly thickened.
Add the lemon slices. Remove from heat. Sprinkle with capers, parsley, and extra thyme. Serve with mashed potato or plain rice.
https://appetizergirl.com/chicken/best-chicken-piccata-recipe-ever/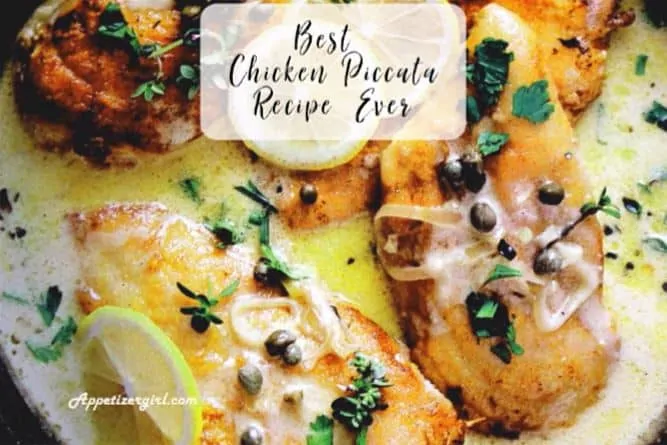 I currently teach baking courses and have worked in a number of cafes and restaurants.
Check out my About Us page to find out more about me and my passion for cooking.
Welcome to Appetizer Girl