This Chicken with Sweet Potato Bowls and quinoa is good for lunch and dinner. It is pack with nutritious ingredients!
I am relaxing on the couch while looking at these delightful photos of the meal that we have from last week. Pretending that I myself put together and that I will write a pleasing, full of thoughts post. Post about how much I love this Chicken with Sweet Potato and Quinoa Bowls with Tomatilla drizzle.
But, considering that I just back home yesterday from a splendid outing with my girlfriend gang. That said trip makes my mind clot of crushed, something like an end of vacation feeling. I know those loves outing can imagine how I fell. I even think that I am still hiking in a nature park while talking funny topics with the gang, capturing the moment, enjoying fresh fruits and vegetables from there own farm. A precious moment, it was fun!
I have to catch up with cleaning, work, replying email. Nevertheless, I'm finding my way back in my usual lifestyle with a simple + yummy + delicious recipe post.
Let's dig dip with this Chicken with Sweet Potato Bowls and quinoa. Let's aboard this delectable train.
This bowl is flavorful, vibrant, nutritious with multi-texture that surely will satisfy your taste. That's because of juicy grilled chicken, the seasoned quinoa, and of course, for the name of the vegetable I added avocado on top, and if you think this will be sauceless, tomatillo sauce is an answer. Mind-blowing dish!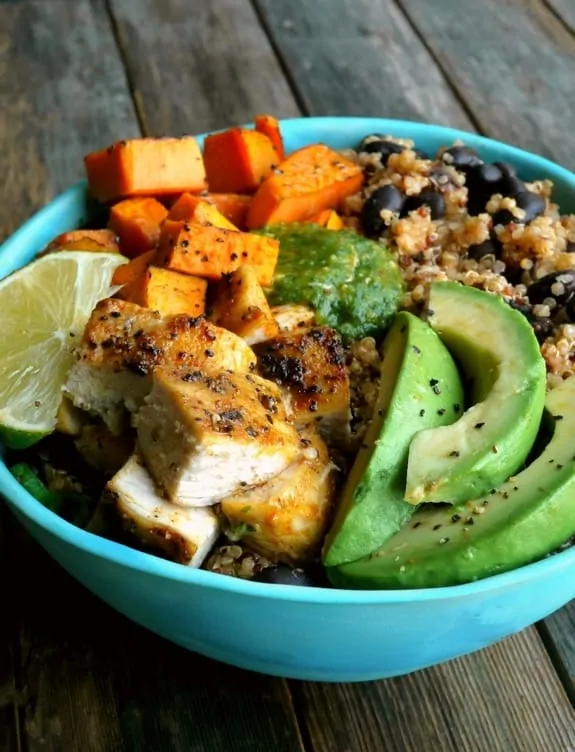 It can be done quickly and looks really pretty. You might want to check other chicken recipes that I made. Maybe you want to give this Healthy Chicken and Sweet Potato Recipe a try. If you want another unique chicken recipe you can also try this Baked Coconut Chicken with Strawberry & Mango Salsa.
Chicken with Sweet Potato Bowls and Quinoa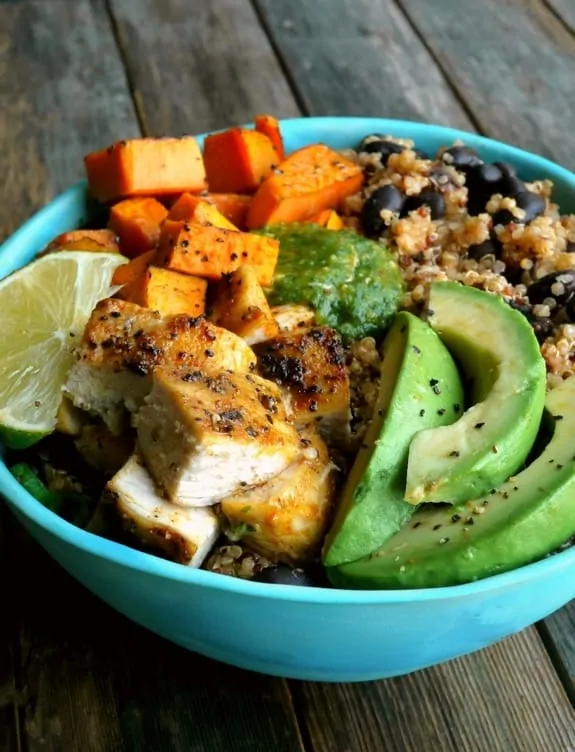 Ingredients
TOMATILLO SAUCE:

1 lb tomatillos, husks removed
6 cloves of garlic
1 Tablespoon olive oil
4 cups (3 oz) loosely packed baby spinach
1 Tablespoon sugar
1 teaspoon kosher salt
1 teaspoon red pepper flakes

CHICKEN:

1 lb skinless, boneless chicken breast
salt and pepper
smoked paprika
olive oil

SWEET POTATOES:

1 large sweet potato, peeled and cut into 1-1/2" cubes
1 teaspoon olive oil
salt and pepper

QUINOA:

1 cup dry quinoa, rinsed
1 teaspoon chile powder
1/2 teaspoon kosher salt
1/4 teaspoon smoked paprika
1/4 teaspoon garlic powder
1/4 teaspoon ground cumin
1 (14 oz) can black beans, rinsed
juice of one lime
Instructions
Preheat oven to 400°F Quarter tomatillos. Place tomatillos and garlic in a bowl; add oil and toss to coat. Spread tomatillos and garlic cloves in a baking dish; roast for 35 minutes. When finished, place roasted tomatillo mixture in a food processor; add spinach, sugar, salt and red pepper flakes. Process until smooth. Set aside or cover and refrigerate is using later.
Season chicken with salt, pepper and smoked paprika and drizzle with oil. Grill chicken over med-high heat juices run clear. Set aside.
Toss cubed sweet potatoes with oil salt and pepper and spread out evenly on a baking tray. Bake in a 400 degree F oven for 15 minutes or until they are easily pierced with a fork.
Prepare 1 cup of dry quinoa according to package directions. In a small bowl combine chile powder, kosher salt, smoked paprika, garlic powder and ground cumin. Stir spice mixture into prepared quinoa along with black beans and lime juice.
Divide quinoa, chicken and sweet potatoes evenly among four bowls. Drizzle with tomatillo sauce.
Optional extras: Lime wedges, avocado and Sriracha mayo.
https://appetizergirl.com/chicken/chicken-with-sweet-potato-bowls-and-quinoa/
I currently teach baking courses and have worked in a number of cafes and restaurants.
Check out my About Us page to find out more about me and my passion for cooking.
Welcome to Appetizer Girl