I don't know if your family is anything like mine, but we've been passing a cold around. So it's time to pull out my tried and true homemade chicken noodle soup. In my mind, there is nothing better than a good homemade chicken noodle soup.  There is something magical about the way this soup can help cure the common cold.  It has been said that chicken noodle soup sooths both the common cold and the flu. The hot soup helps break up congestion. The salt in the soup and the warmth of the broth soothes a sore throat. And studies have claimed that there are even anti-inflammatory properties. This version is so easy – and delicious that even a sick momma can make it with very little effort.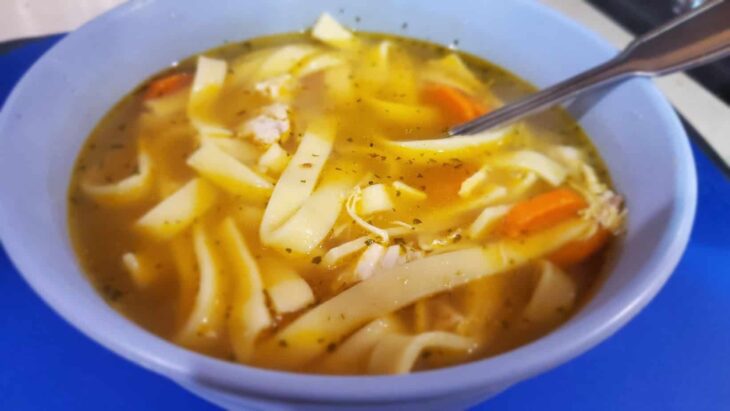 This soup is so versatile, you can use fresh chicken, rotisserie chicken, pre-cooked shredded chicken, or even leftover chicken.  My preferred method is pre-cooked pulled chicken breast. I just pick that up at our local grocery store in their deli section. Another reason this soup is so versatile is if the family feels like more noodles, we add more noodles. Bring on the carrots they say, great we add more carrots. We've even added celery or peas when we've had the urge to do so. Below I have given my standard go to recipe but feel free to make it over and over tweaking the recipe and playing with it tell you make it your own.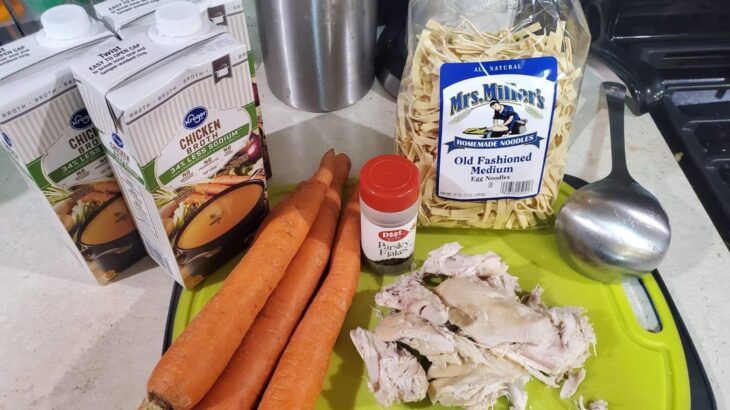 You start by peeling and slicing the carrots about ⅛ inch to ¼ inch thick rounds.
Next, preheat a pot on medium-high heat and warming 2 tablespoons of oil – any type of vegetable oil (standard vegetable, canola, olive, etc.) works. I typically use canola oil. Once the oil shimmers slightly, but doesn't start smoking, add the carrots and a couple pinches of salt to the pot.  Cook the carrots over medium heat for about 5 minutes, stirring occasionally, until the outside is slightly softened but the middle is still crunchy – they will continue cooking later.
Next, add the chicken to brown slightly, giving it a light crust.  Add another pinch or two of salt and freshly ground pepper, to taste.  Add 96 ounces (three 32-ounce boxes) of chicken broth plus 4 cups of water to the pot and bring to a boil. I use low sodium chicken broth since we added salt during the carrot and chicken steps. This allows more control over the amount of salt in your soup.
Once boiling, add the egg noodle pasta and cook for 20 minutes.  Add a teaspoon of dried parsley to the pot and cook for an additional 5 minutes.  If you are feeling slightly ambitious you can use fresh parsley, finely chopped. I use dried parsley to make it easier on myself. Salt and pepper to taste and voila you have soup! Ready to warm the soul and steer you back to your vibrant self.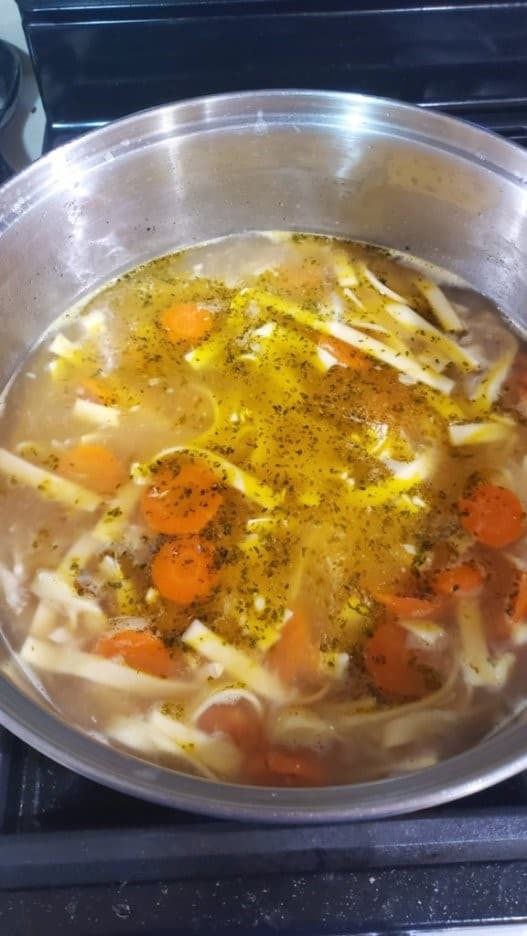 I hope you like this soup and that it's able to work its magic for you next time your family is fighting a cold, or if you just want to enjoy a good bowl of homemade chicken noodle soup.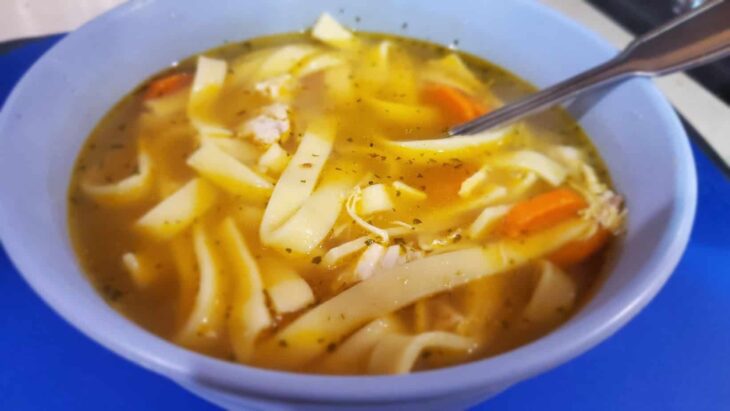 Ingredients
Oil
3 large carrots
1-pound cooked chicken
96 ounces low sodium chicken broth
4 cups water
16 oz medium or wide homemade style egg noodle pasta
1 teaspoon dried parsley flakes
Salt
Pepper to taste
Instructions
Peel then slice carrots to ⅛" – ¼". Heat oil in pot over medium-high heat. Add the carrots and 2-3 pinches of salt and cook for 5 minutes, stirring occasionally.
While the carrots are cooking, chop the chicken into bite-sized pieces. Add chicken and an additional pinch – or two of salt and some freshly ground black pepper. Cook for an additional 5-7 minutes, or until lightly browned – stirring occasionally.
Add chicken broth and water to the pot and bring to a boil. Once boiling, add the pasta and cook for 20 minutes.
Add dried parsley flakes and cook for an additional 5 minutes.
Salt and pepper to taste.
https://appetizergirl.com/appetizer/chicken-noodle-soup/
I currently teach baking courses and have worked in a number of cafes and restaurants.
Check out my About Us page to find out more about me and my passion for cooking.
Welcome to Appetizer Girl