Do you love cupcakes? How about Tropical Passion Fruit Cupcakes? Hello everyone! It's Clare here with this week's Delicious recipe. Just last week we ended up holding a cake stall right at work and since I did not have a whole lot of time to bake, I made some cupcakes. Because it is passion fruit season here in New Zealand I decided on making passion fruit cupcakes along with passion fruit cream cheese frosting.
These cupcakes were a treat to make. With passion fruit syrup in the center and a sweet passion fruit frosting sprinkled with coconut this is pure heaven to your taste buds.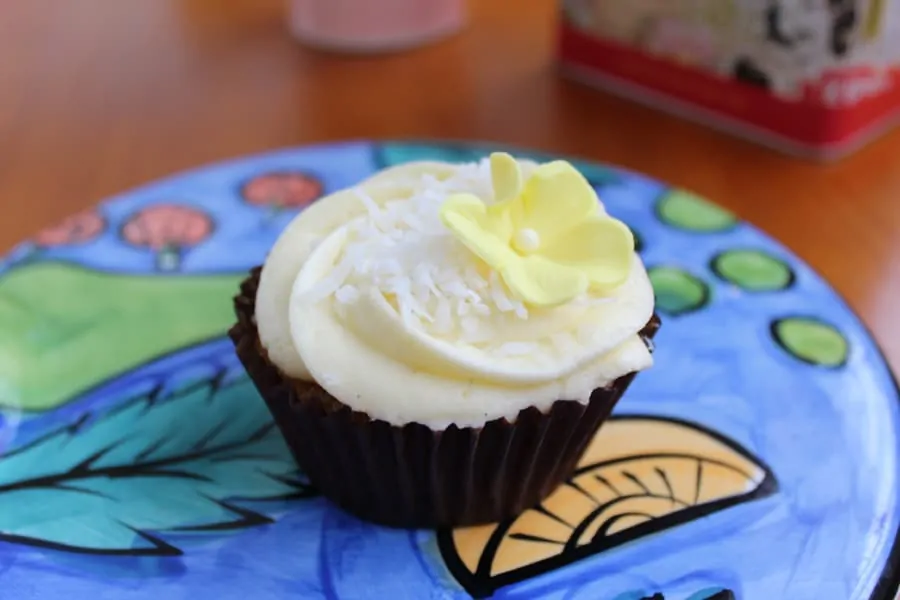 Here is the recipe:
Tropical Cupcakes with Passion Fruit Frosting
Ingredients
Tropical Passion Fruit Cupcakes
125 gm of softened unsalted butter
¾ cup of caster sugar
2 medium eggs, beaten lightly
2 cups of self raising flour
¼ cup of strained fresh passion fruit juice (about 4 - 5 passion fruit)
1/3 cup of buttermilk
Passion Fruit Icing
30 gm of unsalted softened butter
60 gm of cream cheese
1 teaspoon of finely grated lemon rind
1¼ cups of sifted icing sugar
The pulp of 1 passion fruit
Instructions
Preheat the stove or oven to 180°C/350°F. Place 12 clean cupcake liners into a clean 12 hole muffin tin. Sift all of the flour into a small bowl and then set to one side.
In a medium sized bowl, carefully cream together the softened butter along with the caster sugar until the mixture is light and very creamy. Gradually beat in the egg mixture. If the mixture begins to look a little bit curdled, add a tablespoon or more of the flour mixture. Gradually begin adding the flour to the mix, alternating between the passion fruit juice and the buttermilk. The mixture ought to be quite soft, so you might need to add a little bit more buttermilk.
Carefully spoon the mixture right into the cupcake liners.
Bake all of the cupcakes on the middle rack in the oven for about 20 to 25 minutes or until the tops of the cupcakes are a golden colour. Remove the muffin tray from the oven and then cool the cupcakes using a wire rack. Allow the cupcakes to cool, then top with the passion fruit icing.
In a small sized bowl cream the butter, the cream cheese along with the grated lemon rind until the mixture becomes a light and fluffy consistancy. Mix in the icing sugar along with sufficient passion fruit pulp to make a soft icing. Ice the cakes very generously with the icing and serve.
https://appetizergirl.com/cupcakes/tropical-cupcakes-with-passion-fruit-frosting-2/
I currently teach baking courses and have worked in a number of cafes and restaurants.
Check out my About Us page to find out more about me and my passion for cooking.
Welcome to Appetizer Girl