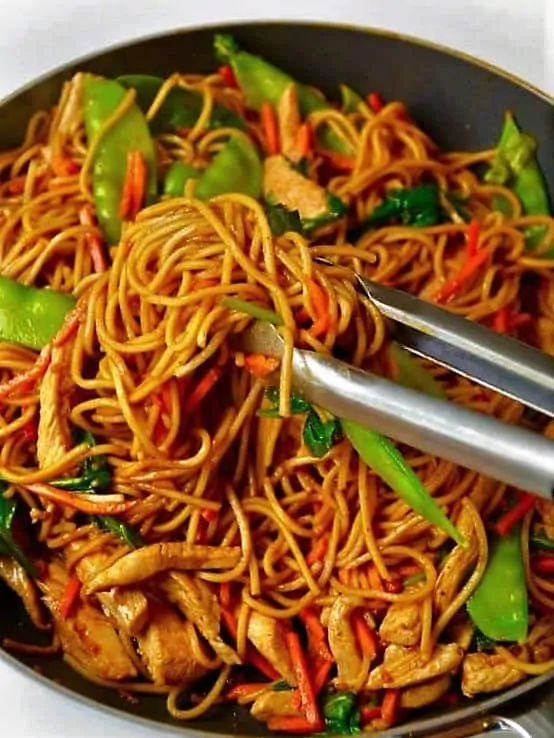 It's a Lo Mein Day! These 20 minutes wonder inspired by Asian noodle stir-fry is super easy. Load with crispy veggies, chicken, and long noodles in a saucy sauce. A family favourite dinner that you would love.
I know most of you guys are familiar with Lo Mein. Please say yes!  For those who aren't familiar with Lo Mein and for those who haven't tried it give me a moment to introduce it to you.
Lo Mein is a Chinese dish with egg, noodles, and vegetables. Usually cooked with chicken, beef, pork, shrimp or seafood and vegetables. When you were kids you might have tried eating Lo Mein, but you probably didn't notice that it was Lo Mein. Your parents possibly ordered take-out from a Chinese restaurant, and you're enjoying it. Way back when I was younger my mom loves to make this recipe at home, I could still remember the taste of Lo Mein made by her, and it takes me a long time to finally be able to copy her style.
If you never tried this all your life, let me take you to the wonders of this Easy Chicken Lo Mein!
Actually, who would know that this Chicken Lo Mein is easy to make at home? And if you already know how to make this Lo Mein, Why is it that you didn't tell me?
For those newbies here, I bet you're curious right now thinking, what vegetables can be added in Lo Mein recipe?  Cabbage, broccoli, mushrooms, green and red pepper, carrots, snow peas, and spinach.  I presume these veggies can be found in your fridge right now.  Another thing I like about Lomein is that it doesn't need fancy additional ingredients. Just sesame oil and soy sauce that you have from your fridge and everything turns out perfect, for instance.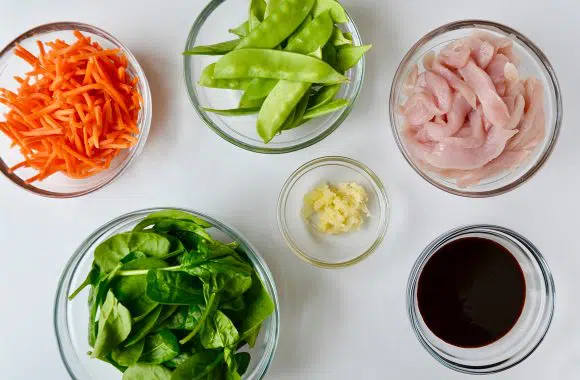 If you like this recipe feel free to leave a comment below. You can also follow my  Facebook, Pinterest, Twitter for more updates and recipes.
Easy Chicken Lo Mein at home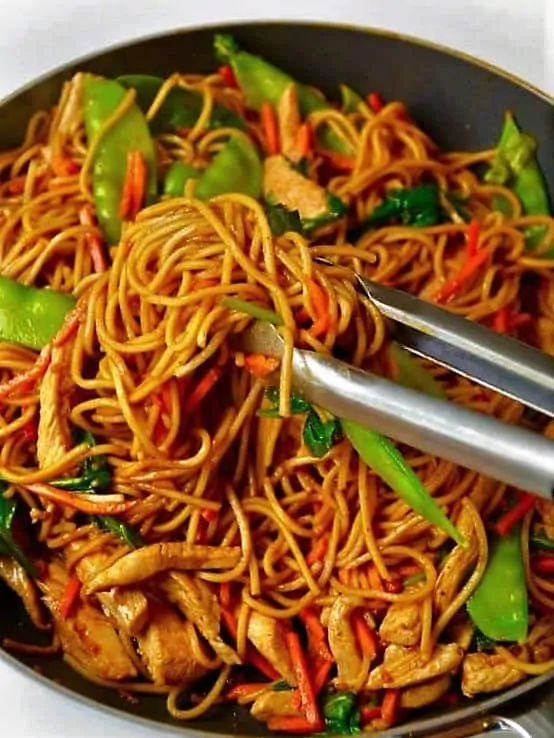 Ingredients
FOR THE SAUCE:

3 Tablespoons low sodium soy sauce
3 Tablespoons hoisin sauce
1 teaspoon sesame oil

FOR THE LO MEIN:

8 ounces uncooked lo mein noodles (See Kelly's Note)
2 teaspoons olive oil
1 teaspoon sesame oil
1 1/2 Tablespoons minced garlic
2 medium boneless, skinless chicken breasts, cut into thin strips
1 cup shredded carrots
1 cup snow peas
3 cups fresh spinach
Instructions
MAKE THE SAUCE:

Whisk together the soy sauce, hoisin sauce and sesame oil in a small bowl then set the sauce aside.

MAKE THE LO MEIN:

Cook the noodles according to package directions. Drain and set aside.
In the large nonstick sauté pan set over medium heat, add the olive oil and sesame oil. Once it is hot, add the garlic and chicken and cook ,stirring constantly, until the chicken is cooked through. Remove the chicken from the pan and set it aside.
Add the carrots and snow peas to the pan and cook, stirring constantly, until the vegetables are tender, about 3 minutes. Add the spinach, cooked noodles, chicken and prepared sauce to the pan and cook, stirring, until combined and the spinach is wilted, about 2 minutes. Serve immediately.
Notes
You can find lo mein noodles in the Asian foods section of most major supermarkets. If you can't find lo mein, you can substitute linguine or spaghetti.
https://appetizergirl.com/chicken/easy-chicken-lo-mein-at-home/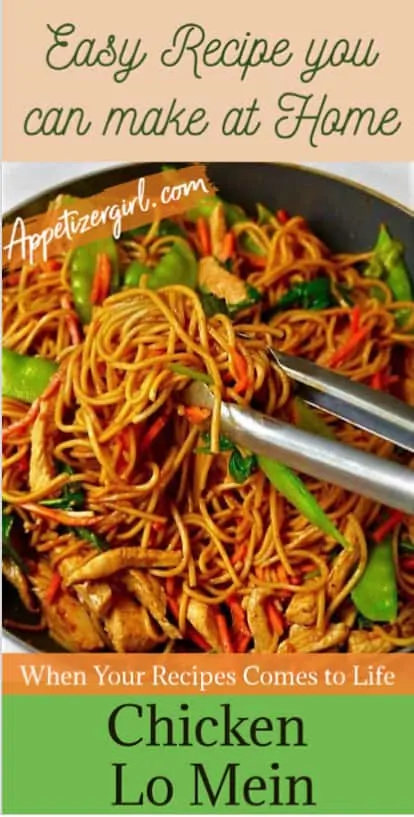 I currently teach baking courses and have worked in a number of cafes and restaurants.
Check out my About Us page to find out more about me and my passion for cooking.
Welcome to Appetizer Girl