Nothing quite says fall harvest time like sweet potatoes and brussels sprouts.  This dish has both and will leave the whole family asking for more. Even better, it reheats well for a delicious lunch the next day.
Don't let this recipe fool you, it may look a little complicated or time-consuming, but it's really not either – and definitely worth it.  The secret to making this dish work well is to organize your cooking into separate cooking periods.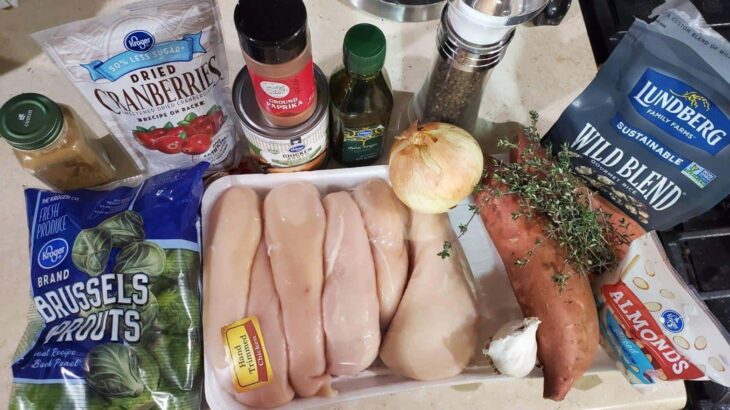 First, start with the rice.  Rinse it under cold water then cook according to package directions.  The rice I used takes about 45 minutes to cook.  
While the rice is cooking, start on the chicken.  Season both sides with salt and pepper then cook over medium to medium-high heat for 8 minutes – per side.  A trick that I use is to salt and pepper one side while in the package, start cooking it in my skillet, and salt and pepper the other side.  
While the chicken is cooking, prep all the vegetables and place them in a large bowl.  Start by chopping your onion, mincing the garlic, peeling and chopping the sweet potatoes, and washing then quartering the brussels sprouts.  After prepping each item, place them in the bowl.  Add some salt and pepper, paprika, thyme, and ground cumin.  Stir well to combine.
Begin preheating your oven to 350° F.  Once the chicken is nice and golden brown on both sides, allow it to rest while cooking the vegetable mixture.  Using the same pan as the chicken, add some oil and the vegetable mixture and cook for 5 minutes, stirring occasionally.  Add ¼ cup of chicken broth, cover, and cook on medium-low heat for an additional 5 minutes.
Once the vegetables are tender to your liking, put them back into your bowl.  Chop the chicken into bite-sized pieces and add to the vegetables.  At this point, your rice should nearly be done.  Once your rice is done cooking, add it to the chicken and vegetable mixture.  Mix in another ¼ cup of chicken broth, the dried cranberries, and some salt and pepper.  Mix everything thoroughly.  Once everything is mixed, transfer to a 9" x 13" baking dish coated with cooking spray.  Top with sliced almonds and bake at 350° for 15 to 18 minutes or until everything is warmed through and the almonds are lightly toasted.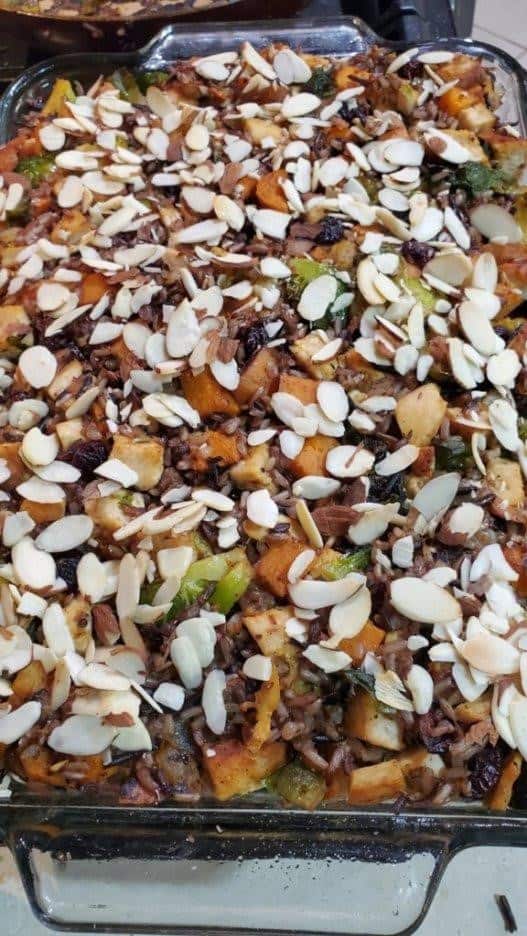 Once done cooking, allow to cool for 5 minutes. 
I hope this recipe can become a family favorite of yours, just as it is for my family! 

Best Harvest Chicken Casserole Recipe

Ingredients

Cooking spray
1 tablespoons extra virgin olive oil, divided
2 pounds boneless skinless chicken breasts
Kosher salt
Fresh ground black pepper
½ onion, chopped
2 medium sweet potatoes, peeled and cut into bite-sized cubes
1 pound brussels sprouts, trimmed and quartered
2 garlic cloves, minced
2 teaspoons fresh thyme leaves or
1 teaspoon dried thyme leaves
1 teaspoon paprika
½ teaspoon ground cumin
½ c. low-sodium chicken broth, divided
2 cups uncooked wild rice
½ cup dried cranberries
½ cup sliced almonds

Instructions

Using a fine mesh sieve, rinse rice well for 1-2 minutes under cold water.  Transfer rice to medium saucepan.  Add 3 ½ cups water and 1 tablespoon of oil.  Cover and cook over medium heat until boiling.  Once boiling reduce heat to low, enough to allow a slow simmer.  Cook rice for 45 minutes.
In a large skillet, over medium-high heat, heat 1 tablespoon of oil.  Season chicken with salt and pepper and add to the skillet.  Cook until golden brown and cooked through, about 8 minutes per side.  Remove from pan and let rest while vegetables are cooking.
While chicken is cooking, prep all the vegetables.  Place vegetables into a large bowl.  Sprinkle vegetables with thyme, paprika, cumin, salt, and pepper and stir to combine.
Preheat oven to 350° Fahrenheit and spray baking dish with cooking spray. 
Heat a tablespoon of oil over medium heat, in the same pan that was used for the chicken.  Add vegetable mixture to the skillet and cook until softened, about 5 minutes.  Add ¼ cup of chicken broth, bringing to a simmer, and cook covered on medium-low heat for 5 minutes.
Place cooked vegetables back in bowl, chop chicken into bite-sized pieces and add to vegetable mixture.  Add cooked rice, and ¼ cup of chicken broth.  Stir everything until well combined.  Transfer mixture to a baking dish and top with sliced almonds.  Cook for 15-18 minutes until everything is hot and almonds are lightly toasted.

https://appetizergirl.com/appetizer/best-harvest-chicken-casserole-recipe/
I currently teach baking courses and have worked in a number of cafes and restaurants.
Check out my About Us page to find out more about me and my passion for cooking.
Welcome to Appetizer Girl