This Thanksgiving I was all prepared to make our normal slow-roasted turkey when a few days before my sister asked me to prepare a smoked turkey as well.  Her husband had been hearing from neighbors that a smoked turkey is the only way to prepare one this year, and he had to have one.
Since they don't have a smoker, but I do, the task was on me to smoke the bird – again, in addition to the standard turkey we always prepare.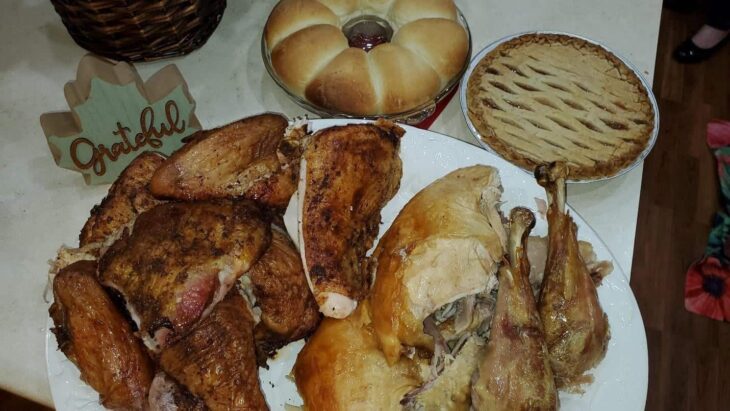 From a preparation point of view, the smoked turkey has a slightly longer prep time than the oven roasted one, but both turned out so good!
The key to any good turkey is to make sure it is well defrosted before it's time to cook (mine weren't).  I started by putting both turkey's in the fridge 2 days before they were supposed to cook, thinking that was plenty of time (it wasn't).  When the time came to get everything ready the night before the big day, both turkeys' will still about 75% frozen.  So, for the next hour to hour-and-a-half, I painstakingly sat at the sink running warm water over both turkeys, letting them soak, and continually changing the water.  Finally, they were both fully defrosted and ready to go.
Preparation
Smoked Turkey
There are many ways in which you can prepare a smoked turkey and this method is just one of those many.  There is wet brining, dry brining, injecting, whole smoked, and spatchcocked.  I chose to go with a dry brined – spatchcocked turkey.  What exactly does that mean?  Well, because the turkey I bought from the store already was in a brined solution, I didn't need to soak the turkey any longer.  Instead, I generously applied kosher salt and fresh ground black pepper over the entire spatchcocked turkey (every nook and cranny.)
What is a spatchcocked turkey you ask?  It's a turkey that is butterflied open by removing the backbone and folding in half to create one giant flat turkey.  This allows the turkey to cook more evenly and faster than a whole smoked turkey would take.
After I had spatchcocked the turkey and applied the kosher salt and pepper, I put it in the fridge overnight to allow the salt to work it's way into the bird.  It's a magical process that adds flavor and helps to keep the turkey moist while cooking.  In the morning, about 6 hours before it was dinnertime, I took the turkey out of the fridge, fired up the smoker to 325° F, seasoned generously with a low-sodium dry rub (I used this recipe), inserted a thermometer into one breast and one thigh, and started smoking the turkey.  When smoking a turkey, you need to be at or above 300° as anything lower than that the turkey will be out of the safe zone (less than 40° or higher than 140°) too long.  At 325° and with a 20.5 lb. bird, I planned on about 15 to 18 minutes per pound. About 5-5½ hours later, my thermometer went off letting me know that the turkey was at the optimal temperature (165° in the breast, at least 175° in the thigh.)  I took the turkey off, and let it rest for 30 minutes before carving.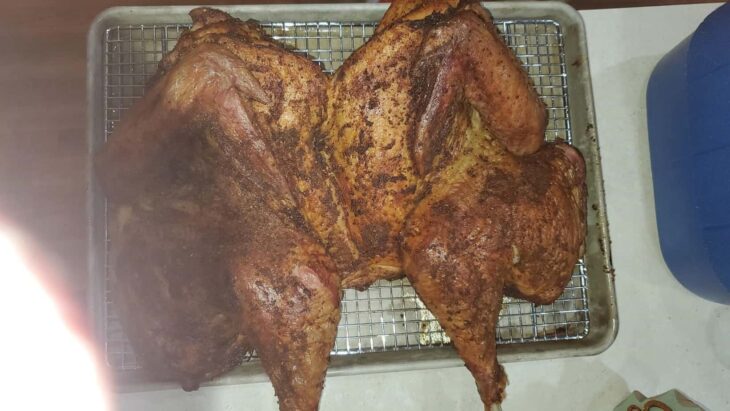 Oven Roasted Turkey
Just like smoking a turkey, there are many ways that you can prepare an oven roasted turkey.  My family's favorite is the low-and-slow method.  This allows the turkey to stay nice and moist, without the hassle of brining.
For the oven-roasted turkey, you need a good turkey roasting pan with a lid (I use this one).  This method again needs to be cooked at a certain temperature (280° or higher – I roasted at 315°).  At 315° I planned on cooking for 25 to 33 minutes per pound.  With a 17.5 lb. bird, it took around 8 hours to roast all the way.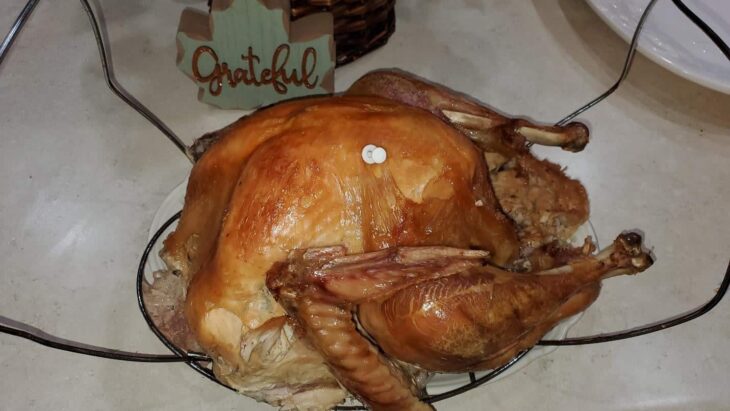 For this recipe, I recommend using at least a small amount of stuffing – even if you don't like stuffing.  The reason for this is that it helps to season the turkey from the inside out.  It also helps to provide a little extra moisture.  On the outside of the turkey, moderately apply salt and pepper.  Place the turkey on a rack (I like this one) inside the roasting pan, cover the pan with the lid – with the vents closed, and cook for about 7 hours.  For the last hour of cooking, open the vents to allow the turkey skin to brown and crisp up.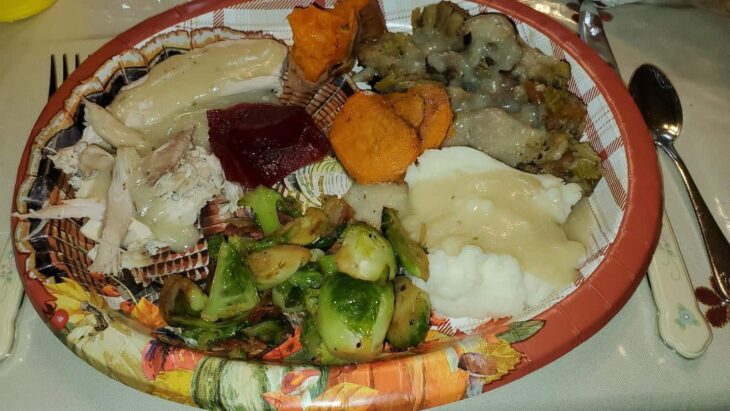 I hope you enjoy your turkey – whether smoked, oven roasted, or even both – as much as my family and I did.  Both were a huge hit at our feast!
Smoked and Oven Roasted Turkey Recipe

Ingredients

Whole Turkey

Smoked Turkey

Kosher Salt
Black Pepper
Low-Sodium BBQ Rub

Oven Roasted Turkey

Salt
Pepper
Any stuffing recipe/mix

Instructions

Smoked Turkey

With a fully defrosted turkey, remove giblets and neck. With the backbone facing up (legs, wings, and breasts should be face down), use some heavy-duty kitchen shears and cut right along the backbone. Note: This will take some effort to cut through the rib cage. Once the backbone is removed, use a heavy knife and cut from the inside partially through the breastbone and apply pressure to both sides of the turkey until flat. Note, you will be breaking the breastbone.
Using kosher salt, generously apply salt over the entire turkey, inside and out. Over the skin side of the turkey with about 1 teaspoon of fresh ground black pepper.
Place on a cooking rack on a sheet pan and place in the fridge overnight to absorb the salt.
About 6 ½ hours (for a 20 pound turkey) before it's time to eat, pre-heat your smoker to 325 degrees. Pull the turkey out of the fridge and liberally apply BBQ rub to the entire turkey (inside and out).
Place a thermometer in one breast and another in one thigh and transfer to the smoker. Note: most pellet smokers have a higher heat on the right side of the smoke box. Have your turkey with the breasts facing the left and the legs facing the right. Smoke until breasts are 165 degrees and thighs are at least 175 degrees.
Allow turkey to rest for 30 minutes prior to carving. Note: if you need to keep warm, either wrap loosely with foil or place in an oven set to warm.

Oven Roasted Turkey

With a fully defrosted turkey, remove giblets and neck.
Place on a roasting rack that will fit in your roasting pan. Place stuffing in cheesecloth and tie shut with butcher's string. Salt and pepper the skin of the turkey. Place the stuffing in the cavity of the turkey.
Cover with roasting pan lid with vents closed. Cook on 315 degrees for 25 – 33 minutes per pound until about 1 hour before it's estimated the turkey will be done. Open the vents of the roasting pan.
Cook an additional hour or until thermometer inserted in the thickest part of the breast reads at least 165 degrees.
Immediately remove stuffing from the cavity of the turkey and wrap in foil to keep warm. Allow the turkey to rest 30 minutes prior to carving.
Carve (or shred as it will be very tender) the turkey and serve with your favorite sides.

https://appetizergirl.com/appetizer/best-smoked-and-oven-roasted-turkey-recipe/
I currently teach baking courses and have worked in a number of cafes and restaurants.
Check out my About Us page to find out more about me and my passion for cooking.
Welcome to Appetizer Girl