I loved baking these. So moist and light and fluffy…These cupcakes were as fun to eat as they were to make. I don't like complicated so anything simple and easy is on my recipe to do list.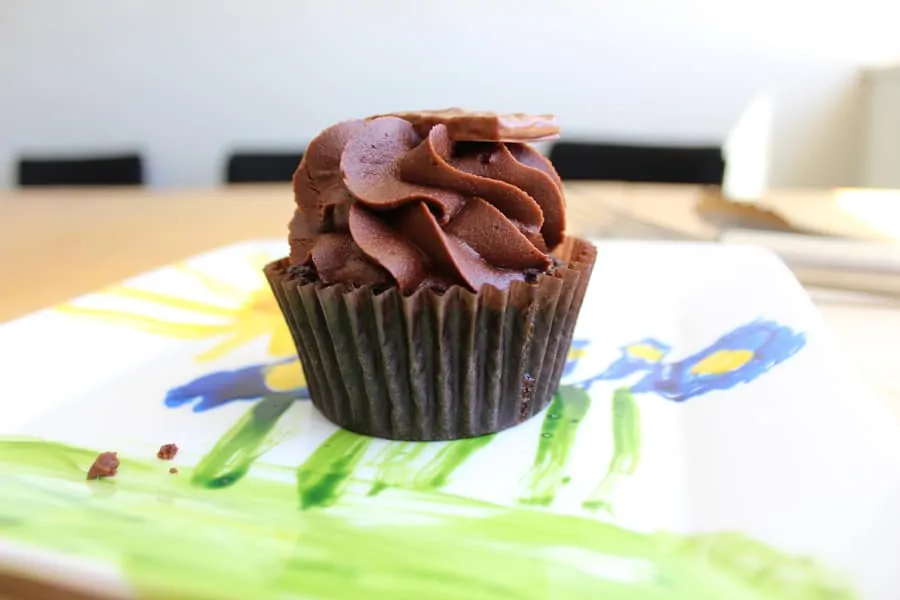 Try these with a hot cup of coffee or hot chocolate for that extra buzz. I used hot coffee and boy was i on cloud nine by the second bite – pure heavenly bliss.
A small piece of toffee milk finished the frosting on top but may may omit this if you desire.
So here is the recipe.
Double Chocolate Cupcakes with Creamy Chocolate Frosting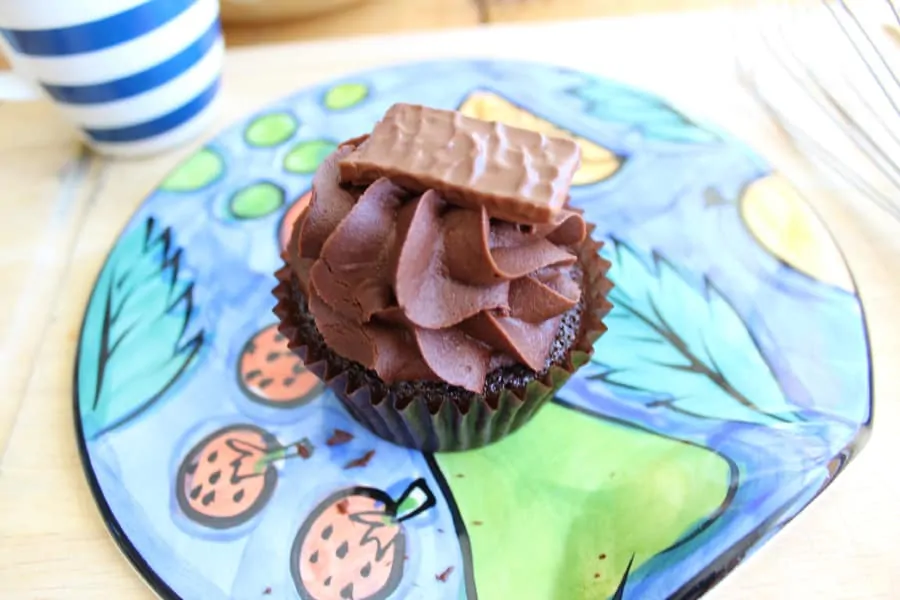 Ingredients
2 tablespoons of vegetable oil
1 stick of fresh butter
1/2 cup of chocolate chips
3/4 cup of plus 3 tablespoons of flour
1/2 teaspoon of baking soda
1 teaspoon of baking powder
1/2 cup of cocoa powder
3/4 teaspoon of sea salt
1/2 cup of raw sugar
1/2 cup of brown sugar
2 medium eggs plus 1 medium egg yolk
1/2 teaspoon of vanilla
1/2 cup of greek yogurt or sour cream
1/2 cup of hot water
Ultimate Chocolate Frosting
1 stick of softened butter
3 cups of powdered sugar
3/4 cup of cocoa powder
1 teaspoon of vanilla
whole milk for thinning
Instructions
Pre-heat stove to 350 degrees. Line a cupcake baking pan using liners.
Place vegetable oil, the chocolate chips, along with the butter right into a microwave safe dish. Microwave with 30 second amounts, mixing each 30 seconds, till only just melted.
Blend the flour, the baking soda and the powder, the cocoa powder, along with the sea salt within a medium sized dish. Stir until mixed.
Within a large dish, blend the sugars, the eggs, along with the vanilla. Stir till blended. Add the melted dark chocolate mix, and then stir till blended.
Switch adding the flour mix along with the yogurt to the sugar mix. Blend till just mixed ( I simply made use of a whisk). Include the hot water very last, and blend till it's mixed.
Make use of a cookie scoop to split the mixture equally between your cupcake liners. I filled up mine around 3/4 of the way full, however I would certainly fill slightly less the next time.
Cook for 16 to 18 minutes, or till a tooth-pick comes out clear.
For The Frosting
Whip the butter with high using a blender for around 2 minutes. Next add the powdered sugar along with the cocoa powder, gradually.Next add the vanilla. Add the whole milk as needed for preferred thickness. Whip for around 3 minutes making it fluffier.
Pipe the actual icing on top of the cupcakes by using a sealed star tip. Top using dark chocolate sprinkles.
https://appetizergirl.com/chocolate/1496/
Don't forget to place your vote above and also check out our bumblee cupcakes here.
I currently teach baking courses and have worked in a number of cafes and restaurants.
Check out my About Us page to find out more about me and my passion for cooking.
Welcome to Appetizer Girl