Chicken cooked in Coconut Milk Recipes is a unique recipe that I'm sure you and your family will love. A flavorful and juicy chicken breast and drumstick. The chicken marinated with the juice of a lime, lime zest, salt, brown sugar, coconut milk, ginger, and garlic in a bowl. Therefore, the chicken turns out perfect.
I feel glad every time I made a delicious easy meal for my family. It gives pleasure knowing you know they are eating healthy and tasty especially something made with love.
Since chicken is always a part of our weekly dinner routine, this recipe is a great way to change up the usual chicken recipe. You can add up this chicken recipe too in your list. The chicken itself is tasty because of its marinade. The combination of coconut milk and lime juice is awesome. Especially with the chicken skin still on, it's fantastic and crispy. Juicy meat +  crispy skin + melted in my mouth. WOW! I love it.
It's not the first time I used coconut milk as a combination with chicken. You might want to check my Chicken Curry with Coconut Milk where the sauce becomes creamier and tastier because of coconut milk. Additionally, coconut milk has its natural aroma that when cooked smells captivating, that makes your appetite raise. In contrast with the creamy taste of coconut milk here's lime juice that has natural acidity of its juice and the floral aroma of its zest. Makes the chicken really yummy, aromatic and flavorful.
Since you need to soak the chicken in the marinade for a better result, prepare it ahead of time before roasting. Finally, you can serve it with rice noodles, carrots, fresh cilantro, peanuts, then sprinkle it with lime juice. I'm certain you would love this dish and make this as a part of your weekly dinner meal.
Chicken cooked in Coconut Milk Recipes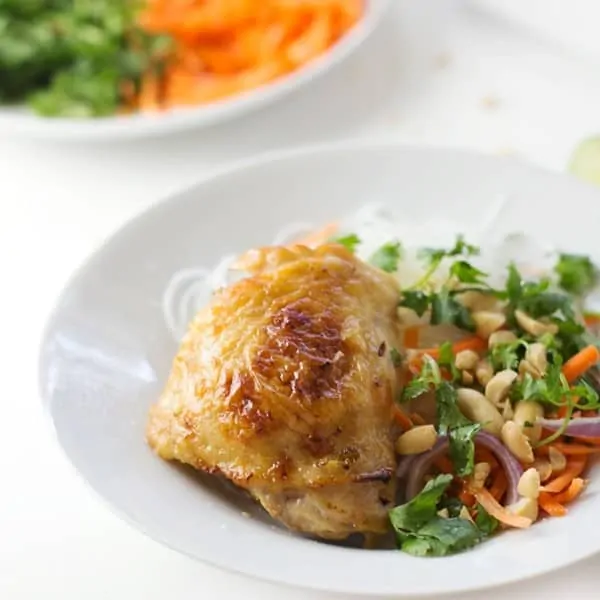 Ingredients
1/4 cup lime juice
2 tablespoons lime zest
2 tablespoons brown sugar
5 cloves garlic, minced
1 tablespoon minced ginger
1 can light coconut milk
salt to taste
3 lbs. chicken pieces with bones and skin (for example, 1 1/2 lbs. drumsticks and 1 1/2 lbs. thighs)
rice noodles, cilantro, carrots, lime wedges, peanuts, onions or shallots for serving
Instructions
Prepare the chicken:

Whisk the lime juice, lime zest, brown sugar, garlic, ginger, and coconut in a large bowl.
Add the chicken pieces and sprinkle with salt. Cover and refrigerate for at least 4 hours. I had to divide the ingredients into 2 bowls so it could all fit.
Remove the chicken pieces from the marinade; let them rest on a plate for a minute to get rid of excess moisture.

Roast the chicken:

Preheat the oven to 475. Grease a rimmed baking sheet. The rim will keep most of the drippings from landing in your oven. Arrange the chicken pieces on the baking sheet; bake for 30 minutes. (If you have a wire rack, place it on the baking sheet and arrange the chicken on the wire rack. This allows the fat to drip off the chicken as it roasts and keeps it from getting too greasy.)
Check on the chicken every so often, turning the pan or adjusting the heat if the skin is getting too brown. Remove from the oven when the chicken is browned on the outside and cooked through to the middle.
Sprinkle the hot chicken with a little extra salt and serve with rice noodles, fresh cilantro, carrots, peanuts, and drizzle lime juice over the whole thing.
https://appetizergirl.com/appetizer/chicken-cooked-in-coconut-milk-recipes/
I currently teach baking courses and have worked in a number of cafes and restaurants.
Check out my About Us page to find out more about me and my passion for cooking.
Welcome to Appetizer Girl