Chicken Soup Recipe with Fresh Vegetables
On those cold wintery nights i just love a good bowl of chicken soup. This one was made by a friend of mine and she was so kind as to give me the recipe. This is really delicious and i know you are going to like it.
Chicken has some amazing healing properties. Did you know that gel that forms with cold chicken is actually hyaluronic acid which is in your skin. It can hold up to 1000 times its weight in moisture! So get that chicken out and start making a nice pot of chicken soup.
Chicken Soup Recipe with Fresh Vegetables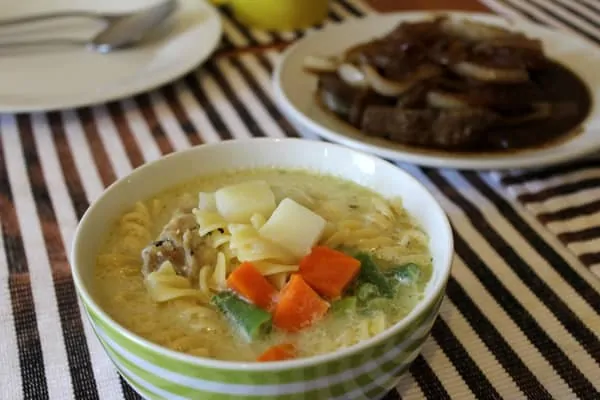 Ingredients
3 tablespoons olive oil
1 onion, chopped
4 cloves garlic, diced
1 inch knob of ginger, diced
1 carrot, chopped into half-rounds
1 celery stalk, chopped
1 red bell pepper, chopped
1 bunch of chard, chopped
1/4 cup chopped green onions
1/3 cup chopped parsley
3 tablespoons tamari
1/2 teaspoon salt
1/2 teaspoon freshly ground black pepper
2 cups cooked rice noodles (optional)
Instructions
In the soup pot you used to make the chicken broth, heat olive oil over medium heat. Add onions and cook until they are translucent, about 3 minutes. Add ginger and garlic, cooking for 1 minute and stirring constantly. Add the carrots, celery, pepper, chard, and green onions one at a time, cooking and stirring for one minute each before adding the next.
Pour chicken broth into soup pot and give the whole thing a big stir. Heat until it reaches a simmer, then lower the flame to medium-low and allow to cook for five minutes.
Add parsley and tamari, stirring occasionally, cooking until vegetables are tender. Season with salt and pepper, adding more to taste. Add noodles, if you're using them, and let sit for a minute before serving. Serve in hot bowls, garnished with a bit of parsley.
https://appetizergirl.com/appetizer/chicken-soup-recipe-with-fresh-vegetables/
I currently teach baking courses and have worked in a number of cafes and restaurants.
Check out my About Us page to find out more about me and my passion for cooking.
Welcome to Appetizer Girl