This is an excellent chicken dish as it contains what I call a key ingredient (besides chicken) and that is garlic. Garlic as i have said before is such a wonderful medicinal herb that it should be used more often. I often eat a clove of raw garlic regularly as it is good for removing parasites, worms and helps keep the blood free from clots.
Another great herb used in this recipe is Thyme. I love to use Thyme especially the oil as a tonic as the oil is rich in antioxidants. These antioxidants help prevent damage done by free radicals. Just one drop of Thyme oil has more antioxidant power than many cup fulls of berries. So use your garlic and thyme freely.
Yogurt is great too especially for the good bacteria that lines the intestines and gut. So i like to use this in my recipes however not too sure how much survives the heat, if any at all of the good bacteria. Check out the recipe below and leave us your feedback.
Easy Creamy Garlic Chicken Recipe
Ingredients
20 oz chicken thighs, skin-on and deboned
2 tablespoons virgin olive oil
15-20 cloves fresh garlic
1/2 cup of chicken broth
1/3 cup of white wine
1/4 cup of plain yogurt
3 sprigs thyme, optional
SeaSalt, to taste
Ground black pepper
Pinch of paprika
Instructions
Season the chicken with a little salt and pepper.
Heat up a skillet on a medium heat, add 1 tablespoon of virgin olive oil. Pan-fry the chicken until both of the surfaces become crispy or nicely browned. Remove the chicken from the skillet and set aside.
Discard the chicken fat from the skillet. Add the remaining virgin olive oil and then saute the garlic until light brown. Add the chicken back into the skillet, followed by the chicken broth, the white wine and the yogurt. Lower the heat and allow to simmer. Add the thyme, the salt, the pepper and the paprika. Reduce the sauce a little bit. Remove from heat and serve immediately.
https://appetizergirl.com/chicken/easy-creamy-garlic-chicken-recipe-in-under-30-minutes/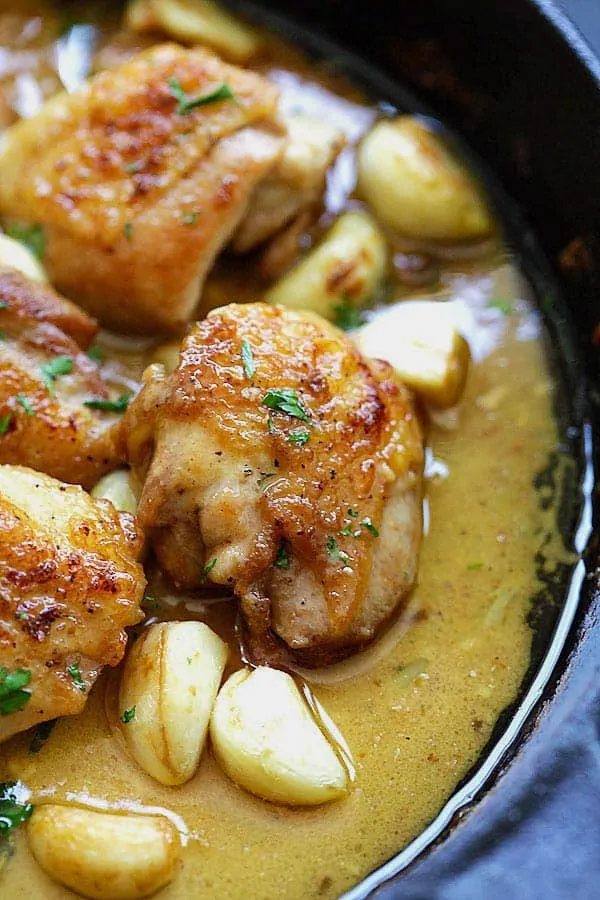 I currently teach baking courses and have worked in a number of cafes and restaurants.
Check out my About Us page to find out more about me and my passion for cooking.
Welcome to Appetizer Girl