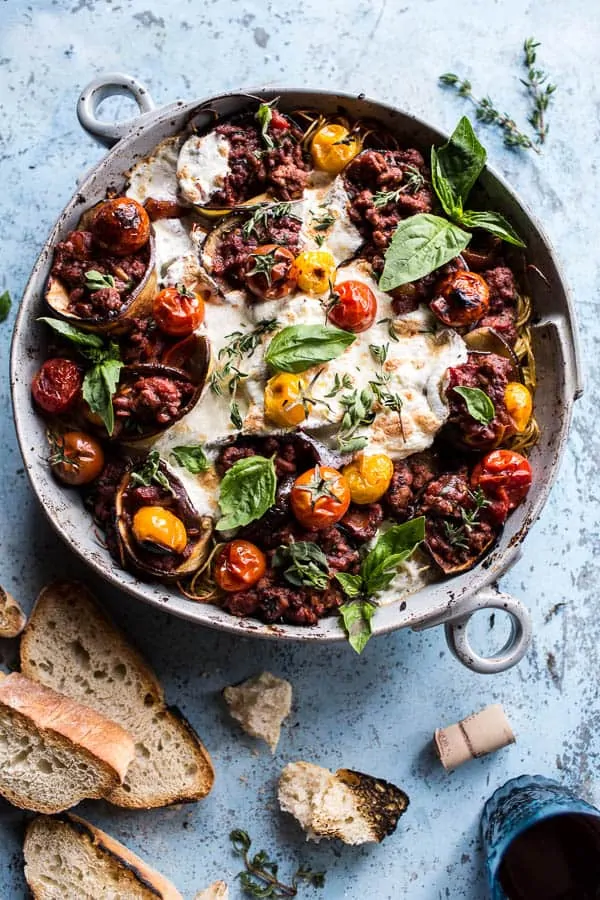 This is a warm spicy Chicken and tomato dish that's really easy and fun to make. I like Italian herbs and you might like to try Basil, Oregano and Thyme. I love thyme oil but its very strong so dried herbs is probably better.
Chicken is one of my favorite dishes to make as its so versatile. I love the colors in this dish. The bright reds of the tomato against the melted cheese and green herbs makes for a tasty and delightful dish. Give this Baked Italian Chicken and Tomato Basil Eggplant Roll Pasta recipe a go below.
Baked Italian Chicken and Tomato Basil Eggplant Roll Pasta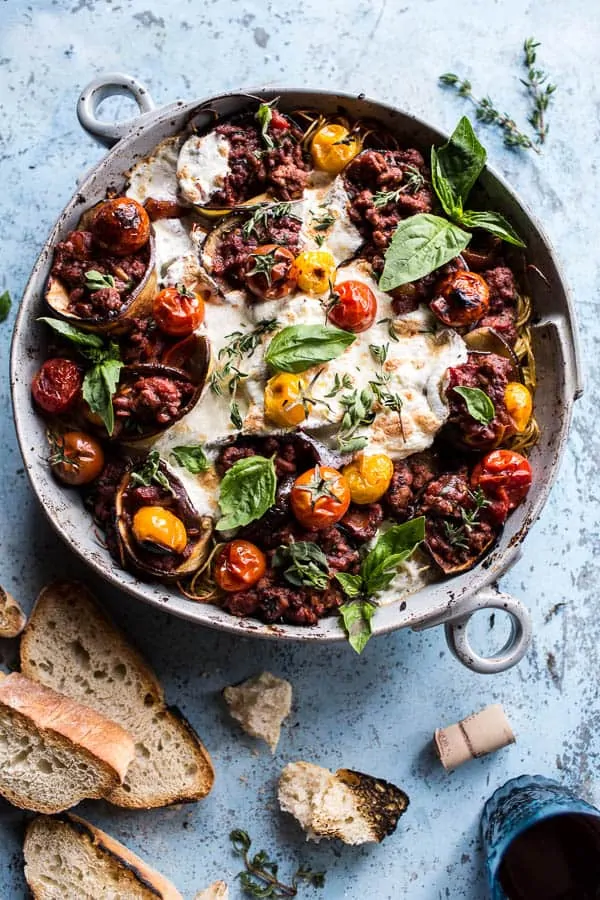 Ingredients
3/4 pound angel hair pasta
1/4 cup basil pesto
2 large eggplants, cut lengthwise into 8 slices
4 tablespoons olive oil
salt + pepper, to taste
1 pound lean ground chicken
2 cloves garlic, minced or grated
1 1/2 cups cherry tomatoes or sub 1 (14 ounce) can san marzano tomatoes
1/4 cup tomato paste
1 cup red wine
1 cup milk
1/4 cup fresh mixed Italian herbs
1 teaspoon crushed red pepper flakes
1/4 cup grated parmesan cheese
8 ounces whole milk ricotta cheese
4 ounces mozzarella cheese, sliced
fresh parsley + basil, for serving
Instructions
Bring a large pot of salted water to a boil.
Boil the pasta, drain and add to a 9x13 inch baking dish.
Add the pesto + 1 tablespoons olive oil and toss well to combine and then evenly coat the pasta.
Meanwhile, season the eggplant with salt and pepper.
In a large skillet, heat 2 tablespoons olive oil over medium-high heat.
Working in batches, cook the eggplant until light golden, 2 minutes on each side.
Transfer the eggplant to a paper-towel-lined plate.
Heat the same skillet over medium heat and add the remaining olive oil.
Add the ground chicken and the garlic and begin breaking up the meat.
Cook, stirring occasionally, until well browned, about 5 minutes.
Add the cherry tomatoes and tomato paste, give everything a good stir and cook 3-5 minutes.
Slowly pour in the red wine and milk.
Season with salt + pepper.
Bring the mixture to a boil and then reduce the heat to a simmer, simmer for 15-20 minutes or until the sauce has thickened.
Remove from the heat and stir in the fresh herbs, crushed red peppers flakes + parmesan.
Allow to cool slightly.
Preheat the oven to 400 degrees F.
Spoon about 1/3 of the chicken mixture over the pasta.
Grab the eggplant slices and place a little of the chicken mixture in the center, roll up the eggplant and nestle it into the pasta and stand up right.
Repeat with the remaining eggplant slices.
Depending on how large your eggplants are, you may not need all of the slices.
Dollop the ricotta cheese, over the eggplant and then add the mozzarella.
Bake for 15-20 minutes or until the cheese is melted and gooey. Garnish with fresh herbs.
https://appetizergirl.com/chicken/baked-italian-chicken-and-tomato-basil-eggplant-roll-pasta/
I currently teach baking courses and have worked in a number of cafes and restaurants.
Check out my About Us page to find out more about me and my passion for cooking.
Welcome to Appetizer Girl