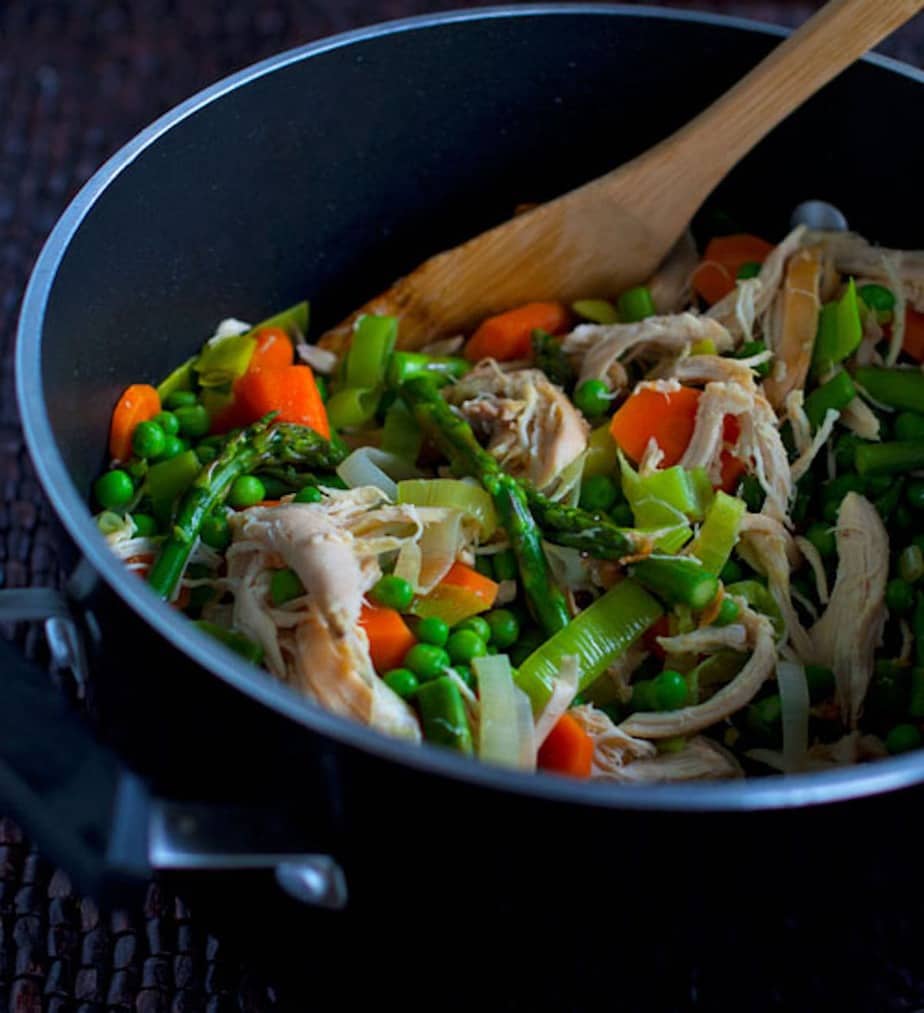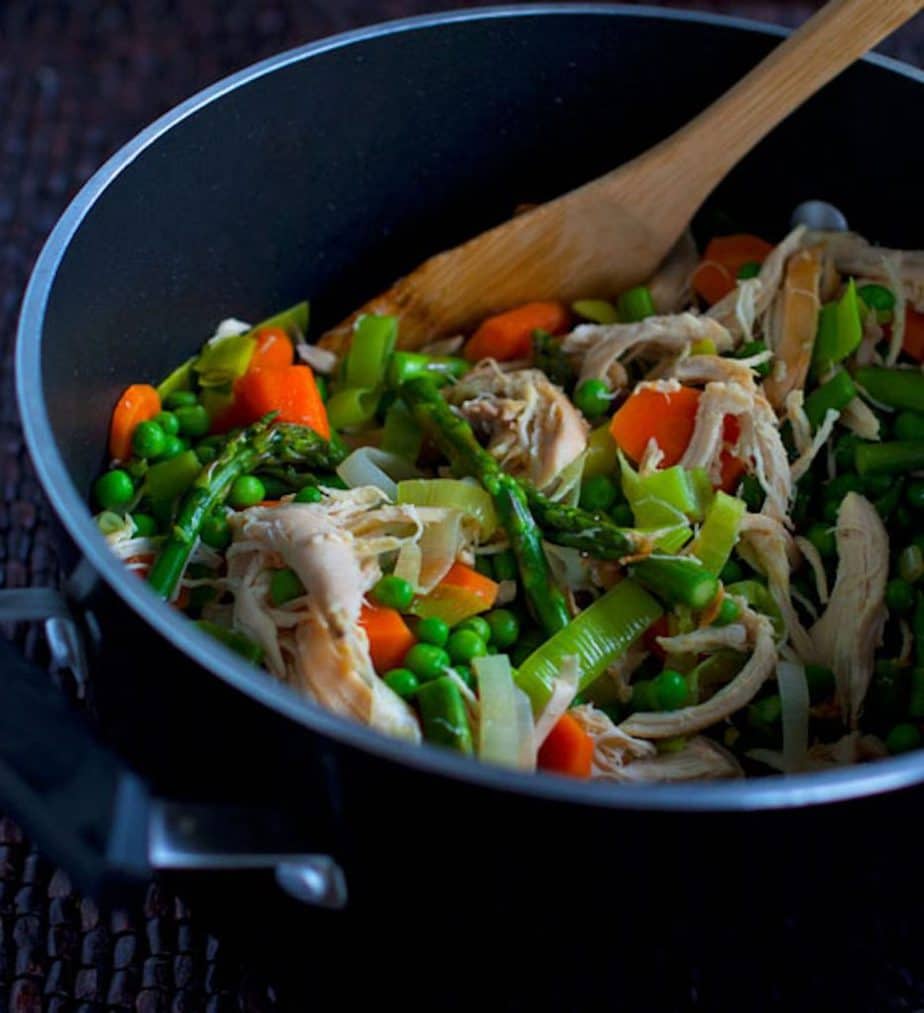 Have you ever had Chicken Pot Pie? Interesting question!
What about Vegetable Chicken Pot Pie?
This recipe is a combination of different vegetables, together in the pot with chicken covered with pie.
One thing that I want to do in the new year is to evolve in my recipes, especially healthy recipes. I think I mentioned that thing already here in my blog. Yeah, I remember that. And you might agree that what we want is what we make from time to time.
Everyone has a distinctive style and art of cooking. Therefore, to make a great outcome, creativity is a must! This recipe is one of them.
This Vegetable Chicken Pot Pie is a thing of beauty. A perfect easy meal. The vegetable that I added to this recipe is really comforting! Below are some vegetables that I use for my vegetable Chicken Pot Pie:
Asparagus– it is loaded with nutrients, like folate, fiber, vitamins A, C, E, and K, as well as chromium, packed with antioxidants, good brain booster, natural diuretic and, it can help fight cancer.
Carrots– can also reduce the risk of cancer, lower blood cholesterol, good for weight loss and eye health.
Green peas– has a decent amount of heart-healthy minerals, such as potassium magnesium, and calcium.
It's a savory blend of garlic chicken and veggies, smothered in a rich, creamy gravy, covered with golden crust. Such a mouthwatering dish!
This is definitely the BEST  Vegetable Chicken Pot Pie I've tried. Doubtful? Just try it and see.
Now, what if you're a vegetarian? Or someone at home is one? There is always a substitute for chicken in vegan, like the Morning Star Farms products. So, no worries! Try this recipe and let me know the outcome. Comments below are appreciated.
What VEGETABLES go in CHICKEN POT PIE
Ingredients
8 tablespoons salted butter, divided
1 leek, white and light green parts, sliced and rinsed in a bowl of water
2 cups sliced carrots
2 cups chopped asparagus
12 ounces frozen peas
1 garlic rotisserie chicken (or about 2 cups shredded chicken seasoned with garlic)
2-3 cloves garlic
3/4 cup flour
2 cups chicken stock
salt and pepper to taste
1 sheet pie crust, 1 sheet puff pastry, or 1 croissant dough sheet
Instructions
Make the filling:

Melt 1 tbs. butter in a large pot over medium high heat. Add the leeks and carrots and saute for 5 minutes.
Add the asparagus and cook for another 5 minutes, or until vegetables are just tender crisp. Remove from heat, stir in frozen peas, and set aside. Shred chicken and add to the pot.

Make the sauce:

Melt 6 tbs. butter in a large saucepan. Add the garlic and gently saute over medium heat for about 1 minute. Add flour and stir until a thick paste forms. Add the stock, 1 cup at a time, whisking after each addition.
Season generously with salt and pepper. Sauce should be thick! Add to chicken and vegetables and mix to combine.

Top it:

Pour mixture into a greased pie pan or 9×13 baking dish. Top with crust of your choice, stretching or rolling dough so that it just barely hangs over the edge of your dish (see notes).
Bake at 375 for 20-30 minutes, or until the crust is golden brown. Brush the warm crust with 1 tbs. melted butter. Let stand 5-10 minutes before serving. This is best served the same day that it's baked.
Notes
I had about one serving of extra filling that didn't fit in my pie dish. I ate it with shredded cheese and no crust – it was absolutely delicious.
For the crust, I used a pre-made croissant dough sheet that was in the refrigerated dough section at the store. I stretched it to cover the whole pie dish, folded it over the edges, and cut a few slits in the middle.
If you want a more shiny crust, whisk one egg and brush it over the crust before baking.
https://appetizergirl.com/chicken/what-vegetables-go-in-chicken-pot-pie/
I currently teach baking courses and have worked in a number of cafes and restaurants.
Check out my About Us page to find out more about me and my passion for cooking.
Welcome to Appetizer Girl