This recipe takes a little longer than many of my other chicken recipes. In fact around 1 hour including prep and cooking time, but is well worth it. Cooking time is only 35 minutes though but the results are fantastic. Mouth watering smells and aromas tantalize the taste buds even before you bite into them.
It has just the right amount of lemon, thyme, garlic (how i love garlic) adds a little something special to it. Don't get put off by its simplicity. Simple is usually better, or at least i think so. I think this is especially important when it comes to cooking with chicken. I don't like to add too many spices to my chicken recipes. I am of the opinion that garlic is one of those super herbs that not only adds flavor but is also extremely healthy for you. I have added it liberally in this recipe.
Try the recipe below and let me know how you get on.
Easy Lemon Chicken Breast Recipe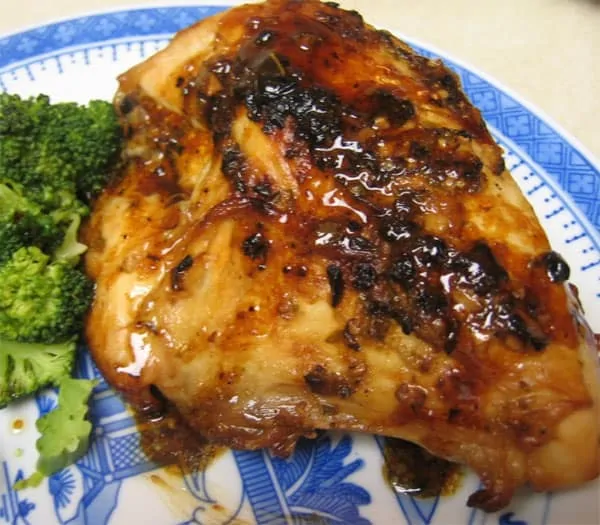 Ingredients
1/4 cup good olive oil
3 tablespoons minced garlic (9 cloves)
1/3 cup dry white wine
1 tablespoon grated lemon zest (2 lemons)
2 tablespoons freshly squeezed lemon juice
1 1/2 teaspoons dried oregano
1 teaspoon minced fresh thyme leaves
Kosher salt and freshly ground black pepper
4 boneless chicken breasts, skin on (6 to 8 ounces each)
1 lemon
Instructions
Preheat the oven to 400 degrees F.
Warm the olive oil in a small saucepan over medium-low heat, add the garlic, and cook for just 1 minute but don't allow the garlic to turn brown. Off the heat, add the white wine, lemon zest, lemon juice, oregano, thyme, and 1 teaspoon salt and pour into a 9 by 12-inch baking dish.
Pat the chicken breasts dry and place them skin side up over the sauce. Brush the chicken breasts with olive oil and sprinkle them liberally with salt and pepper. Cut the lemon in 8 wedges and tuck it among the pieces of chicken.
Bake for 30 to 40 minutes, depending on the size of the chicken breasts, until the chicken is done and the skin is lightly browned. If the chicken isn't browned enough, put it under the broiler for 2 minutes. Cover the pan tightly with aluminum foil and allow to rest for 10 minutes. Sprinkle with salt and serve hot with the pan juices.
https://appetizergirl.com/chicken/easy-lemon-chicken-breast-recipe/
I currently teach baking courses and have worked in a number of cafes and restaurants.
Check out my About Us page to find out more about me and my passion for cooking.
Welcome to Appetizer Girl