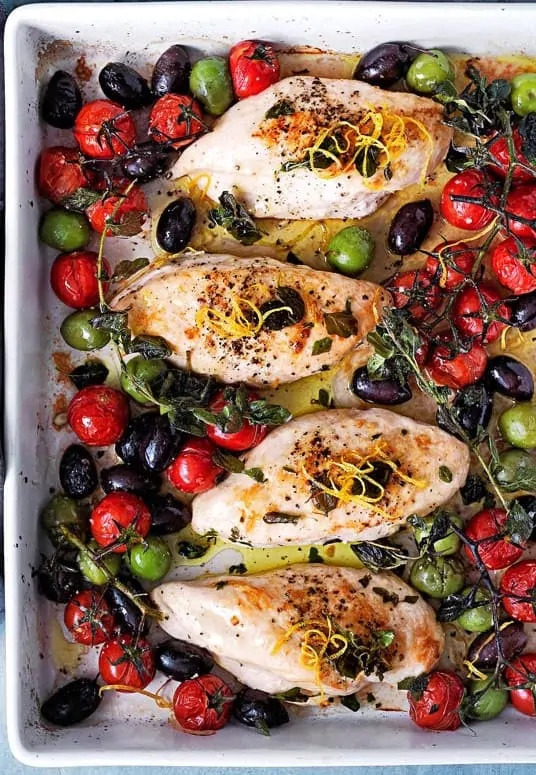 This cuisine produces a flavorful and tender chicken in a tasty sauce. A real simple chicken with tomatoes and olives recipe, that makes a delicious dish for a quick weeknight dinner.
It is a perfect recipe for cherry tomato season if you have sweet cherry tomato, try this easy recipe. My friend grows tomatoes in her backyard garden. She gives me a bag full of it every time I visit here. I often use it in a salad, with lettuce, cucumber, a pinch of pepper, and salt. Love the freshness.
I was searching for a chicken recipe when I first saw this dish since I have sweet cherry tomato, which gives me a hint to give it a go! Although I don't have olives at hand. So I went to the supermarket and found pitted olives that cost 30 dollars for 1 kilo, which is not too bad. Since you don't need 1kilo for this recipe, you can keep it in the fridge for the next batch. In another supermarket, they are selling pitted olives in 100 grams, good for one batch cooking.
Chicken with Tomatoes and Olives
My love of food inspired me to try something new. I like to think and imagine good things, explore my love for cooking and food. I like to introduce my newly found recipe, to my relatives and neighbors. Love sharing tasty yummy foods with loved ones and enjoying the company with close friends together.
Or maybe just letting other people taste it and hear: hey! I love this tray baked chicken with tomatoes and olive. That's soothing to hear.
The aroma is perfect. The recipe is simple, easy to follow.
I could be weird, but the color of this dish makes me happy. I find it attractive and eye-catchy. Oh, I guess you noticed the same. You probably think of an occasion that this color is on, well I won't tell but I feel that you know what I'm meaning. The vibrancy of the colors in this food is just stunning!
How to make Baked Chicken with Tomatoes and Olives
Making this tray baked chicken with tomatoes and olive is simple. It is one of my go-to dishes that are quick and no hassle to prepare. You can make this after a long day of work while watching TV while enjoying a hot bath. A kind of recipe that doesn't need much of your attention or time, wherein you can multitask.
So how to make this Tray-Baked Chicken with Tomatoes and Olives?
For this recipe, you will only need four basic ingredients and some herbs to enhance the taste and flavor. Through the name of this recipe, you could tell the three ingredients: Chicken, tomato, and olives. Am I stating the obvious? By the sounds of it! And of course, do not forget the lemon rind and juice.
Let's talk about the herbs that I use for this recipe. For seasoning, I added bunches of oregano, black pepper, and salt. Then bake it with extra virgin olive oil. Below is the recipe for this Chicken with Tomatoes and Olives.
You can serve it with rice, mashed potato, or crusty bread depending on your preferences. Click here for more Chicken Recipes. You can also visit juliescafebakery.com  for some awesome chicken creations.
Chicken with Tomatoes and Olives real simple
Ingredients
4 Chicken Breast Fillets (800G)
500G Vine-Ripened Cherry Tomatoes
½ CUP (90G) Mixed Olives
2 small Bunches of Oregano
1 Tbsp Lemon Rind
1 Tbsp Lemon Juice
2 Tbsp Extra Virgin Olive Oil
Sea Salt and Cracked Black Pepper
Instructions
Preheat the oven to 220°C (425°F). Place the chicken into the large ovenproof baking dish. Top it with the tomatoes, olives, oregano, lemon zest, lemon juice, oil, salt and pepper.
Cook for 18–20 minutes or until golden brown and the chicken is cooked. Serve with the pan juices.
https://appetizergirl.com/chicken/chicken-with-tomatoes-and-olives-real-simple/
I currently teach baking courses and have worked in a number of cafes and restaurants.
Check out my About Us page to find out more about me and my passion for cooking.
Welcome to Appetizer Girl