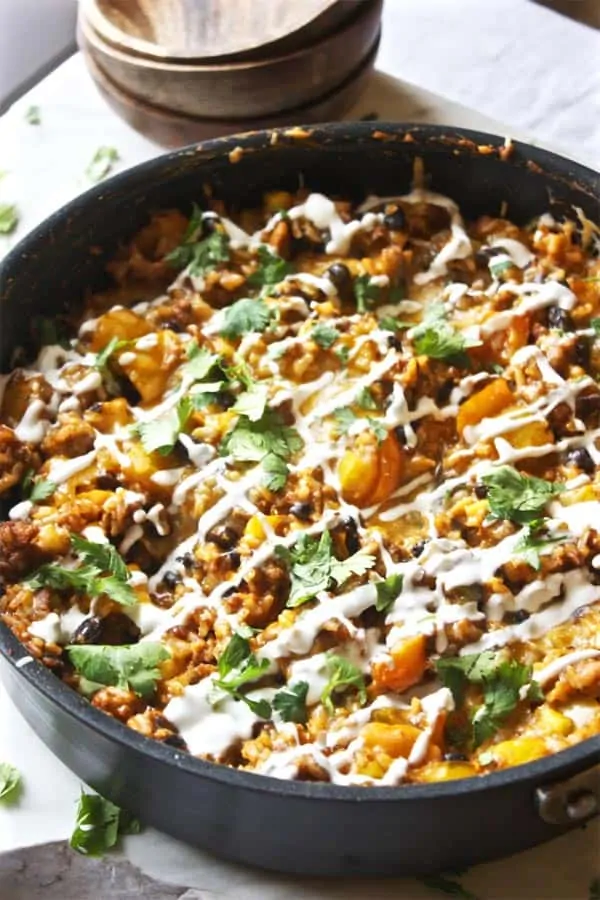 What i love about his recipe is that its almost all cooked in one pot. The chicken, the vegetables and beans all cooked together to bring out a delicious yet subtle layering of flavors. The rice is cooked separately.
You can use Turkey if you prefer but i find chicken just as good and more accessible.  Chicken is also one of my favorite dishes as its so versatile and relatively inexpensive where i come from. Chicken also possess great immune boosting properties for those winter months and is of course full of protein to build muscle, skin and hair.
There is not too much cheese but just enough to give it that cheesy flavor and add a bit of gooey to it. Taco's just wouldn't be tacos without some cheese.  With a cooking time of about 45 minutes this is a good dish to prepare if you are in a hurry, as its pretty straightforward  and easy and did I mention healthy as its gluten free.  it also contains one of my most loved herbs – garlic, which is great for cardiovascular health. Take a look at the Healthy, Cheesy Chicken Taco Skillet in Under 45 Minutes recipe below.
Healthy, Cheesy Chicken Taco Skillet in Under 45 Minutes – Gluten Free
Ingredients
3 cups chicken stock - optional
1 cup brown rice - (white rice if you don't have brown)
1 lb ground chicken
2½ teaspoons seasalt
3½ teaspoons chili powder
3½ teaspoons cumin
2 teaspoons garlic powder
2 teaspoons onion powder
1 yellow bell pepper, diced
1 orange bell pepper, diced
1 jalapeno, finely minced
1 shallot, diced
4 cloves of garlic, minced
½ cup frozen corn
1 can black beans
1½ cups cheese blend
Cilantro and Greek yogurt for garnish
Tortilla chips for dipping
Instructions
Preheat the oven to 350 degrees
For the brown rice, bring 2½ cups of chicken stock to a boil in a medium pot. Add a pinch of seasalt
When the water is boiling, add in your brown rice, stir, and bring back to a boil
Reduce to a simmer and cook, covered, for 45 minutes
Meanwhile, brown your ground chicken with a little olive oil in a large, high sided skillet
Meanwhile, chop your peppers, shallot, garlic, and jalapeno
When your chicken is almost done, stir in 1 teaspoon of salt, 1 teaspoon chili powder, 1 teaspoon cumin, ½ teaspoon onion powder, and ½ teaspoon garlic powder
When it has cooked through remove it to a plate - taste and add any extra salt that it needs, if any
Add a little more olive oil to the same skillet and add all your veggies
Cook until the peppers have softened, and then stir in 1 teaspoon salt, and ½ teaspoon each of chili powder, cumin, onion powder, and garlic powder
Remove the veggies to the same plate as the chicken
Drain the black beans and add them to the same skillet
Simmer the beans until most of the liquid has evaporated and then add the veggies and chicken back in
Add the frozen corn
Stir everything together and remove from the heat until the rice is done
Drain the rice to remove excess moisture and add it back into the pot it was cooking in
Stir in 2 teaspoons chili powder, 2 teaspoons cumin, 1 teaspoon garlic powder, 1 teaspoon onion powder, and ½ teaspoon salt
Stir together and taste - add any extra salt you think it needs, if any
Add the seasoned rice, cheese (set aside a little for sprinkling on top), and remaining ½ cup chicken stock to the skillet with the veggie and meat mixture
Stir everything together until fully combined. Taste and add any seasoning you think it needs
Sprinkle the remaining cheese on top of the mixture and place in the oven to bake for 15 minutes.
Top with Greek yogurt (or sour cream) and chopped cilantro
You can eat this straight up with a fork, or use it as a kind of "dip" for tortilla chips. It is wonderful both ways!!
https://appetizergirl.com/chicken/healthy-cheesy-chicken-taco-skillet-in-under-45-minutes-gluten-free/
Please share and like this recipe with your friends. Or why not leave a comment below!
I currently teach baking courses and have worked in a number of cafes and restaurants.
Check out my About Us page to find out more about me and my passion for cooking.
Welcome to Appetizer Girl