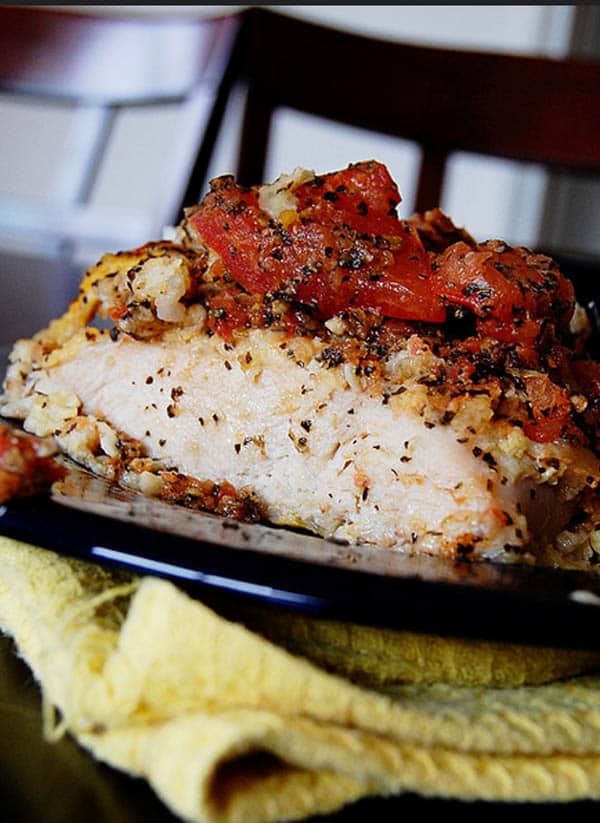 Healthy Baked Bruschetta Chicken Recipe In 45 Minutes!
A picture tells a thousand words and this one told me bake it and eat it. This is a great Baked Bruschetta Chicken Recipe, and in under 45 minutes to bake and prepare is a real bonus. another bonus is that its healthy.  Tomatoes are a great source of Lycopene which is aprt of the red pigment and is supposed to be good for prostate health. I am a fan of garlic and this herb is one of my all time favorites.
According to Wikipedia Garlic preparations may effectively lower total cholesterol in adults with if taken for periods longer than two months. Its also known to lower stomach cancer. Wikipedia states:
A 2014 meta-analysis of observational epidemiological studies found that garlic consumption is associated with a lower risk of stomach cancer in the Korean population. Similarly, a 2013 meta-analysis of case-control studies and cohort studies found limited evidence suggesting an association between higher garlic consumption and a lower risk of prostate cancer.

In the typical serving size of 1-3 cloves (3-9 g), garlic provides no significant nutritional value with the content of all essential nutrients below 10% of the Daily Value (DV) (right table).[35] When expressed per 100 grams, garlic contains several nutrients in rich amounts (> 20% DV), including vitamins B6 and C, and the dietary minerals, manganese and phosphorus. Per 100 gram serving, garlic is also a good source (10-19% DV) of certain B vitamins including thiamine (Vitamin B1), and pantothenic acid (Vitamin B5), as well as certain dietary minerals including calcium, iron, and zinc. Read full story here
So making use of this herb makes great sense. The recipe is pretty straightforward below so please give this one a try. I hope you like this one and share it with your friends.
Healthy Baked Bruschetta Chicken Recipe In 45 Minutes!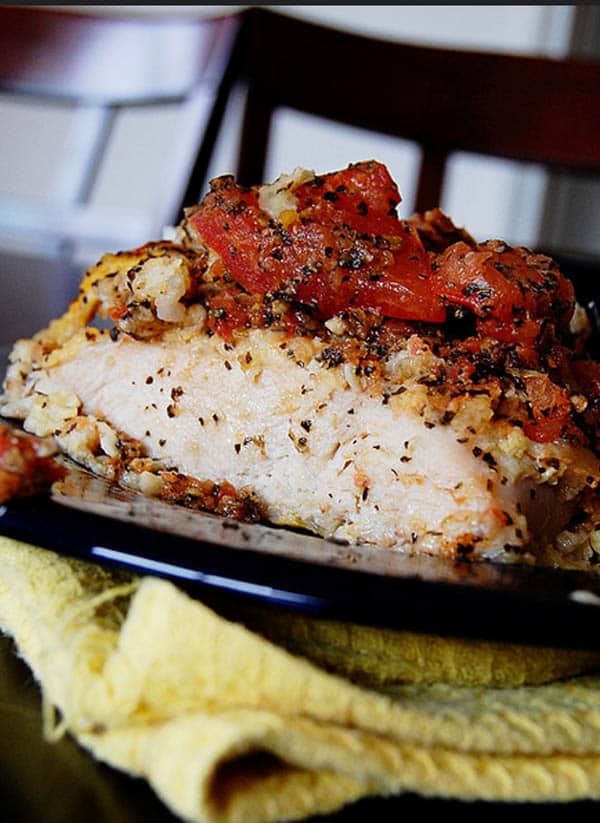 Ingredients
1/2 cup flour
2 large eggs, beaten
4 boneless, skinless chicken breasts
1/4 cup grated parmesan cheese
1/4 cup crushed garlic croutons
1 tablespoon fresh butter, melted
2 large tomatoes
3 tablespoons of minced fresh basil
2 garlic cloves, minced
1 tablespoon extra virgin olive oil
salt & pepper to taste
Instructions
Preheat your oven to 375 degrees. Grease a 9x13 baking dish.
Place the flour & the beaten eggs into separate shallow bowls.
Dip the chicken into the flour, and then into eggs. Place into baking dish.
Combine parmesan cheese, crushed croutons, & melted butter then sprinkle on chicken.
Loosely cover with foil.
Bake for about 30-40 minutes, or until top is browned and the chicken is cooked through.
Chop tomatoes and combine with last ingredients.
Spoon mixture over chicken, and return to oven for 5-7 minutes or until tomato mixture is heated through.
https://appetizergirl.com/chicken/healthy-baked-bruschetta-chicken-recipe-in-45-minutes/
I currently teach baking courses and have worked in a number of cafes and restaurants.
Check out my About Us page to find out more about me and my passion for cooking.
Welcome to Appetizer Girl