Another comfort food that I especially dedicated to those busy and bored people that are staying at home during this pandemic due to this COVID19 outbreak. I hope you will stay safe and healthy while enjoying yummy and delicious foods.
This Creamy Chicken and Broccoli Pasta Bake, made with low fat, lower saturated fat, and lower sodium. It is bursting with the rich flavor of grated tasty cheese, stuffed with chicken and vegetables like broccoli, peas, corn, and spinach. In only 45 minutes, you can make this simple, filling, and tasty dish.
Those who are expert cooks would raise their eyebrows when they will know how this creamy broccoli dish is done. However, once they can taste it they will change their mind.
How to Bake Chicken Pasta with Vegetable
The process that I used for this creamy chicken broccoli pasta bake is definitely out of the ordinary. Just plain flour, uncooked dried fusilli pasta, cooked chicken, vegetables, reduced-fat milk, and cheese as our main ingredients. But the outcome of this dish is remarkable.
Cooking this recipe can be sum up in four parts. The first part is the cooking of pasta and vegetable, the second is the sauce making, the third part which I find the easiest, where all you have to do is to mix all the ingredients on a deep baking sheet. Finally, the baking part.
I love that this is not starchy, the pasta was cooked perfectly with enough sauce.
Pasta is a good base in many dishes, but,  baking pasta is quite tricky. You guys must have experienced dry pasta bakes while making one, I can relate to that and the result is not as you expected.
Do you cook the pasta before baking it in the oven?
For this recipe, I recommend cooking the pasta first before baking it. Cooking the pasta partway will allow it to carry on cooking in the oven, especially when it is soaked in the sauce. But do you know the challenge of doing this? TIMING, yes it is hard to tell if the pasta has been cooked halfway. If the pasta is cooked more than halfway, it will be overcooked after baking it in the oven.
Unfortunately, pre-cooking the pasta before baking takes more time and work, preparing a large pot of boiled water, straining in the colander, that adds mess in the kitchen. Well, for me it doesn't matter, hope we are in the same boat. I will share with you the reason why I choose to pre-cook the pasta.
Uncooked pasta takes a longer time to cook in the oven. No one wants pasta that is not tender. And if the pasta is uncooked then mixed with the other ingredients, it will absorb all the sauce while baking and will make the dish dry.
Remember that uncooked pasta needs to be hydrated before it will be tender.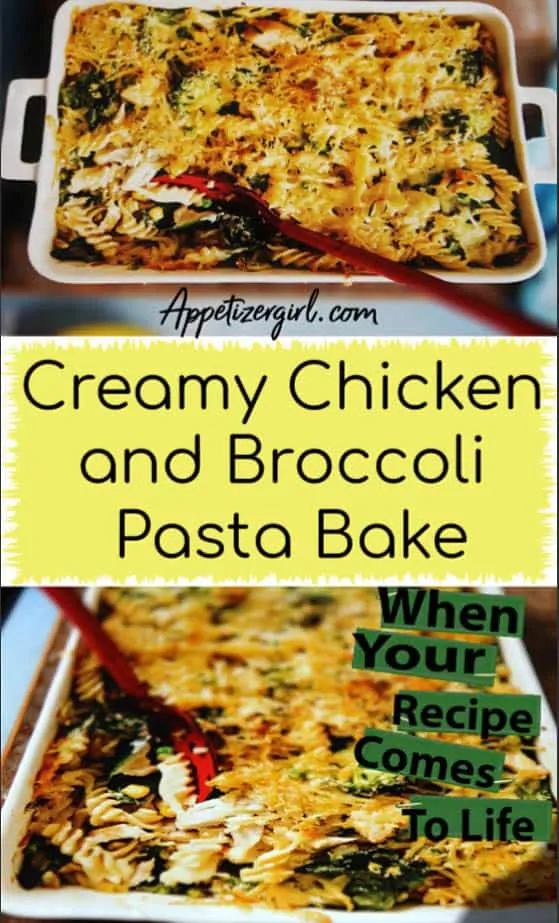 Here is another style of a home cook pasta that I found.
Have you heard about the NO-COOK technique of preparing pasta? All you have to do is to infuse the pasta in warm water with salt. Note that you have to soak the pasta for at least 45 minutes in the salted warm water. Therefore, you need to prepare the pasta beforehand. Or use the soaking time to prepare the other ingredients that you will need for this Creamy Chicken and Broccoli Pasta Bake.
What is the advantage of this pre-soaking pasta technique? It will allow the pasta to hydrate and will wash out the starch from it. Also, the salt in the warm water serves as pre-seasoning for the pasta.
Easy and Creamy Chicken Pasta Bake that you should try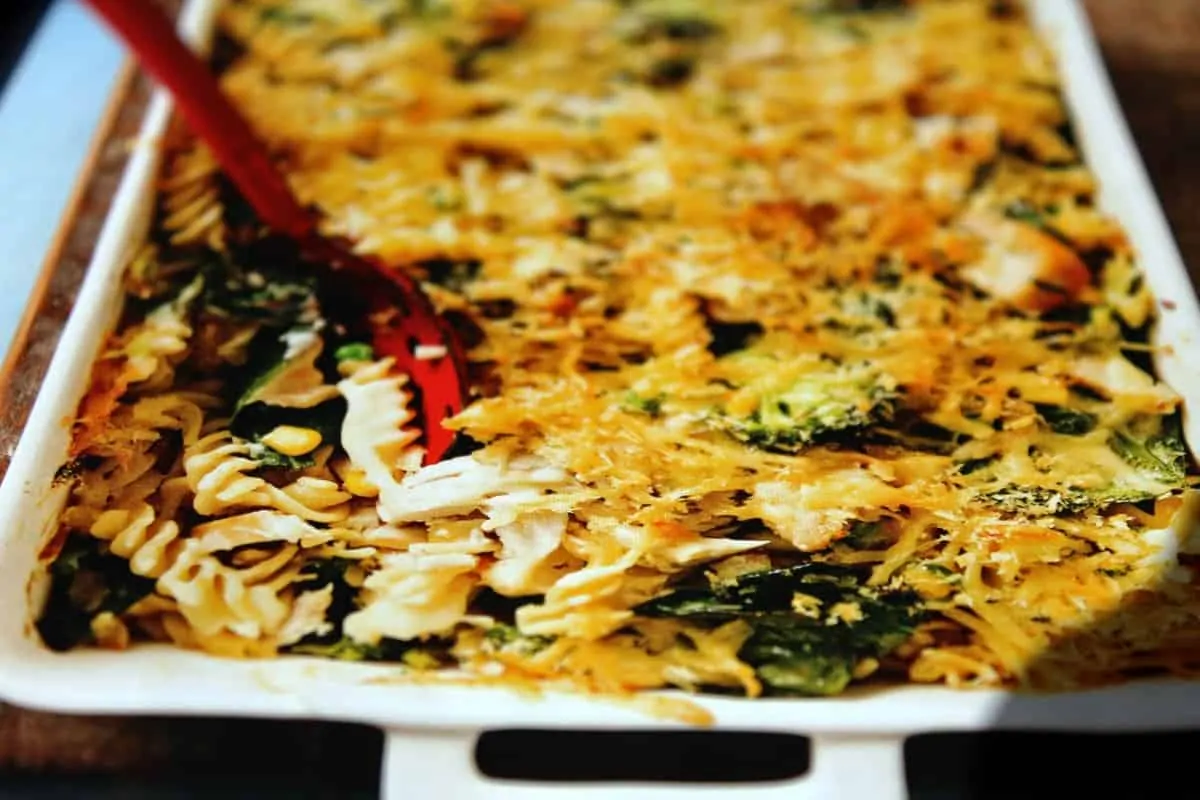 This recipe is loaded with nourishing vegetables like broccoli, peas, corn, and spinach, which make this dish great for the family. Another thing that I like about this recipe is that it is versatile, you are free to mix up to the vegetable that you use according to whatsoever your family like.
If you are often busy, make a vast amount because this dish is freezer-friendly. You can always freeze the leftover for the next insane busy day. A complete HEALTHY meal cooked in one baking dish. Snap it in the oven, that comes out to perfection, cooked chicken and vegetable pasta bake simmered in a creamy sauce.
More Creamy Chicken Pasta Bake Recipe
We would love to hear your comment below. Feel free to leave a comment and let us know what you think of this recipe.
Creamy Chicken and Broccoli Pasta Bake
Ingredients
375 g dried fusilli pasta
1 1/2 cups small broccoli florets
1 cup frozen peas and corn
1 1/2 tablespoons light margarine
1/4 cup plain flour
2 1/2 cups warm reduced-fat milk
1 cup reduced-fat grated tasty cheese
3 cups chopped cooked chicken
100 g baby spinach
2 green onions, thinly sliced
1/4 cup panko breadcrumbs
Instructions
Cook the pasta in a large saucepan of salted boiling water, following packet directions until cooked halfway. Add the broccoli, peas and corn in the last 2 minutes of cooking time. Drain well. Return pasta mixture to pan.
Meanwhile, melt margarine in a medium saucepan over medium heat. Add flour. Cook, stirring, for 1 to 2 minutes or until mixture bubbles. Gradually stir in warm milk. Bring to the boil. Reduce heat to low. Cook, stirring, for 4 to 5 minutes or until sauce thickens. Season with salt and pepper. Stir in 1/4 cup cheese.
Preheat oven to 200°C/180°C fan-forced. Grease a 6 cm-deep, 2.5-litre (10-cup-capacity) ovenproof dish.
Add sauce, chicken, spinach and onion to pasta. Stir to combine. Spoon mixture into prepared dish. Sprinkle with remaining cheese and breadcrumbs. Bake for 15 to 20 minutes or until golden. Stand for 5 minutes.
Serve.
https://appetizergirl.com/chicken/creamy-chicken-and-broccoli-pasta-bake/
I currently teach baking courses and have worked in a number of cafes and restaurants.
Check out my About Us page to find out more about me and my passion for cooking.
Welcome to Appetizer Girl