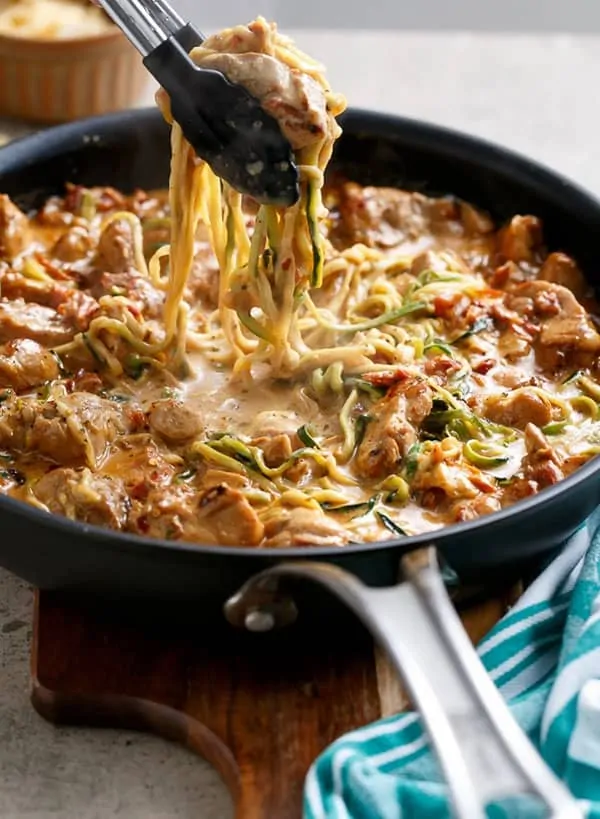 After searching for a chicken recipe I decided to share this one with you from Cafe Delites. It uses pasta made from a Active Spiralizer Spiral Slicer, which is a fancy name for a really versatile pasta maker that only costs around $10 to buy. After taking a look I also found that it was recommended by Dr Oz.
So this little gadget makes it so easy to make the pasta like spirals for this chicken dish. If you cant find one of these pasta makers then you can substitute with a vegetable peeler. But you will find the Active Spiralizer Spiral Slicer so much more easier to use.
This Sun Dried Tomato Parmesan Chicken Recipe as the name suggests requires sun dried tomatoes along with Parmesan cheese and of course the main ingredient – chicken. What would a chicken dish be like without the chicken. I dread to think. So don't forget to thaw out some chicken thigh fillets or make sure you have some fresh on hand. This dish also requires that little magic herb, garlic. I love garlic and like to use it in most of my dishes, not just for its flavor but also for its medicinal properties.
Sun Dried Tomato Parmesan Chicken Recipe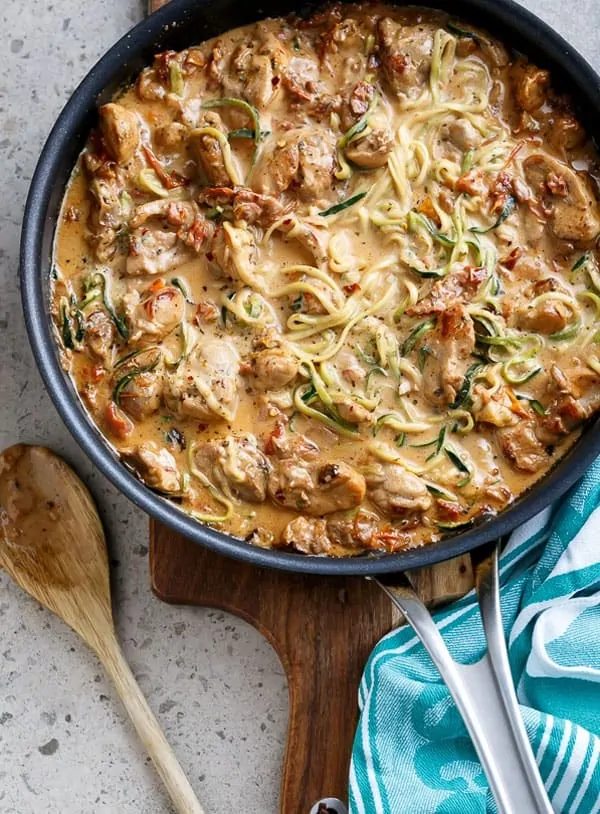 Ingredients
1 tablespoon fullcream butter
700g skinless chicken thigh fillets, cut into nice strips
120g fresh semi-dried tomato strips in oil, chopped
100g jarred sun dried tomatoes in oil, chopped
4 cloves garlic, peeled and crushed
300ml cup thickened cream, reduced fat or full fat (or half and half)
1 cup shaved Parmesan cheese
SeaSalt to taste
Dried basil seasoning
Red chilli flakes
2 large Zucchini (or summer squash), made into Zoodles
Instructions
Heat the fresh full cream butter in a pan or a skillet over medium to high heat.
Add the fresh chicken strips and then sprinkle with sea salt.
Pan fry until the tender chicken strips are a golden brown on all sides and cooked through.
Add both semi-dried and sun dried tomatoes with 1 tablespoon of the oil from the jar, and add the garlic; sauté until fragrant.
Lower the heat, and then add the cream and the Parmesan cheese; simmer while stirring until the cheese has melted through.
Sprinkle over sea salt, the basil and the red chilli flakes to your taste.
Stir through the Zoodles and continue to simmer until the zoodles have softened to your liking (about 5-8 minutes) and serve.
https://appetizergirl.com/chicken/sun-dried-tomato-parmesan-chicken-recipe/
Please like and share this recipe with your family and friends
I currently teach baking courses and have worked in a number of cafes and restaurants.
Check out my About Us page to find out more about me and my passion for cooking.
Welcome to Appetizer Girl