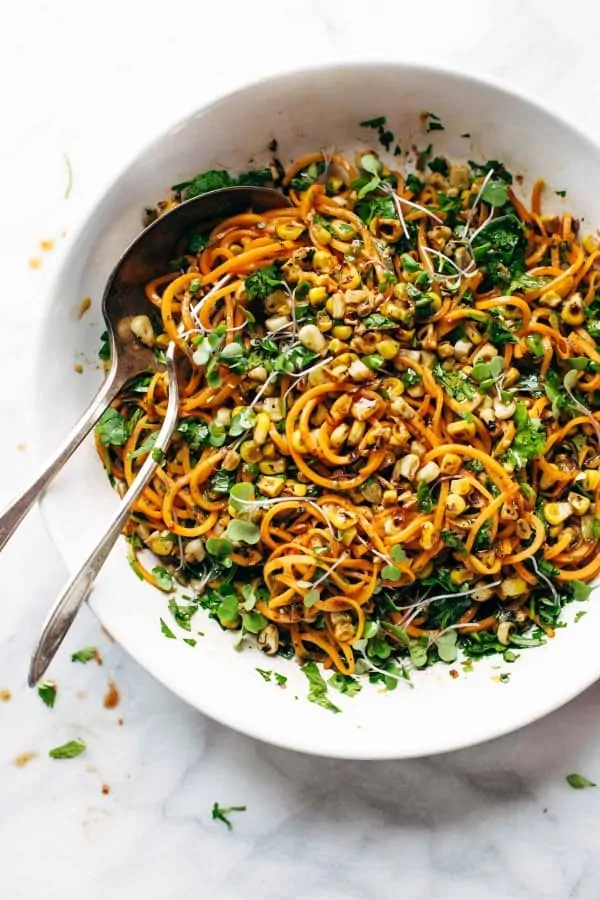 Yes!!! you read it right it's a salad made up of sweet potato noodle. I know you are curious on what this recipe is made up. Like what? Sweet potato noodle? Is that possible?
It's really great to have a rest day. I mean no work you can have time to relax, be comfortable and stress-free. Of course, the best part is to cook it makes me happy and releases all the stress for the entire week. I'm sure all here that loves to cook can relate.
Noodles recipe is always been my favorite. You know what's the reason? When I was younger I love Korean movie I often saw the actors and actresses eating different menus made up of noodles. Funny right? but interesting! It builds my curiosity.
Today I want to be creative, I will use a sweet potato noddle in my recipe. Good thing is that it can be done with the handy spiralizer that I bought online. You can also buy for your personal use. This spiralized sweet potato salad is bursting with flavor. If you are a health conscious this is good for you cause it's vegan and gluten-free.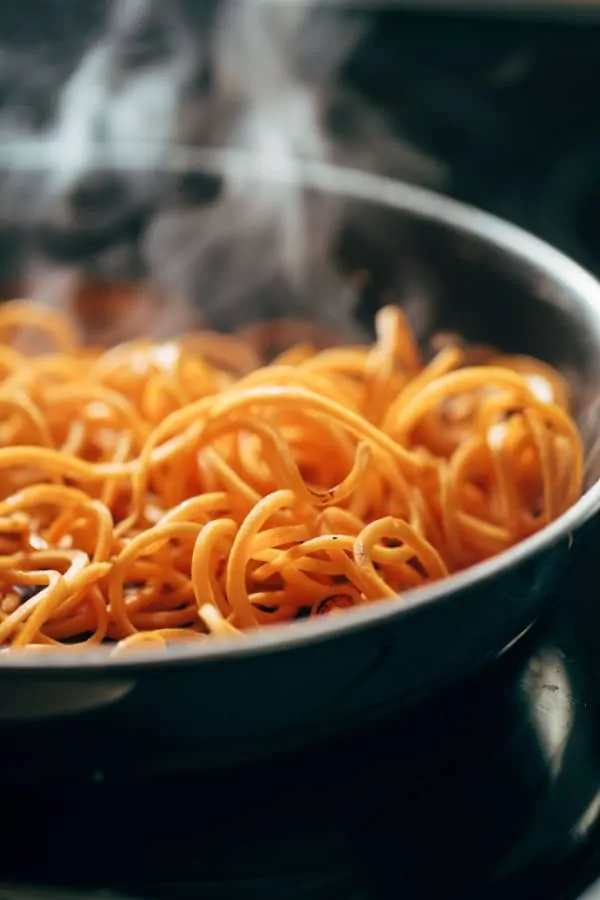 To make it flavorful I will add chipotle garlic dressing, cilantro, roasted corn, and pepitas.  I really love this Sweet potato recipe. A recipe that I can eat daily.
Sweet Potato Noodles Recipe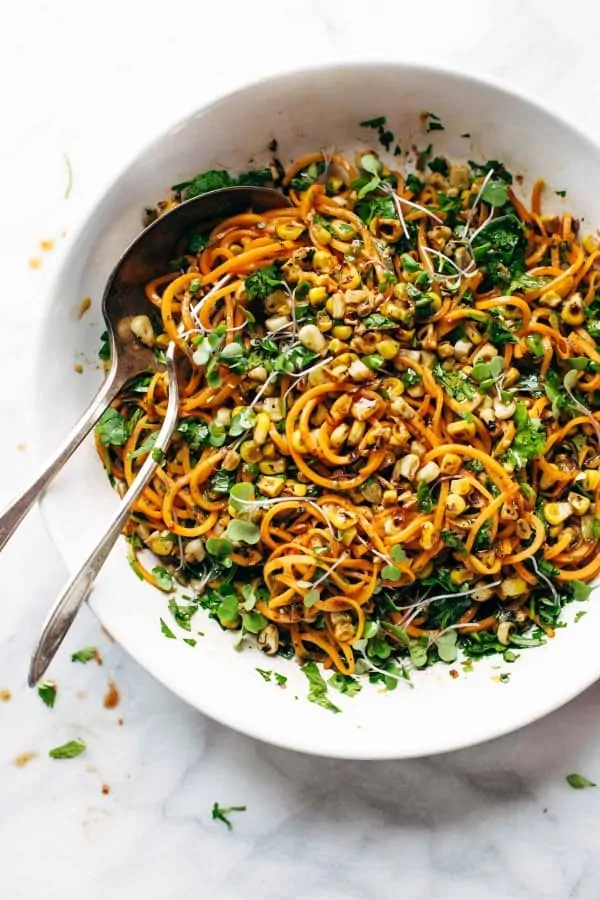 Ingredients
For The Sweet Potato Noodle Salad:
olive oil
2 sweet potatoes, spiralized!
4 ears sweet corn (kernels cut off the cob)
1 cup chopped fresh cilantro
1 cup chopped fresh greens – spinach, micro greens, arugula, whatever
1/2 cup pepitas
For The Chipotle Dressing:
1/3 cup olive oil
3 tablespoons water
2 individual chipotle peppers, canned in adobo sauce
1 clove garlic
1 teaspoon agave or honey
juice of one orange
juice of one lemon or lime
generous pinch of salt
Instructions
Heat a little bit of olive oil in a skillet over medium heat. Add the sweet potato noodles and toss for a minute or two until softened. See notes.
Wipe the skillet out so it's dry. Add the corn kernels and turn the heat to medium high. Toss around in the pan every few minutes until roasted-looking. See notes.
Toss the noodles, corn, cilantro, and pepitas together. Save a little of each ingredient for topping the salad if you want it to be extra pretty.
Pulse the dressing ingredients in a food processor until smooth. Taste and adjust to your liking.
Toss with the salad ingredients and you're good to go!
Notes
If going sugar free is important to you, you can sub in chili powder to taste for the chipotle peppers.
For cooking the sweet potato noodles: you'll notice a visible texture change when they're ready – they just sort of relax into the pan instead of being so stiff. You don't want them to be overly mushy but you also don't want them to be rock hard and crunchy. Somewhere in between is perfect. For me, 5-ish minutes was about right.
For cooking the corn: this can do a number on your skillet, so make sure you're using a high quality pan – either nonstick or a really well seasoned cast iron. The idea is to DRY roast them without oil or butter. They don't get as browned and roasted if you have to put butter or oil in the pan. Also, the less frequently you stir, the more browned they'll get. I used a nonstick and the bottom of the pan got a little brown but washed out very easily.
https://appetizergirl.com/appetizer/sweet-potato-noodle-recipe/
I currently teach baking courses and have worked in a number of cafes and restaurants.
Check out my About Us page to find out more about me and my passion for cooking.
Welcome to Appetizer Girl