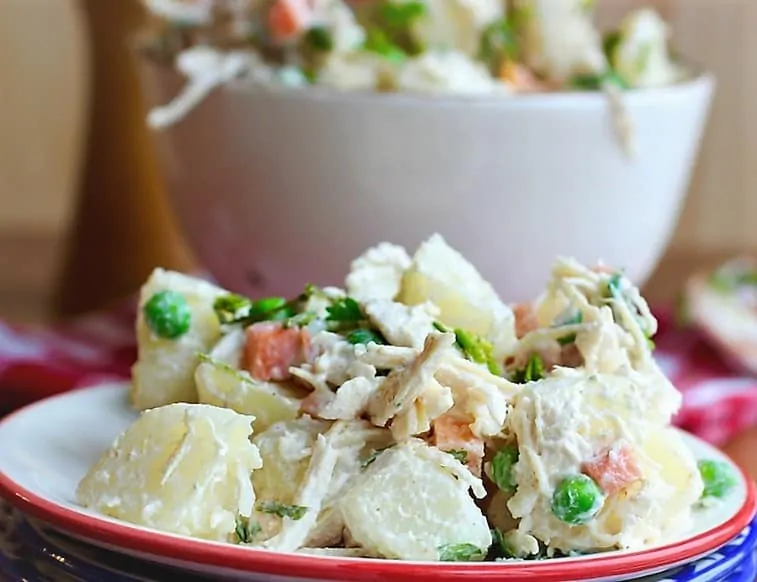 This Chicken Potato Salad with Apple is satisfying and filling. A light salad that will make you feel full longer. A good source of protein and carbohydrates and apple that adds flavor to this SALAD.
Next week I'll be inviting friends to come over for lunch at home. So, I am thinking about a better dish to offer. Help me decide guys! Well to give you an idea, I'm expecting about 4-5 persons. MY SQUAD is coming!!! And I am super excited.
Salad salad salad! Why is that you are the first thing to come up in my mind while thinking about the preparation. While I was trying to research something new, I found this Chicken Potato Salad with Apple. I have been making salads but I have never tried potato in it. Therefore, I gave it a shot today and as you can see and how I wish that you can taste too, it is a total package, fantastic. Love the taste, love the aroma, love the carrots in it, love the tasty and creamy dressing sour cream, and of course the chicken.
Adding mayonnaise,  lime juice and sour cream create a tang effect, that balances all of the other ingredients. Also, the diced apple, green peas, and carrots add to the flavor. Looking at the texture, you would agree that this Chicken Potato Salad with Apple looks fantastic and mouthwatering. Especially the aroma from cilantro and parsley. It can serve as a main dish or side dish.
How to make Chicken Potato Salad with Apple?
First, cook the chicken breast in a medium saucepan, put enough water to cover the meat,  add salt to taste, and simmer it for 15-20 minutes until its cooked. Drain and let it cool, until you're able to shred the chicken meat. If you bought a rotisserie chicken, remove the chicken before shredding.
Second, while cooking the chicken, peel and slice the potato and carrots into a dice, as you can see, I cut the potato bigger than carrots. Because I want to make the potato as a highlight, that is why I choose to slice them bigger.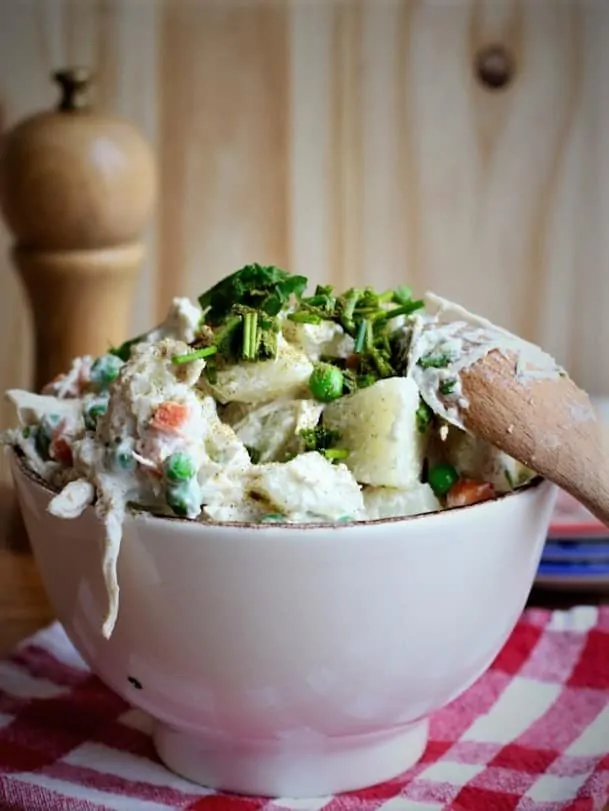 Third, peel the apple and white onion, slice them into dice. Prepare the peas, lime juice, mayonnaise, sour cream, chopped cilantro, pepper, and salt. Then, mix all the ingredients.
Finally, it's time for the party! I can't wait for my friends to try this salad next week. And YOU should not miss this salad as well. Grab your ingredients, make it a shot. Let me know how it goes, and feel free to leave a comment below.
Chicken Potato Salad with Apple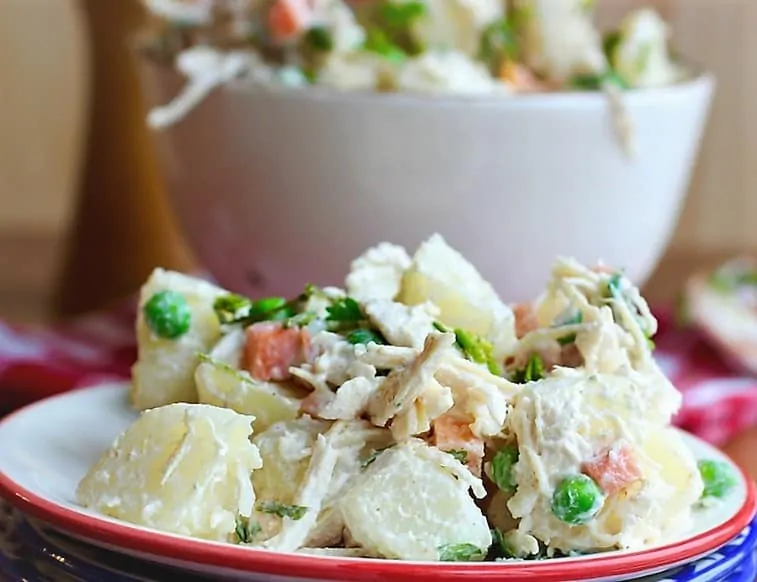 Ingredients
4 large potatoes, peeled, cooked and diced
1 cup of diced carrots
1 cup of peas
1 large chicken breast cooked and shredded
2 apples, peeled and diced
1/2 cup diced white onion
Lime juice from 2 limes
1/2 cup mayonnaise
1/2 cup of sour cream or plain yogurt
3 tablespoons finely chopped cilantro or parsley
Salt and pepper to taste
Instructions
Simmer the chicken breast within 15-20 minutes until cooked. Drain it and shred. If you are using rotisserie chicken just remove the skin then shred it.
While cooking the chicken peel the potatoes and carrots. Slice them in a dice. Boil it until its cooked.
Peel the apple and white onion and slice them into dice. Chopped the cilantro or parsley.
When everything is ready mix all the ingredients. Add the peas, mayonnaise, lime juice, sour cream, salt and pepper. Top it with cilantro or parsley.
https://appetizergirl.com/chicken/chicken-potato-salad-with-apple/
I currently teach baking courses and have worked in a number of cafes and restaurants.
Check out my About Us page to find out more about me and my passion for cooking.
Welcome to Appetizer Girl