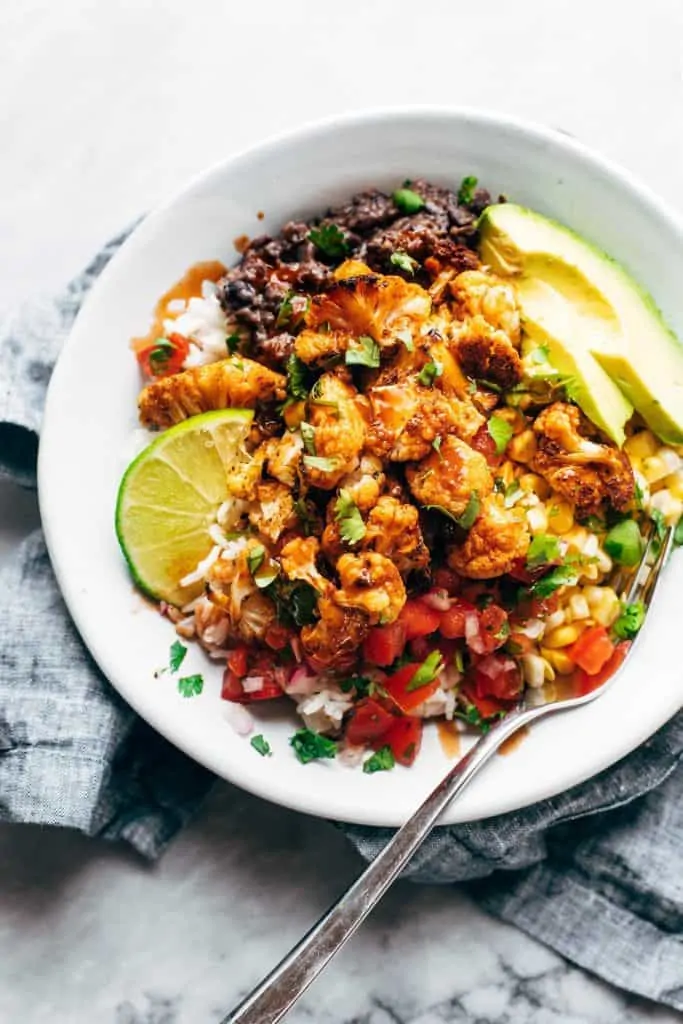 "Cauliflower Burrito Vegan" by the name of this recipe, I'm pretty sure you guys know how healthy cauliflower burrito vegan is made of!
This Cauliflower Burrito Vegan would make the perfect meal when you want something substantial but healthy recipe.
Have you been in the situation that you are bored of the same food served in the table again and again? I can tell. You just need to be creative in the kitchen to satisfy yourself with the recipe that you want.
Cauliflower is an extremely healthy vegetable that's a significant source of nutrients. It's weight loss friendly and incredibly easy to add to your diet.
Another favorite? The burrito bowl. It's the first thing I crave when we come home from a long trip. I'm bringing you this delicious recipe. I can't think of anything that represents American-Mexican as much as burrito bowl, can you?
This looks so healthy and delicious! I am making it my goal to start making incredible lunches like this from now on! And since it's a favorite, for this recipe I tried to make it a tad healthier, so I could eat them every day with shameful guilt. Fresh avocado loaded with potassium. I have to warn you this is a very veggie meal.
This cauliflower burrito vegan recipe is:
Fast
Easy
Flavorful
Veggie-packed
Protein- and fiber-rich
Super healthy
Crowd-pleasing
& Delicious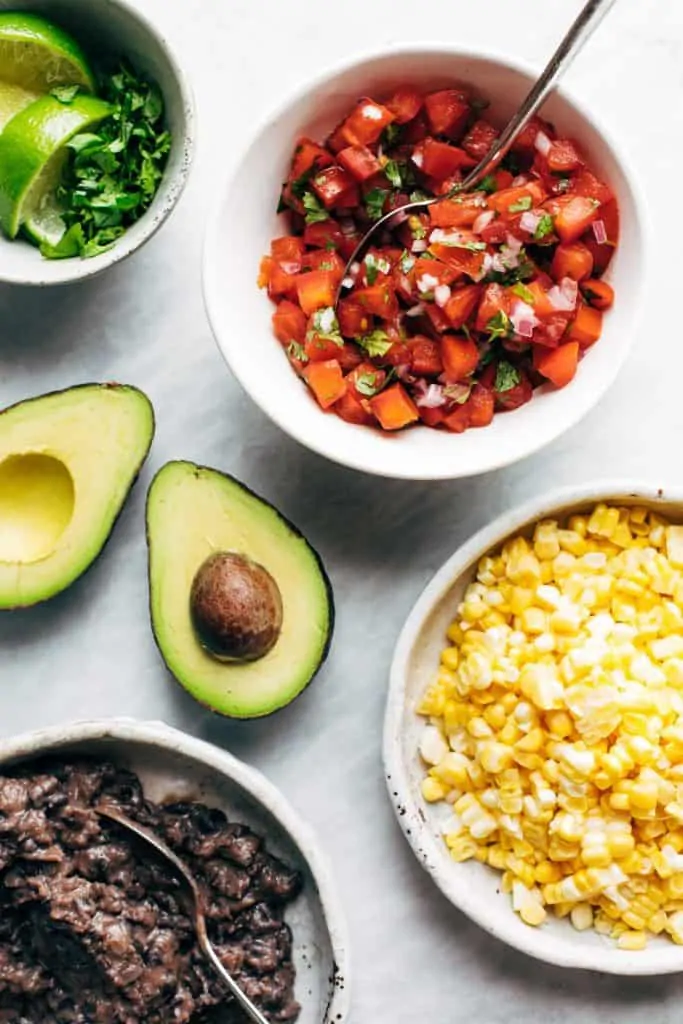 Why is that this cauliflower burrito vegan is the best? It has aggressively spiced roasted cauliflower coated in some hot sauce; hot steamy white rice;  fresh sweet corn that is seriously SWEET; creamy mashed black beans; buttery avocado; and waterfall of lime juice and cilantro over the whole thing.
I'll start in roasting the cauliflower while making batches of toppings.
This is absolutely a delicious meal that you would love.
Cauliflower Burrito Vegan
Ingredients
1 cup white or brown rice
1 head of cauliflower, chopped into florets
1 tablespoon olive oil
1 tablespoon taco seasoning, divided
1 14-ounce can of black beans, rinsed and drained
1/2 cup water
2 tomatoes, chopped
half of a small onion, chopped
juice of 2 limes + more wedges for serving
1/2 cup chopped fresh cilantro
2 ears of corn, kernels cut off the cob
1 avocado
your favorite hot sauce for topping
Instructions
Rice: Cook the rice according to package directions.
Cauliflower: Heat the oven to 425 degrees. Toss the cauliflower florets with the olive oil and half of the taco seasoning. Sprinkle with salt and pepper. Roast for 20-25 minutes, tossing halfway through to prevent burning.
Beans: In a saucepan combine the black beans, water, and remaining taco seasoning. Bring to a low simmer. Crush the black beans with the back of a spoon until the mixture starts to get creamy. It should continue to thicken as it stays over medium low heat.
Pico: Toss the tomatoes, onion, limes, and cilantro together to make a pico de gallo. Season with salt.
The Moment of Glory: Make a big bowl with rice, re-fried beans, corn, pico de gallo, avocado, and a lime wedge. Finally top the bowl with your roasted cauliflower and add your hot sauce if you want!
https://appetizergirl.com/vegeterian/cauliflower-burrito-vegan/
I currently teach baking courses and have worked in a number of cafes and restaurants.
Check out my About Us page to find out more about me and my passion for cooking.
Welcome to Appetizer Girl