Anyone wants pizza right now? This Sweet Potato Pizza Crust with Chicken is on, so join me as I take you to a pizza wonderland.
Pizza Pizza Pizza when will I be satisfied with you? Thanks for the sweet potato crust, I can eat all I want without busting my diet. With just six ingredients you can enjoy this  Chicken Sweet Potato Crust recipe. Therefore, all of my super-duper busy friends, mommas with little kids, hard-working daddies out there, or single ladies and gentlemen, I made this for you.
I know all of you guys been through a lot of stress, workloads, which makes you tired. And many of you would agree, that sometimes treating yourself with yummy and delicious food, especially healthy foods can ease all the pressure in life. Honestly, for me, that is always true! Whose on my side? I'm sure that you guys are on my side!
This Sweet Potato Pizza Crust can be ready with just three ingredients: sweet potato, some rolled oats, and, one egg. Put it in the food processor until fine. Since I want my crust flavorful, I added salt, olive oil, and garlic powder. I like the smell of garlic in the mixture, appetizing! It's time to form the crust if you want to make a crispy crust form it into 1/4 inch or 1/2 inch.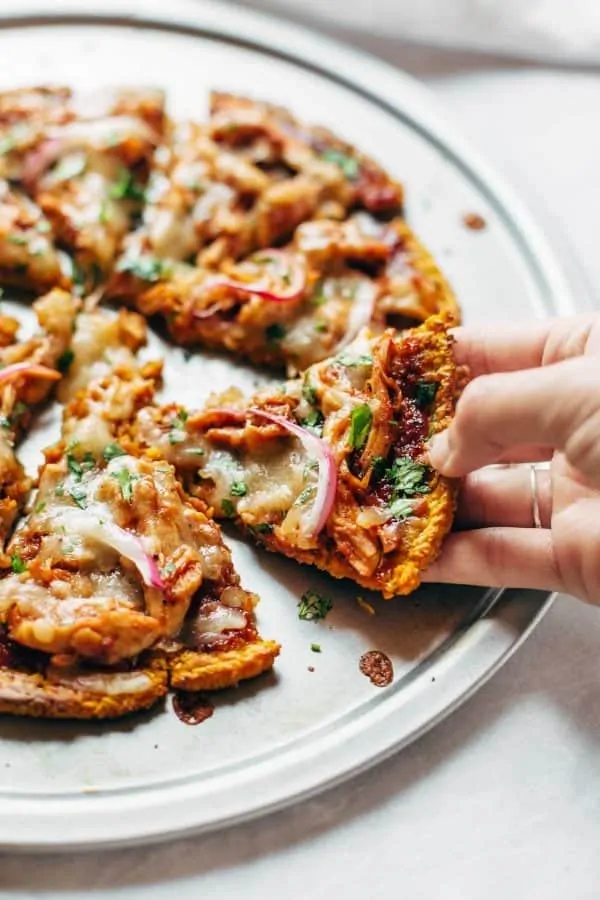 Now, we will talk about toppings. Pizza won't look appealing without the topping. It should be tasty crust+ delicious toppings=piz-za.
For toppings, we have shredded chicken, chopped cilantro, sliced onion, mozzarella cheese, and of course we can't forget the sauce. A tasty, delicious, home-made pizza, with healthy ingredients. Why you have to go out to buy pizza if you can make them yourself?
Sweet Potato Pizza Crust from Appetizergirl.com
Ingredients
For Crust:

1 medium sweet potato, peeled
2/3 cup rolled oats
1 egg
1/2 teaspoon salt
a pinch of garlic powder
1 tablespoon olive oil

Toppings:

1/2 cup barbecue sauce
1/2 cup shredded chicken
1/4 cup thinly sliced red onion
1 cup mozzarella cheese
1/2 cup chopped cilantro
Instructions
Preheat oven to 400 degrees. Pulse the sweet potato and oats through the food processor until very fine. Add the egg and garlic powder and salt; pulse again to mix. The mixture should resemble a loose dough or thick batter.
Transfer to a parchment lined baking sheet or round pizza pan. Press into crusts and shape with your hands – you can either make two smaller crusts (you'll get more crispy edge surface area) or one larger crust. Crusts should be about 1/4 to 1/2 inch thick.
Bake for 25-30 minutes, until the top is dry to the touch. Remove from oven, let cool, and invert back onto the pan with the dry side facing down. Peel the parchment very gently off the top layer and brush with olive oil. Bake for another 5-10 minutes to get a nice crispy top
Top with sauce, chicken, red onion, and mozzarella cheese, in that order. Bake at 400 degrees for 10 minutes, or until the cheese is melted and pizza is hot.
Finish with cilantro. Cut and serve!
Notes
Amounts will vary depending on the size of your pizza, so just play it by ear. When it doubt, go for LESS toppings so it doesn't weigh the crust down too much.
https://appetizergirl.com/appetizer/sweet-potato-pizza-crust-from-appetizergirl-com/
I currently teach baking courses and have worked in a number of cafes and restaurants.
Check out my About Us page to find out more about me and my passion for cooking.
Welcome to Appetizer Girl