I love the taste of caramelized chicken. It combines that sweet taste with the texture of the chicken to give one of the best flavors i have ever tasted.
Thats my personal opinion i would like you to try this Caramel Chicken Recipe Bon Appetit and see for yourself. I find that some of the simplest recipes are often the best. Complicating things just is not practical for a home dish. Maybe they are best kept to the fancy restaurants.
Caramel Chicken Recipe Bon Appetit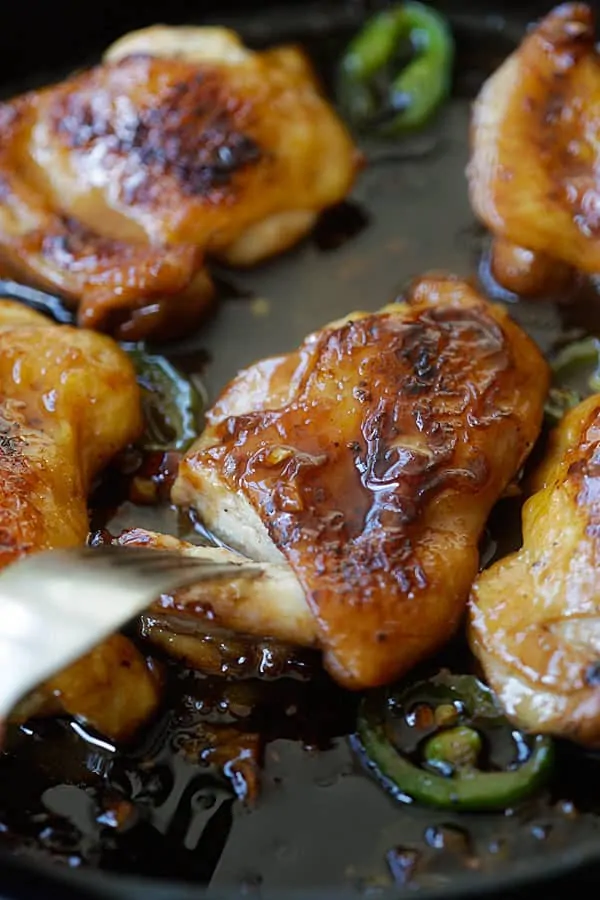 Ingredients
1 lb chicken thighs with skin, deboned
2 tablespoons oil
3 cloves garlic, minced
1/2 jalapeno, sliced
Marinade:
1 tablespoon sugar
1 tablespoon fish sauce
Black pepper
Caramel Sauce:
1 tablespoon fish sauce
3 tablespoons water
1/2 tablespoon sugar
3 teaspoons rice vinegar or Apple cider vinegar
Instructions
Begin by Marinating the chicken with the Marinade ingredients for about 10 minutes. Mix all of the ingredients in with the Caramel Sauce in a large bowl, then set aside.
Gently heat up a skillet on a medium to high heat. Then add 1 tablespoon of oil. Pan-fry the chicken until the bottom of the chicken turns slightly crispy and brown. Repeat the same process for the skin, until the skin becomes very slightly charred. Then transfer the chicken out.
Then add the remainder of the oil into the skillet and then add the garlic. Add the chicken into the pan and then follow by the fresh Caramel Sauce mixture. Proceed to lower the heat to simmer and continue to cook until the caramel sauce reduces. Be sure you turn the chicken a few times during the cooking. Add some jalapeno and continue to cook for around 1 minute. Serve immediately with steamed rice.
https://appetizergirl.com/chicken/caramel-chicken-recipe-bon-appetit/
I currently teach baking courses and have worked in a number of cafes and restaurants.
Check out my About Us page to find out more about me and my passion for cooking.
Welcome to Appetizer Girl