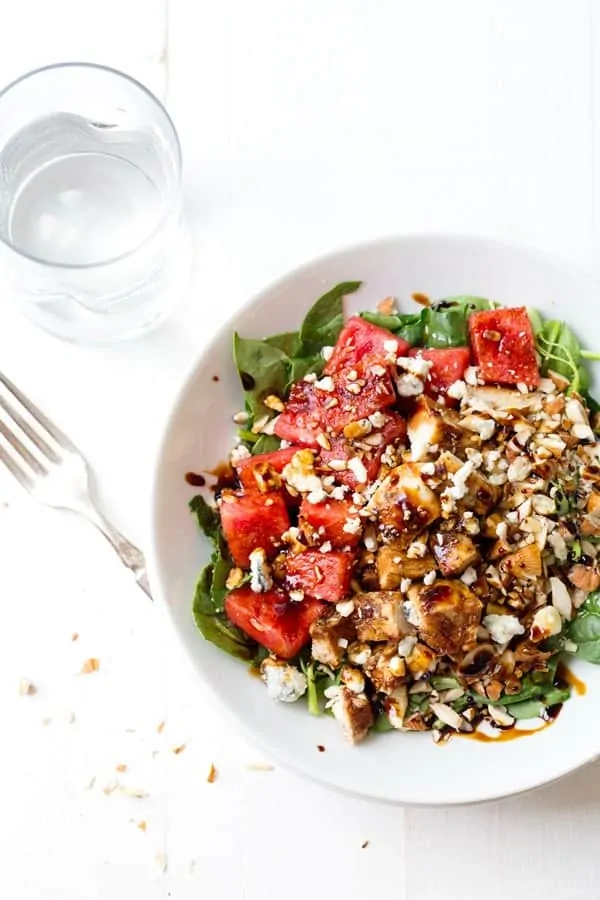 This Watermelon Chicken Balsamic Salad is a refreshing/simple recipe. Spinach layered with vibrant watermelon and grilled chicken, blue cheese, and almond drizzled with sticky balsamic vinegar.
I have been wanting to make a watermelon salad with chicken for a long time. Yes, for almost a year. Finally, I got the chance to make this Watermelon Chicken Balsamic Salad. Took that long because I was doubting about using watermelon as a combination with chicken.
Watermelon is one of my favorite fruits. I love its juiciness, sweetness, crispiness and it is very refreshing. You might agree that's it is not the usual ingredients for a salad. But, this Watermelon Chicken Balsamic Salad will change your outlook. I'm certain your guest will ask for the recipe.
Here are some tips for this watermelon chicken balsamic salad:
Choosing a leafy base: For this recipe, we use spinach as a leafy base. Make a perfect addition for this addicting salad. You can also use arugula as a leafy base instead of spinach.
Crunch factor: What makes the salad interesting is the crunch factor. It's like bass and melody that gives life to music. Almond and watermelon play that rule.
Good fat Source: Olive oil and blue cheese will make you full longer.
Protein Content: Since Chicken is a good source of protein adding watermelon makes this recipe heartier.
Sauce: As a simple dressing I opted balsamic vinegar. Make a sweet-tangy combination. Dijon mustard and honey are also a good choice.
A perfect combination of savory, freshness, crunch, creaminess, sweet. Makes my heart go wild. The color, yummy taste, such a pretty salad. Aside from that, the procedure is easy to follow and simple. Therefore, it's your time to try this salad recipe for good. I'm certain that you'll love it as much as I did.
Watermelon Chicken Balsamic Salad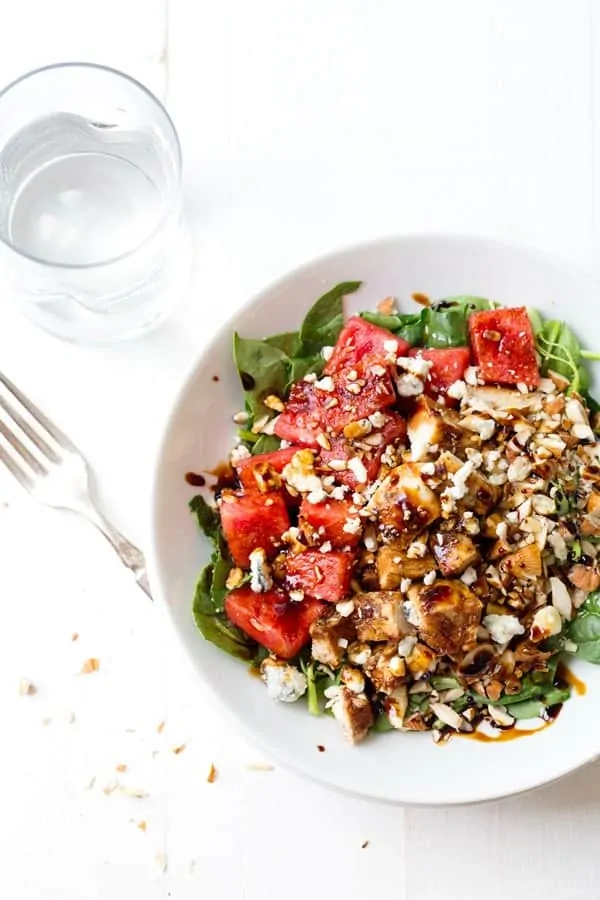 Ingredients
1 cup balsamic vinegar
1 lb. boneless skinless chicken breasts
3 teaspoons all purpose seasoning (I used a spice mix I got at a specialty food store)
1 tablespoons olive oil
4 cups baby spinach or greens
2 cups cubed watermelon
1/2 cup blue cheese crumbles
1/4 cup sliced or crushed almonds
Instructions
Pour the balsamic vinegar into a small saucepan and bring to a boil. Reduce heat and simmer for 15-20 minutes until the balsamic vinegar is significantly reduced and starting to become syrupy.
Meanwhile, turn a grill or nonstick skillet to high heat. Sprinkle the chicken with the seasoning on both sides and drizzle with the olive oil.
Transfer to the hot grill and cook until no longer pink on the inside and nicely browned on the outside. Let rest for 5 minutes; cut into small cubes.
Layer the spinach with the chicken, watermelon, blue cheese, almonds, and drizzle with the balsamic reduction to taste. Top with additional olive oil if desired.
https://appetizergirl.com/chicken/watermelon-chicken-balsamic-salad/
I currently teach baking courses and have worked in a number of cafes and restaurants.
Check out my About Us page to find out more about me and my passion for cooking.
Welcome to Appetizer Girl