Do you want a recipe combination of sweet spicy and sour? Lately, that is what I'm craving for, so I decide to make this Sweet and Spicy Chicken Recipe.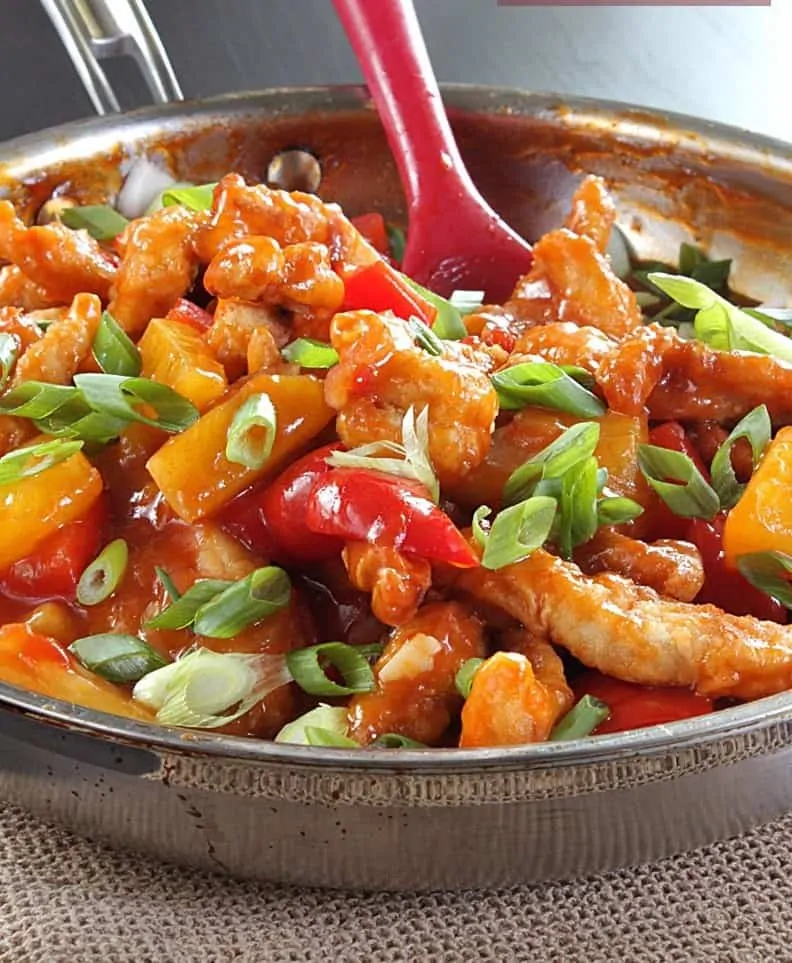 Most of the time I eat in a restaurant, I usually order a recipe that is sweet and spicy. I do it too often, honestly. What makes the sweet, spicy and sour dish captivating is the fact that it is an appetizer. Therefore, you can eat plenty until you are fully satisfied. It is a kind of dish that I crave and long for.
I love making a sweet, sour, spicy dish.  And I want to show YOU some of the recipes:
Another delicious recipe with an easy to follow procedure on your list. A chicken breast cut into strips seasoned with garlic, lime juice, and salt, soak in a dry mixture of ingredients, fried into light brown. Ohh so crispy and taste so good! Then, the fried chicken coated in a creamy, sticky sauce with the perfect blend of sweet, sour, and spicy.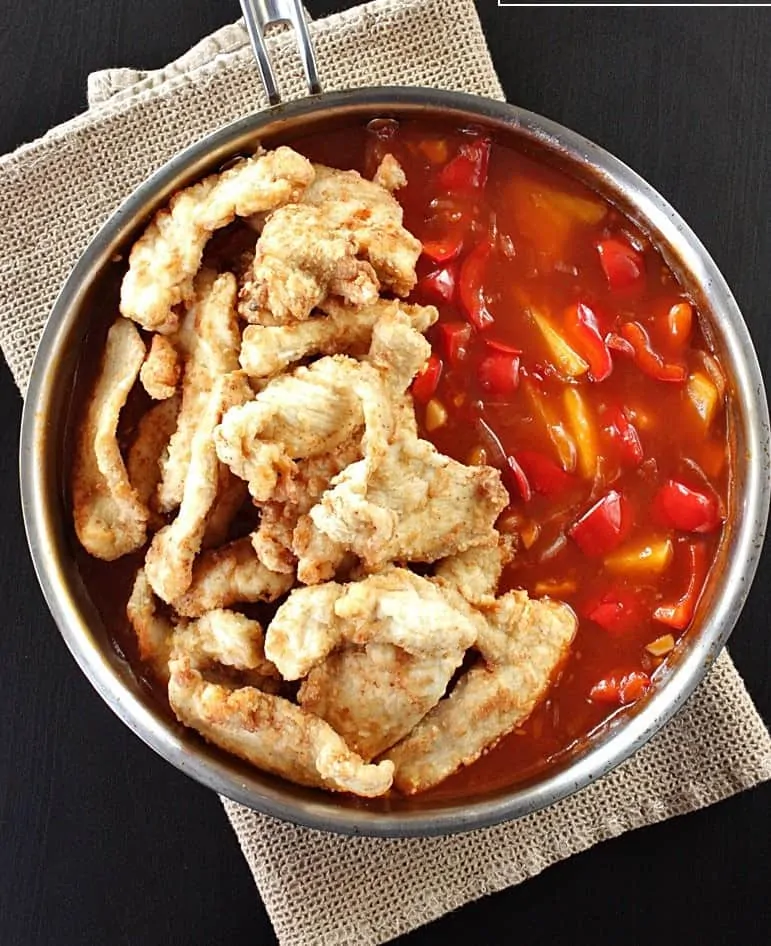 One more thing  I like about this recipe was the sauce of those sweet and sour ingredients, are natural. I used pineapple for the sweet and sour taste. Making it more appealing, and of course, the bell pepper and scallion that added attractiveness for this Sweet and Spicy Chicken Recipe.
You might want to check Juliescafebakery.com. One of my favorite sites for chicken recipes that are family-friendly.
Tips for a perfect Sweet and Spicy Chicken Recipe:
First, use a slice of quality meat. Preferably organic chicken. You can also use chicken thigh. Second, make sure to coat the chicken evenly with all-purpose flour and corn starch, as a result, you'll get perfect crispy chicken. Third, use vegetable oil or canola oil. Then, use enough pepper according to your taste. Finally, fry the chicken to light golden color.
Sweet and Spicy Chicken Recipe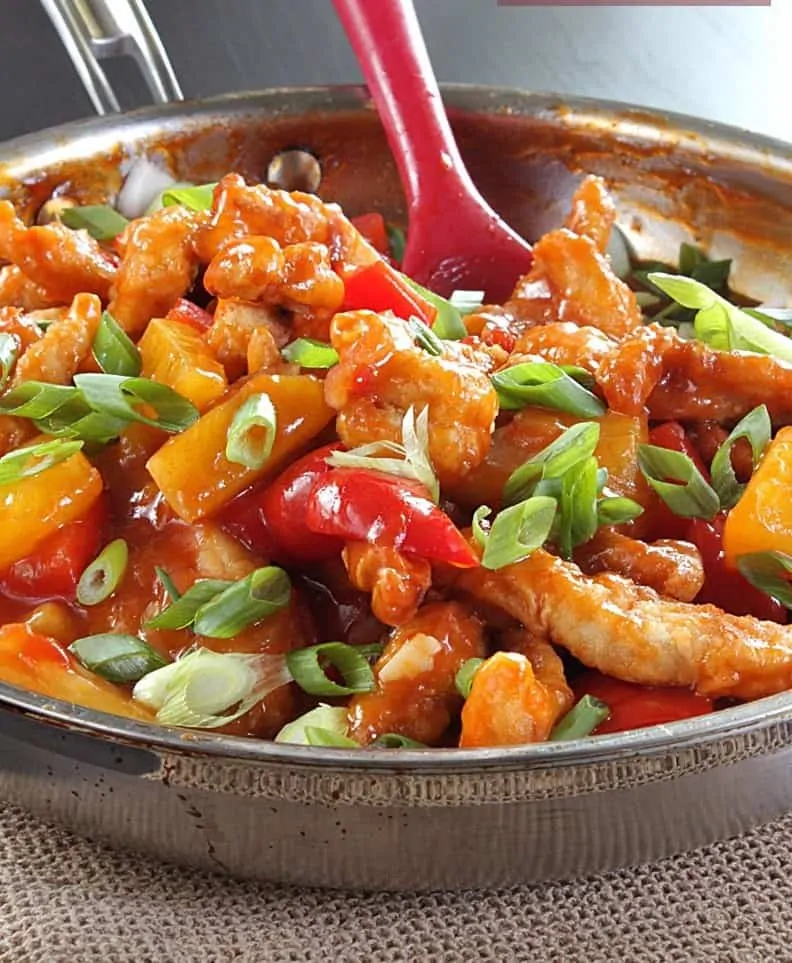 Ingredients
FRIED CHICKEN:

600 gram boneless skinless chicken breast/thigh, cut into strips
4 cloves garlic, bruised
1 tablespoon lime juice
1 teaspoon salt
100 gram all purpose flour
½ tablespoon tapioca starch (or corn starch)
½ teaspoon salt
¼ teaspoon ground white pepper (or ground black pepper)
enough oil for deep frying

SPICY SWEET AND SOUR SAUCE:

2 tablespoon oil
3 cloves garlic, minced
50 gram shallot, thinly sliced
1 red bell pepper, diced
1/4 fresh pineapple, cut into bite sizes
1/2 cup Thai sweet chili sauce
1/2 cup tomato ketchup
1 cup chicken broth
1 tablespoon soy sauce
salt and pepper, as needed
corn starch slurry (1/2 tablespoon corn starch + 1 tablespoon water, mix well)
1 scallion, thinly sliced (garnish)
Instructions
FRIED CHICKEN:

Mix together chicken with bruised garlic, lime juice, and salt. Then let rest for 15 minutes.
Whisk together all purpose flour, tapioca starch, and salt. Toss the chicken into flour mixture to fully coat. There shouldn't be any standing liquid at all at this point.
Heat enough oil in a wok/pot for deep frying. Once the oil is hot enough (it should looks shimmering and runnier), add the coated chicken pieces, in batches if needed, and fry until golden brown. Set aside over a wire rack while we prepare the sauce.

SPICY SWEET AND SAUCE

Heat oil over medium high heat in a frying pan and sauté garlic and shallot until wilted.
Add bell pepper and pineapple, toss well and cook for 30 seconds.
Pour in the Thai sweet chili sauce, tomato ketchup, chicken broth, and soy sauce. Bring to a boil. Give a taste test and add salt/pepper if needed.
Thicken the sauce by adding corn starch slurry, keep stirring until sauce is thick, about 2 minutes.
Turn off heat, add the fried chicken into the pan, gently toss to coat the chicken with sauce. Transfer to a serving plate, garnish with thinly sliced scallions, and serve with steamed white rice.
https://appetizergirl.com/chicken/sweet-and-spicy-chicken-recipe/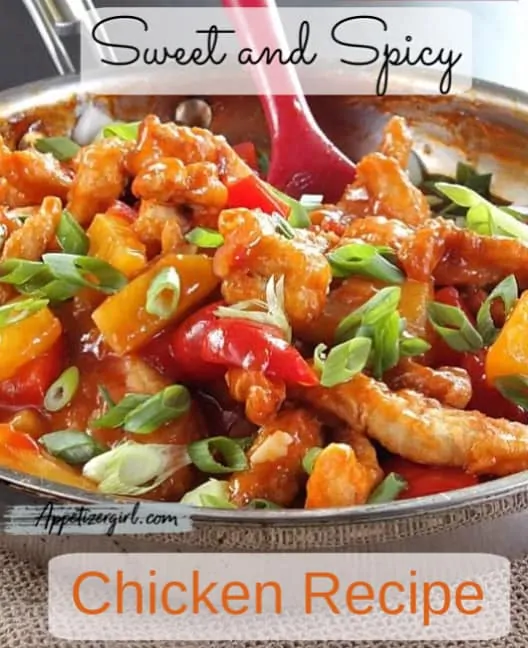 I currently teach baking courses and have worked in a number of cafes and restaurants.
Check out my About Us page to find out more about me and my passion for cooking.
Welcome to Appetizer Girl