This is another of those easy and quick recipes that you can amaze your family and friends with. I call it my Chicken Bite Nuggets with Crusted Tortilla Chip in 30 Minutes. as the name suggests it can be done in 30 minutes or less.
I love chicken and I find that a crispy outing on a tender chicken nugget is heaven. Add a great sauce and its nothing short of absolute perfection. After exhausting a number of recipes I was wondering what to prepare and I found this great dish. There are not too many ingredients and the method is simple and easy so no excuses in giving this a try.
Its a Saturday afternoon here and feeling a little low but this dish was a life saver. After biting into these freshly cooked nuggets you can't help but feel better. The Worlds problems just melt away with every bite 🙂
Give the recipe below a try and leave me a comment. Better still share it with your friends and family.
Chicken Bite Nuggets with Crusted Tortilla Chip in 30 Minutes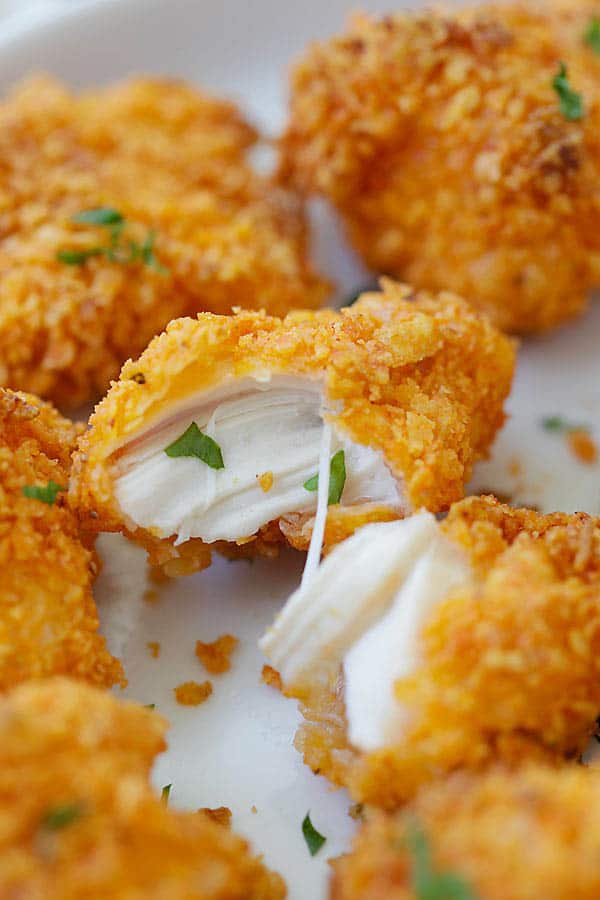 Ingredients
4 oz tortilla chips
8 oz Organic Fresh Chicken tenders
1/2 cup flour
1 medium egg, beaten
Instructions
Preheat your oven to 400F. Cut the fresh organic chicken into bite-sized pieces.
Crush all of the tortilla chips with a food processor. Then set aside in a large bowl.
Dust all of the chicken bites with flour, making sure to shake off the excess, dip into the beaten egg, and then coat nice and evenly with the tortilla chips. Lay onto a clean baking sheet lined with parchment paper. Repeat the steps until all of the chicken bites are coated.
Bake for 15 minutes and then serve immediately as is or with your favorite sauce.
https://appetizergirl.com/chicken/chicken-bite-nuggets-with-crusted-tortilla-chip-in-30-minutes/
I currently teach baking courses and have worked in a number of cafes and restaurants.
Check out my About Us page to find out more about me and my passion for cooking.
Welcome to Appetizer Girl