A savory, delicious, bursting with freshness Healthy Chicken Lettuce Wraps Recipe.
Who will not agree that this is a healthy recipe? A protein with vegetable wrap in another leafy vegetable. Coated with tasty sauce and peanut on top, wrapped in fresh lettuce. WOW. I was impressed, on how this recipe turned out awesome. So don't miss it!
This is a simple and easy recipe that you can make at home.  I tried this many times until I made it right. To be honest, those trials ARE WORTH IT until I made this chicken lettuce wrap into perfection. It's funny that I can't help to taste a spoonful of it when the meat is cooked. I know it seems inappropriate. Trust me that's how captivating this Healthy Chicken Lettuce Wrap is at capturing my taste buds. Finding this recipe is truly rewarding. When you find a healthy and delicious recipe, you're definitely a winner! Because of that, I want you to follow me, as I take you to the steps for this recipe if it's your first time. But if you've made it (insert wink emoji), I hope you enjoyed it just like me.
Right now, you'll be soo excited to know HOW TO MAKE HEALTHY CHICKEN LETTUCE WRAP RECIPE?
First, make sure that the ground chicken is cooked brown enough, cause this can affect the entire dish. Since I personally want a chicken to stay crispy in a wrap.
Second, dice the vegetable into the smallest cut you can, if you have a food processor, like ones you can find at
kitchengearoid.com
, you can use it. Third, in making the sauce, which is the hardest part of this recipe. Please don't change it for the worst. Never tamper with it.
But you might want to know WHAT IS THE BEST LETTUCE TO USE? For this recipe, I used butterhead lettuce and romaine lettuce. Cause they have big leaves to wrap the cooked ingredients.
This Healthy Chicken Lettuce Wrap Recipe is one of Asian dish that I love. Check some of my Asian Recipes here.
Healthy Chicken Lettuce Wraps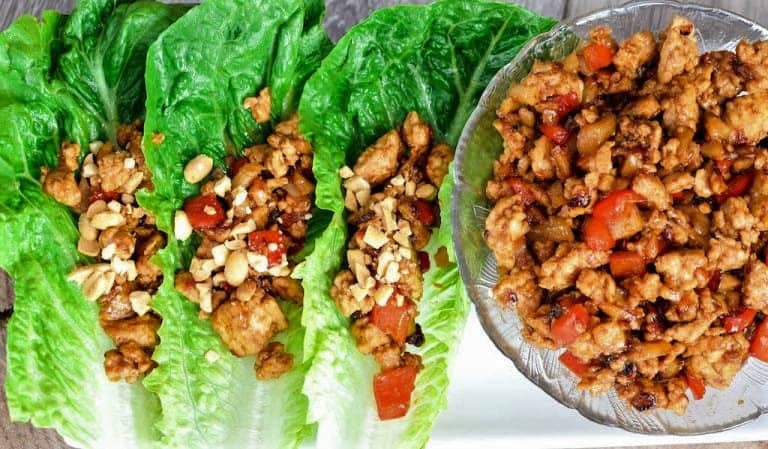 Ingredients
1 lb ground chicken
1 TBS peanut oil
½ onion minced
1 cup red or green pepper diced
1 8 oz can water chestnuts drained and minced
FOR THE SAUCE:
3 TBS soy sauce
3 TBS hoisin sauce
1 TBS sesame oil
1 TBS rice vinegar
1 TBS peanut butter
1 TBS honey
2 tsp sweet chili sauce
½ tsp garlic powder
¼ tsp powdered ginger
TO SERVE:
¼ cup peanuts crushed.
Lettuce or your favorite Asian salad
Instructions
Whisk together sauce ingredients until well combined. If you use a firmer peanut butter you may need to microwave the mixture for 30-60 seconds in order to melt it and ensure everything is well-mixed.
Heat 2 TBS peanut oil in a frying pan. Once hot, add ground chicken.
Cook until some pieces are starting to brown. Add onion and cook for 5 minutes or until the onion is becoming translucent.
Add the peppers and water chestnuts and cook about 5 minutes or until peppers are becoming soft.
Add sauce and simmer on low heat until the chicken and veggies are evenly coated and everything is heated through.
Serve in lettuce leaves, on top of your favorite Asian salad, or over noodles or rice!
https://appetizergirl.com/chicken/healthy-chicken-lettuce-wraps/
I currently teach baking courses and have worked in a number of cafes and restaurants.
Check out my About Us page to find out more about me and my passion for cooking.
Welcome to Appetizer Girl