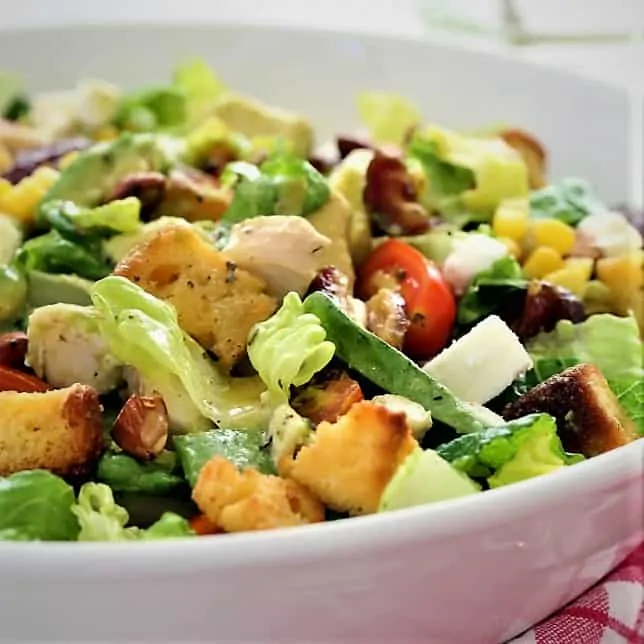 This salad is a mix of chop chicken, avocado, lettuce, almond, crumbled goat cheese, cooked corn, dates, tomatoes, mixed spring greens. The texture and blending of flavors make this Creamy Chicken Avocado Salad delicious and perfect for a lighter meal.
I love salad for dinner since I prefer a lighter meal before bedtime. Therefore I love making it from time to time. Some of my Favorite salad is Healthy Tuna Pasta Salad and Broccoli Salad Recipe and Bacon. Since the recipe is easy and not complicated, you won't be messed up with the procedure. I'll assure you the outcome will be as WOW as you expected!
I've always been a fan of avocado in a salad. I still remember the one I made: Avocado Orange Salad. That was one of a perfect match salad. But, in the name of Protein, today I'll take you to this stunning attractive dish: Creamy Chicken Avocado Salad.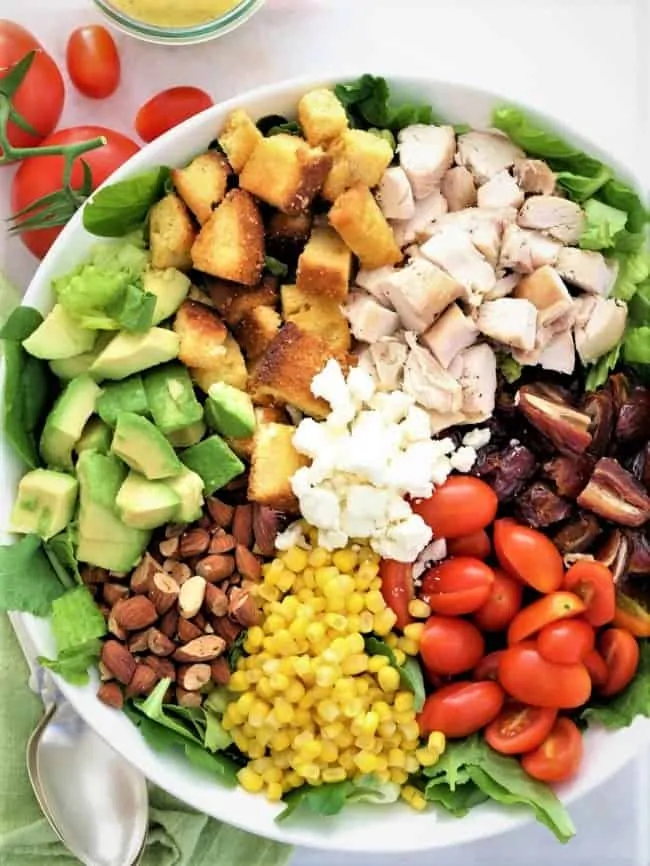 What I love about making a salad? Some ingredients are optional. The chicken and avocado here are just an additional. I mean if you don't have them, doesn't mean you can't make this salad. But honestly, I'll tell you without chicken and avocado it is not quite the same. You could agree for sure.  And it would be better if the ingredients you have are organic.
Anyway, let's talk about the Creamy Sauce. The sauce I use is a combination of Dijon mustard, lemon juice, apple cider, olive oil, and of course honey. Sweet, creamy, tang that will surely satisfy your cravings.
To deepen the flavor I added dried oregano and dried basil, that gives an aroma effect to the salad that makes it more captivating when tasted. Also, the health benefits that we can get from those herbs is a plus. You should not miss this.!
Some want a Salad with Rice. If you are one of them you might want to check the Greek Chicken with Rice and Tomato Salad from juliescafebakery.com. Feel free to leave a comment below.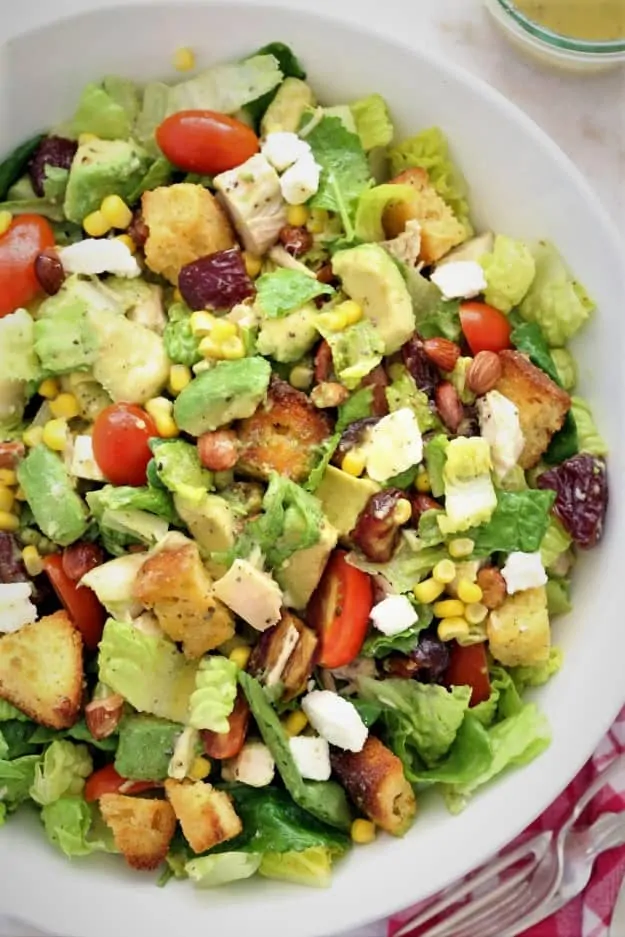 Creamy Chicken Avocado Salad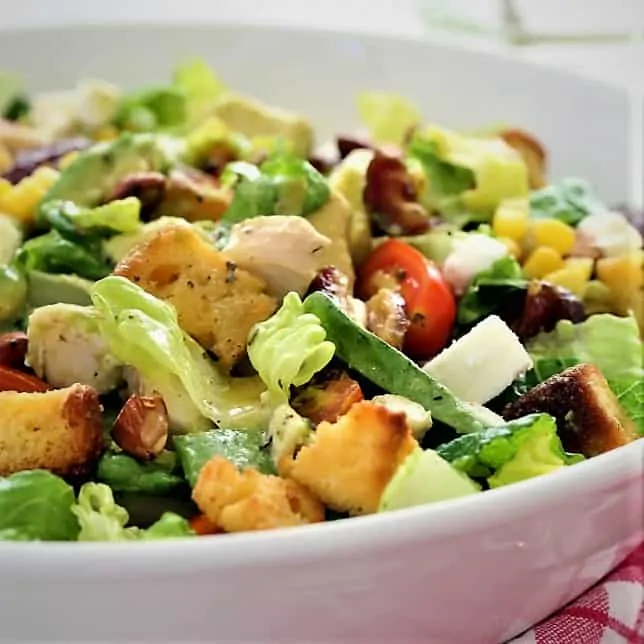 Ingredients
3 cups Romaine Lettuce, Chopped
3 cups mixed spring greens
1-½ pound chicken breast, chopped or shredded (store bought rotisserie chicken is fine)
1 avocado, chopped
1/4 cup goat cheese, crumbled
2 whole large Roma tomatoes, coarsely chopped
½ cup toasted almonds, coarsely chopped
1 cup cooked corn (either cut from the cob or frozen)
1 cup dates (about 12-14 whole dates, sliced
1 cup cornbread croutons

FOR THE VINAIGRETTE

1-1/2 tablespoons Dijon mustard
1/4 cup freshly squeezed lemon juice
1 teaspoon apple cider vinegar
2 teaspoons honey or pure maple syrup
2 small cloves garlic, finely minced
1/2 teaspoon dried oregano
1/4 teaspoon dried basil
3/4 cup extra virgin olive oil
1/2 teaspoons kosher salt
1/4 teaspoon freshly ground black pepper
Instructions
FOR THE SALAD:

Add all of the salad ingredients in a large mixing bowl.
Lightly toss with just enough vinaigrette to coat.

FOR THE VINAIGRETTE:

Add all of the ingredients (except the salt and pepper) to a mason jar. Seal the lid tightly and give a good shake. You can also add the ingredients to a blender and blend until creamy. Or simply whisk all of the ingredients together in a bowl.
Season with salt and freshly ground black pepper to taste.

FOR THE CORNBREAD CROUTONS:

Make a batch of cornbread from a mix
Cube the cooled corn bread and place in a large bowl.
Lightly sprinkle with salt and freshly ground pepper.
Drizzle olive oil over the bread cubes and toss well so the bread cubes are lightly and evenly coated.
Spread bread cubes evenly on a cookie sheet and bake at 375 degrees for 7-10 minutes until golden brown and crispy.
https://appetizergirl.com/salad/creamy-chicken-avocado-salad/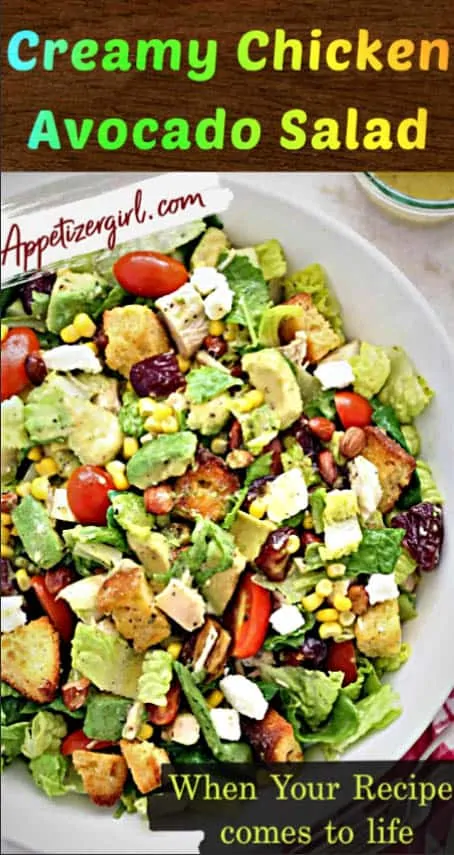 I currently teach baking courses and have worked in a number of cafes and restaurants.
Check out my About Us page to find out more about me and my passion for cooking.
Welcome to Appetizer Girl