This is a chicken recipe that I like to make for my friends. I often go visiting and cook for my friends in their homes. I always have a few chicken recipes up my sleeve as they are always well received. I have been putting together an ecookbook of my best 2015 recipes and will include this one as its baking time is only 20 minutes and the salsa is absolutely delicious.
I am on my way around to my friends place tonight so will recommend this recipe and see what they think. I may even cook it tonight at their place, but we will see. I have outlined the ingredients and the method below so its all pretty straight forward. Nothing too technical here so even a novice or beginner should find it ok.
I really appreciate your feedback so drop me a comment below when you get the chance. Even a hi is welcome. If you have any questions regarding this Baked Coconut Chicken with Strawberry & Mango Salsa then let me know and I will answer your questions promptly. In the meantime enjoy the flavours of this chicken salsa recipe. Dont forget to also check out and like our Facebook page.
Baked Coconut Chicken with Strawberry & Mango Salsa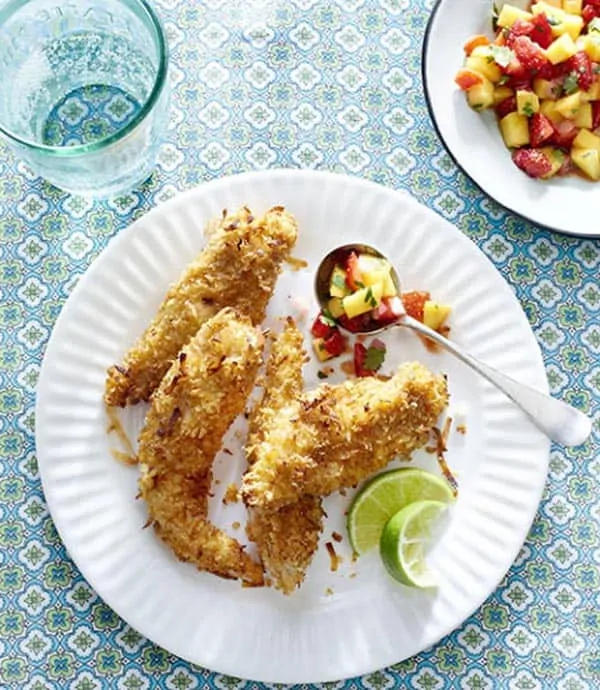 Ingredients
Vegetable cooking spray
3 boneless, skinless chicken breasts
Kosher salt
Freshly ground black pepper
½ c. cornstarch
1½ tsp. garlic powder
2 large eggs
1 c. sweetened flaked coconut
1 c. panko bread crumbs
1 tsp. paprika
Lime wedges
Salsa
¾ c. Finely chopped strawberries
¾ c. finely chopped mango
½ c. finely chopped shallot
2 tbsp. Chopped fresh cilantro
1 tbsp. hot pepper jelly
1 tbsp. fresh lime juice
salt
pepper
Instructions
Preheat oven to 425 degrees F. Set an oven-proof wire rack on a rimmed baking sheet and spray with cooking spray.
Cut chicken into 1/2- to 3/4-inch-thick strips. Season with salt and pepper. Stir together cornstarch and garlic in a shallow dish. Place egg in a second shallow dish. Stir together coconut, breadcrumbs, paprika, and 1/2 teaspoon each salt and pepper in a third shallow dish.
Working one piece at a time, dip chicken in cornstarch mixture, then in the egg mixture, then in coconut mixture, pressing gently to help adhere. Transfer to the greased rack. Spray chicken with cooking spray until well coated.
Bake until golden brown and cooked through, 10 to 20 minutes.
For the salsa, combine all ingredients in a bowl. Let stand 10 minutes before serving.
Serve the chicken with the salsa and lime wedges.
https://appetizergirl.com/chicken/baked-coconut-chicken-with-strawberry-mango-salsa/
I currently teach baking courses and have worked in a number of cafes and restaurants.
Check out my About Us page to find out more about me and my passion for cooking.
Welcome to Appetizer Girl