Being vegetarian doesn't mean you are limited to just eating vegetables. There is always a substitute for everything you put meat in! Yes, everything you make has a vegetarian substitute or alternative.
Sometimes you just need to take a break from the meaty foods, and these recipes are the way to go. My younger brother really loves it.  Yes! when it comes to kids, this is a great and tasty way to sneak in more veggies.
This veggie meatballs recipe is guaranteed crowd-pleaser and can serve either an appetizer or a main dish.
Today, we're drolling over these meatballs. Meatless meatballs with great flavor and texture. Well, It is not my first time making this recipe. I made it and give some to my friends, and they always ask me for the recipe! So, guys, this is what you are waiting for.
You can mix the ingredients with your hands as an alternative but be sure to wear a pair of clean latex gloves. The breakdown is that they're made with cauliflower, brown rice, quinoa, oat flour, eggs, and a nice big pinch of garlic and spices.
Roll the mixture into round, golf ball-size meatballs about 1 1/2 inches, make sure that you pack the vegetable mixture firmly. Then place the balls in the baking sheets. Grease the baking sheet to prevent the balls sticking in a baking sheet. Be sure it has enough space between the balls so it will not be deformed. 
Preparation time is approximately (15 minutes) for the balls and (15 minutes for cooking). NOT that time-consuming.
What is good with this veggie meatballs is that you can make a huge batch so you can stockpile them in the freezer and just reheat it for an easy meal anytime.
The sauce is life!!! Yes, It plays an important rule to make this delicious perfect combo. So for tonight, I'll use masala sauce. Good thing is that you can use your creativeness to make personalize sauce by yourself.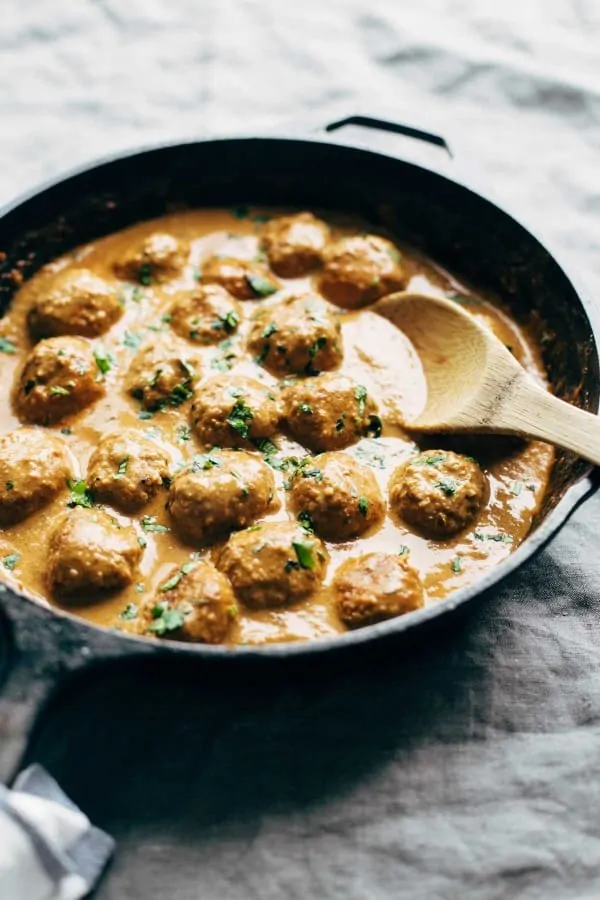 Ingredients
3 cups cauliflower florets
3 cups cooked quinoa and/or brown rice (see notes)
3/4 cups of a "dry ingredient" like oat flour, almond meal, breadcrumbs, etc.
4 eggs
1 heaping tablespoon spices (chili powder, paprika, and/or cumin will work)
2 teaspoons salt
enough olive oil to cover the bottom of a frying pan with a thin coating
Instructions
Cauliflower: Cook the cauliflower florets in a pot of boiling water for about 5 minutes, until it's fork-tender. Drain well.
Mix: Pulse the quinoa and cauliflower through a food processor until semi-smooth. Transfer mixture into a large mixing bowl and mix all other ingredients. Stir until everything is incorporated. Roll into small balls (according to size that you want).
Cook: Heat a thin layer of olive oil in a skillet over medium heat – add the balls and cook for a few minutes on each side – they will need to be gently turned every so often to get browned all the way around. Serve with yummy sauces, salads, bowls, or freeze for later!
https://appetizergirl.com/vegeterian/veggie-meatballs-recipe/
I currently teach baking courses and have worked in a number of cafes and restaurants.
Check out my About Us page to find out more about me and my passion for cooking.
Welcome to Appetizer Girl