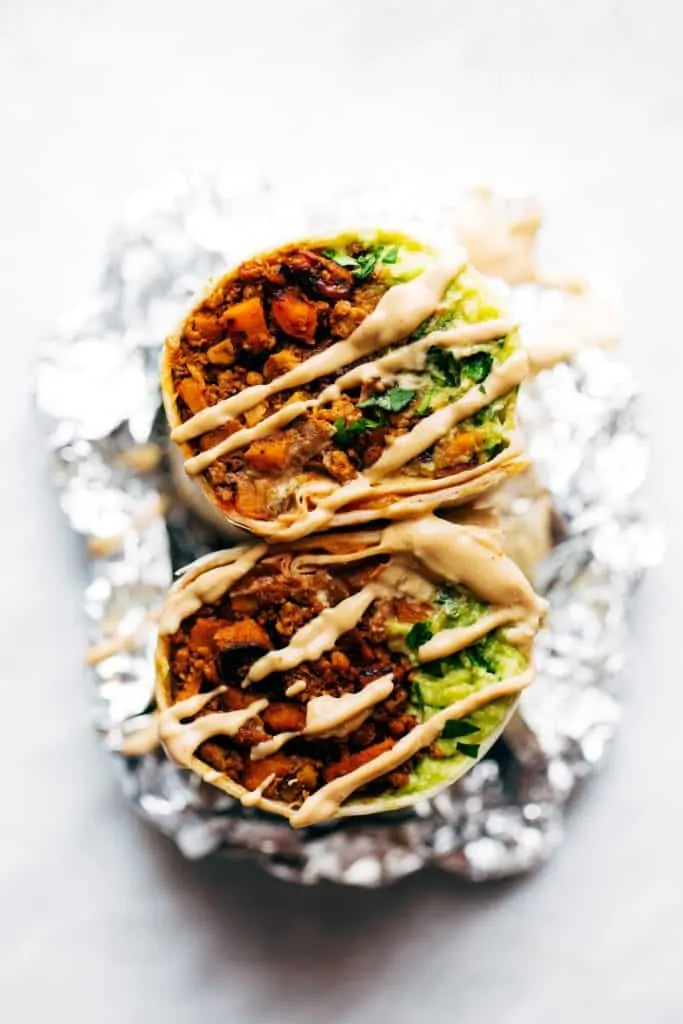 Let's do the Vegetarian Burritos !!
I always love eating but never gain weight, well this is a good thing because I always want to stay in shape. If your a health conscious like me this "vegetarian burritos" is for you.
Mostly they add rice, but since rice is too way high in carbs and diabetes are so common nowadays I'm cutting back rice, but you always have an option if you want rice in your vegetarian burritos.
I'm currently loving it because it's flavorful, healthy, and very easy to prepare!! You just need 20 minutes and all are ready for this yum..yum.. cuisine! Such a fantastic way to have meals!
We've compiled a list of tips and recipes so that you can easily eat burritos all the time—without harming any animals. Here are just a few of our favorites.
Ingredients
1 sweet potato, chopped (see notes)
1 1/2 cups cauliflower walnut taco meat
1/2 cup water
mashed avocado
salsa
cilantro
large flour tortillas
vegan queso, or cheese (if you're not all-out vegan)
Instructions
Filling: Begin with the sweet potatoes in a skillet with a swish of oil and salt. Saute until fork-tender. Add the prepared cauliflower walnut taco meat and also just enough water to get it looking nice and saucy and taco-meaty.
Assemble: Stuff a flour tortilla with mashed avocado, cauliflower walnut filling, salsa, cilantro, and queso or cheese. Roll, wrap, fry in a skillet… whatever suits your fancy. The Easy Vegetarian Burritos says YOU DO YOU!
Notes
If you use a sweet potato, chop it up into small pieces to cook it faster!
If you don't have sweet potatoes you can use carrots, spinach, bell peppers, mushrooms, zucchini, you name it!
The cauliflower walnut meat would be good as a filling in and of itself, so if you're really in a rush, you don't have to add the sweet potatoes or any other veggies. I just like to add vegetables to bulk it up and add some extra nutrition.
https://appetizergirl.com/vegeterian/easy-vegetarian-burritos/
I currently teach baking courses and have worked in a number of cafes and restaurants.
Check out my About Us page to find out more about me and my passion for cooking.
Welcome to Appetizer Girl