Embark on an international culinary journey by hosting an "Around the World Party" featuring globally inspired appetizers. With the right mix of bite-sized nibbles from different regions, you can create a unique event that transports your guests across continents, one taste at a time. When planning your party, keep the menu anchored in authentic flavors from diverse cultures to craft an immersive experience.
Spanakopita from Greece
Begin your tasting tour in Greece with the iconic spinach pie known as spanakopita. These crisp, golden pastries stuffed with spinach, feta cheese, onions and herbs offer a classically Greek way to kick off your event. Spanakopita makes for an easy to eat and share appetizer that will have your guests exclaiming "Opa!" as they break through the flaky phyllo dough into the savory spinach filling. For convenience, pick up frozen spanakopita from the freezer section of your grocery store or Costco. Bake or air fry them just before the party. Serving spanakopita is an effortless way to inject some Mediterranean flavor and spirit into your spread.
Asian Spring Rolls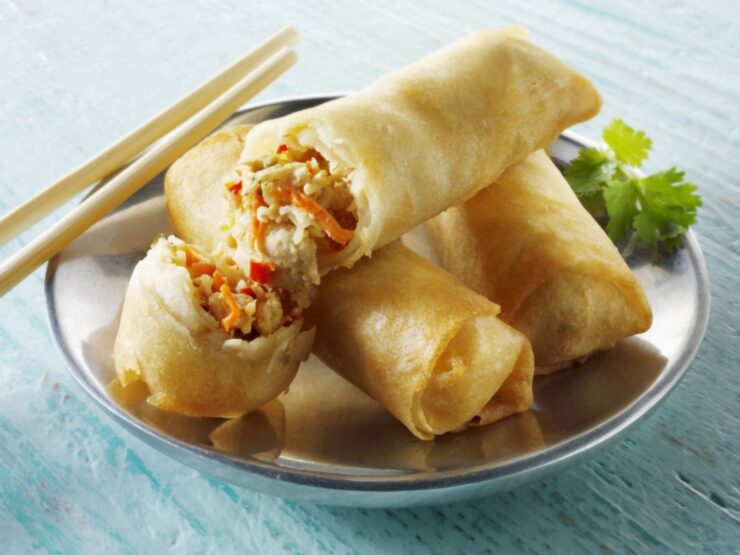 Next, head to Asia where crunchy spring rolls encapsulate the flavors of China and Vietnam. Fill your rice paper rolls with seasoned veggies and herbs like shredded carrots, cabbage, cucumber, cilantro and ginger. For the protein, opt for sliced chicken, shrimp or tofu. Before rolling and slicing, lay out an array of dipping sauces like peanut, soy, sriracha and hoisin so guests can add an extra layer of flavor. Encourage customization by providing sesame seeds, chopped peanuts, sliced green onions and lime wedges for finishing touches. With so many possible combinations, these build-your-own spring rolls foster culinary creativity.
Indian Samosas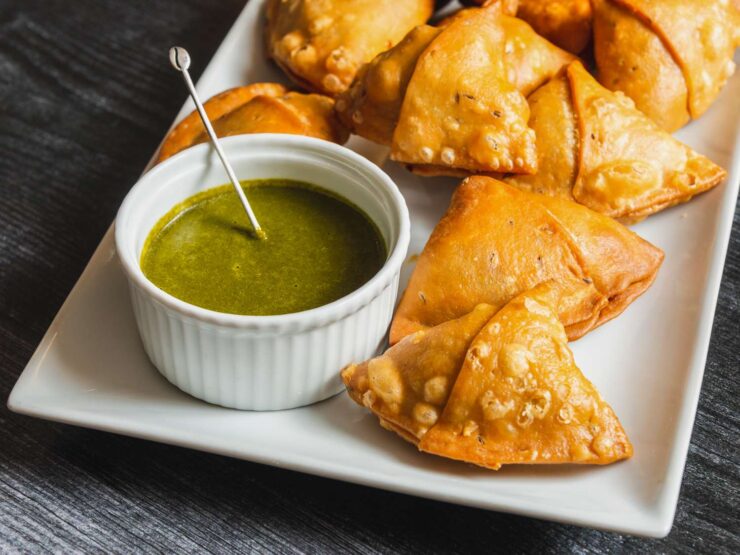 Journey to India with the quintessential teardrop-shaped samosas, the ultimate handheld appetizer. These fried parcels bursting with potato and peas reflect the irresistible flavors of Indian cuisine. While samosas can be messy and time-consuming to make, pre-made versions found in the freezer aisle help capture the taste of India without the fuss. Heat them just before serving with a traditional mint or tamarind chutney for dipping. Add touches of Indian décor, music, table linens or garlands to immerse guests in the culture behind these irresistible morsels.
Mozzarella Sticks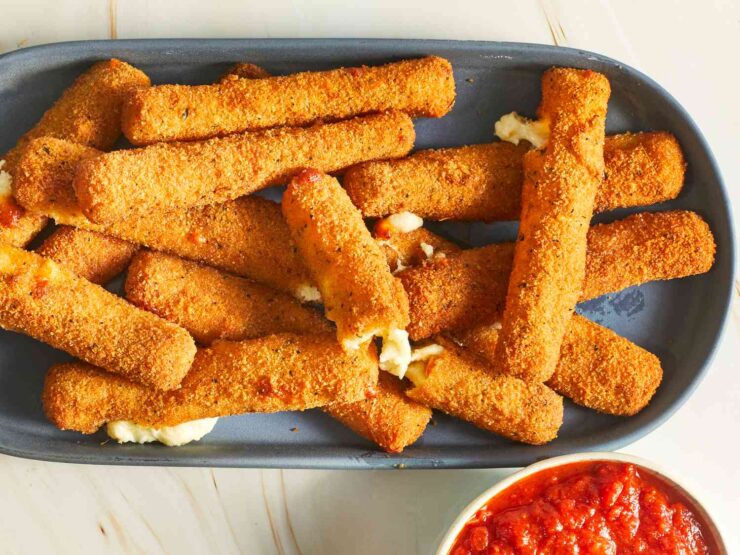 What better way to represent Italy than with the consummate comfort food, mozzarella sticks! The nostalgic, melty goodness of fried mozzarella coated in crispy seasoned breadcrumbs is sure to be a crowd-pleaser. Pick up a party-sized bag of ready-to-bake mozzarella sticks and serve them hot out of the oven with a side of marinara sauce for dipping. Adding an Italian classic like mozzarella sticks to your lineup is an easy way to expand your appetizer offerings and give guests a taste of Italy right in your living room!
International Shrimp
No global appetizer extravaganza would be complete without shrimp prepared in styles spanning the globe. Tailor your shrimp offerings to represent regions like Latin America, Asia and the Mediterranean. Display chilled poached shrimp alongside zesty cocktail sauce for a classic taste of New England. Brazil's national dish of bobó de camarão features shrimp in a creamy coconut sauce you can serve in miniature cups. Or go for Panggang Udang, Indonesian grilled shrimp skewers amplified by a spicy sambal marinade. Fry up some shrimp tempura dumplings or potstickers to showcase Japanese and Chinese dishes. The possibilities are endless when you view shrimp through an international lens.
Sushi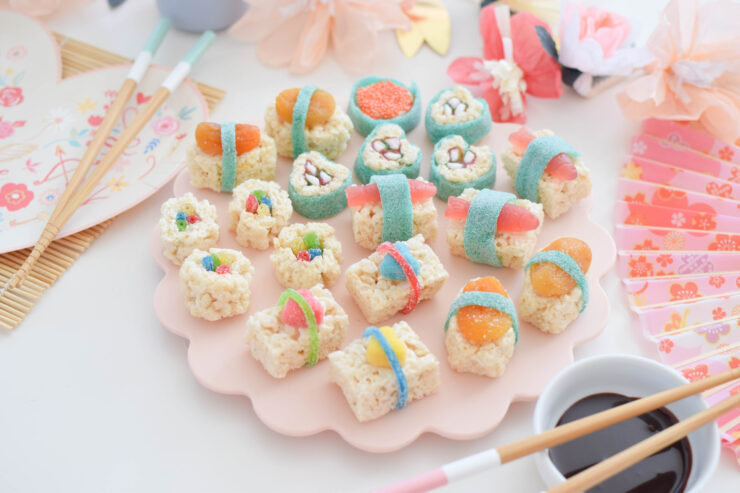 You can't talk about international party foods without mentioning sushi, the famed Japanese delicacy. Pick up ready-made sushi trays from your local Japanese grocer, with a colorful array of rolls featuring fresh fish, rice, seaweed, vegetables and more. Provide soy sauce, wasabi and pickled ginger so guests can flavor their sushi experience. Sushi makes for fun finger food and introduces bold new flavors and textures unlike anything else on your party menu. It's an easy way to treat your guests to a taste of Japan as you collectively traverse the globe, one bite at a time.
Choosing International Party Foods
When planning your globally inspired appetizer buffet, turn to stores like Costco that offer one-stop shopping for party foods from around the world. Check the store for international finger foods and appetizers showcasing global flavors. Throughout the Costco warehouse, you'll find samosas and spring rolls in bulk along with other party-sized offerings like Mexican quesadillas, Middle Eastern hummus, Italian bruschetta and French cheese platters. A great resource is costcofdb.com, where you can check out some of Costco's international appetizers.
Planning Tips
When organizing your party, create defined spaces decorated to represent different destinations. Use regionally symbolic table linens, signs, flags and accents to establish each area. Provide cards or menus listing each appetizer's name and country of origin so guests understand the virtual journey. Region-specific background music adds to the immersive ambience. Encourage guests to freely wander with their appetizer plates sampling dishes from every continent. The key is crafting an exciting, hands-on experience where food transforms your party into a culinary world tour.
Hosting an Around the World Party centered on beloved international appetizers allows you to share the flavors that shape global cuisine. With careful planning and authentic dishes, you can take guests on a tasting trip around the world without ever leaving your living room. Showcase your adventurous palate by serving up nibbles from India, Asia, the Mediterranean, and beyond. Your friends and family will be delighted by this bold menu of globally inspired party bites. Thanks for joining me on this whirlwind culinary journey! I hope these tips inspire you to embark on your own taste expedition at your next gathering.