You might be aware of an air fryer, but what is an air fryer grill oven? It is a countertop convection oven that makes your food with very little oil. This cooking appliance can unlock endless cooking possibilities for you. An air fryer grill can easily make a pizza, roast a chicken, or toast for you. Here in this article, we will be discussing the PowerXL Air Fryer Grill vs. Lagasse 360 Air Fryer Oven.
These help you save a lot of space in the kitchen as they are multi-functional appliances. An in-depth review and comparison of these air fry grills are done below so you can have a better idea of all the features. You can make better food combos. Stay with me till the end to purchase the best one amongst them.
PowerXL Air Fryer Grill Oven
The PowerXL is an eight-in-one air fryer grill that can multi-task at the same time. This is big and has two cooking shelves for keeping food. It can heat the leftovers from last night, cook a rotisserie chicken and bake an entire pizza for you. It makes the food with the convection effect. The whirlwind of hot air revolves around the food to get the job done. The food turns brown and crispy from the outside but locks in the flavor and is tender and juicy from the inside.
Rapid Air Technology
The PowerXL Air Fryer Grill Oven uses rapid air technology and three heating elements. These heating elements are located on the top, bottom, and side of the oven. It comes with a powerful fan that circulates the heat throughout the food in the oven. This cyclonic air effect makes the food 40% faster than the typical oven and uses 70% less oil. So it means it can reduce the overall calorie intake as well. The food made in this air fry grill oven looks and tastes the same as it would've been cooked in any other way.
Temperature Range
This air fryer grill has a temperature range of 450 F to make all kinds of food, including a beefsteak. It can produce high heat to cook the food properly from the inside. However, many customers complain that the temperature instructions rub off from the oven after some use. Furthermore, the PowerXL air fryer grill can get very hot from the outside when operating at high temperatures. The users should be cautious while using this cooking appliance.
Size
The PowerXL air fryer grill can easily make 4 to 6 servings. The manufacturers claim it to be a family-size oven that can cook 4kgs of chicken or 5 to 6 burgers simultaneously. The crispy tray size can make food for a family of four people. However, the only drawback of this fantastic kitchen appliance is that a 12-inch frozen pizza won't fit in. This might be a turn-off for people who prefer frozen items more.
Accessories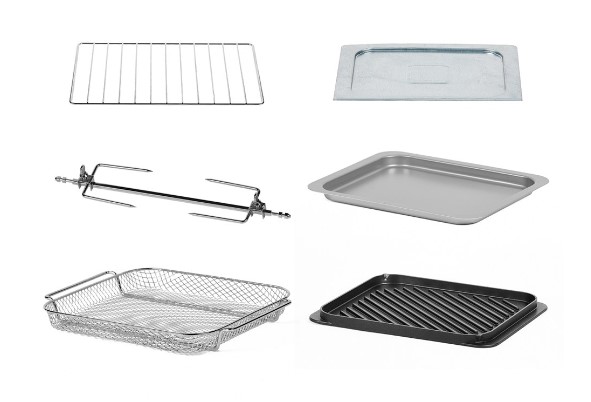 The PowerXL air fryer grill comes with a few accessories that can help cook the food. A baking pan, non-stick grill plate, rotisserie spit set, stainless steel rack, mesh fry basket, and drip tray are included in the package. All these are dishwasher safe which makes the cleaning easy for you. A recipe book is also included to help people experiment more with this grill oven.
Design
This air fryer grill oven has a black color, which looks very good. It does not even clash with your kitchen's interior. The feet are four inches long and stable enough to rest on the counter. This can also be placed on a table or any other flat surface accessible to you. The temperature, cooking modes, and the power button are present on the right side of this air fry grill oven.
Grill Marks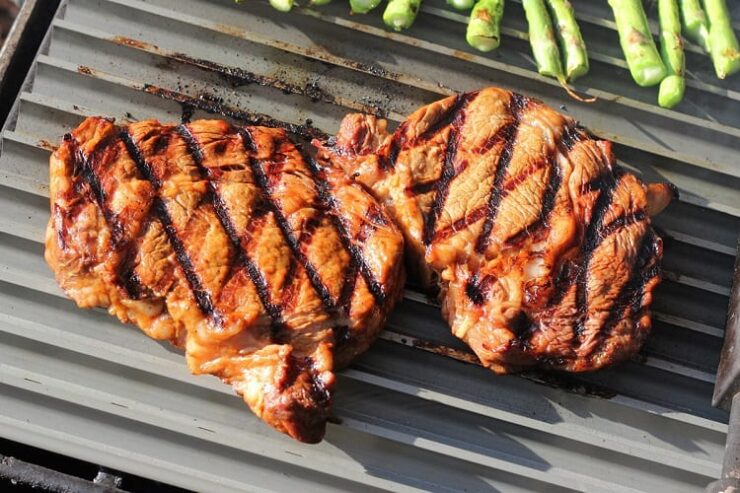 A non-stick grill plate comes with the PowerXL oven. This gives the traditional grill marks to paninis, steak, hot dogs, and vegetables. This is non-stick, so you can use only a few drops of oil if you want. The cleaning can be done in a snap. Some customers were not satisfied as they had trouble with smoke when using the grilling feature. But this is because of the food and the oven has nothing to do with it.
Noise
This air fryer grill oven is very noisy compared to the regular air fryers. You might get annoyed by the loud noise, especially when some guests are over. But this is very much normal if you are used to making food in the toasters or regular air fryers. The hot air makes noise while cooking the food for us.
Emeril Lagasse 360 Air Fryer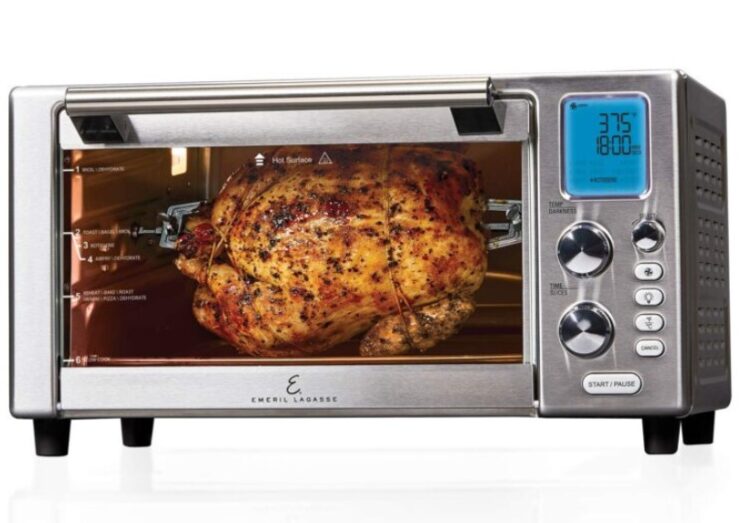 The Emeril Lagasse 360 Air Fryer Grill Oven is a twelve-in-one kitchen appliance that uses no oil. This convection oven has all the necessary functions that can crisp your fries, roast a turkey or dehydrate the fruit slices for you. It can replace most kitchen appliances, including the microwave, toaster, and food dehydrator.
Quick Cook Technology
The Emeril Lagasse 360 Air Fryer Grill Oven comes with a 360 degree quick cool technology and has three five heating elements. These elements are located at the top and the bottom at different locations. A fan also circulates the air around the food in all directions. This technology makes sure the food is not uncooked from any side.
Temperature Range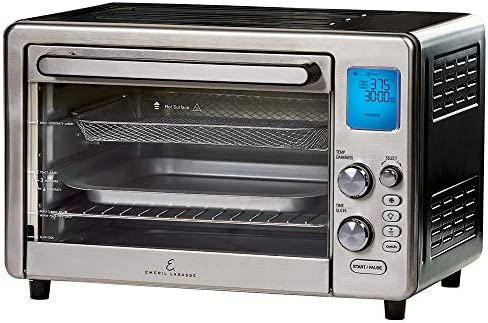 The temperature of the Emeril Lagasse 360 Air Fryer Grill Oven is up to 400 degrees F and comes with 12 preset controls. The temperature dial ranges from 120 to 400 degrees F. It also has a time range between 1 to 45 minutes depending upon the food you like to cook. You can reheat your food in this air fryer and set the time accordingly.
Size
The Emeril Lagasse 360 Air Fryer Grill Oven comes with an 11 inches wide tray 10.25 inches deep. It has a lot of surface area to cook the food even with less oil. You can dehydrate and make some apple chips in one go. It can hold a ten-pound chicken in the baking pan as well. This comes with decent size and cooks many food items in one shot.
Design
This powerful air fry grill oven by Emeril is extra-large in size and can be too big for some kitchens. It can fit onto the countertop easily, but one might face difficulty storing it under a cabinet. This has a stainless steel exterior with a glass door that looks very sleek. An LCD setting screen is also present that helps in controlling the settings.
Accessories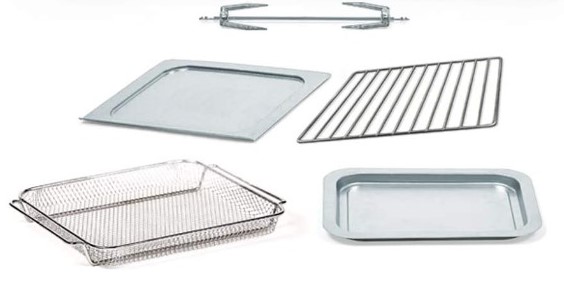 This air fry grill oven comes with six accessories that help you make several dishes. A drip tray is present for the bottom layer of the oven. A pizza rack, baking pan, rotisserie spit, crisper tray, and a book with different recipes are also present in the box. All of them are dishwasher safe, but the manufacturer recommends handwashing them so they stay in good condition over the years.
Noise
The Emeril Lagasse 360 Air Fryer Grill Oven makes a lot of noise because of the convection fan. It is complete silence when we are not using the fan. The noise created by the fan can be irritating sometimes, especially when you are alone in the home. Some people might give it a pass due to the loud noises. But overall, it is a powerful air fryer grill oven that makes crispy and juicy food.
PowerXL vs. Emeril
Gone are the days when the air fryers came with a single function. Both of these models are multi-functional kitchen appliances that can replace many of your old ovens, toasters, and microwaves. When we compare these two unique products, we know which one is best. The PowerXL Air Fry Grill Oven has eight main functions. It can grill, broil, bake, toast, reheat, sear, rotisserie, and air fry and almost covers everything we might think of cooking.
Similarly, the Emeril Lagasse 360 Air Fryer Grill Oven has 12 functions. This can air fry, bake, bagel, slow cook, reheat, dehydrate, etc. Both have almost the same meal capacity, but it depends on your use. If you have a big family, you should go for the PowerXL, whereas if you are only two to three people in the house, you can use the Emeril air fryer grill oven.
When we compare the powers of these grill ovens, we get to know that they have the same wattage. Low power air fryer grill ovens will leave the food uncooked. The PowerXL and the Emeril grill oven both have a great design. They look very nice and have a sleek appearance. The Emeril air fryer has an LCD which shows the control setting. Moreover, these have the same price range. They are operated with dials.
FAQs
Is Emeril air fryer worth it?
Yes, the Emeril air fryer is worth the money. It has 12 different functions and can replace many of your kitchen appliances. This has high power and gives the same taste like fried food.
Can you put aluminum foil in the PowerXL air fryer?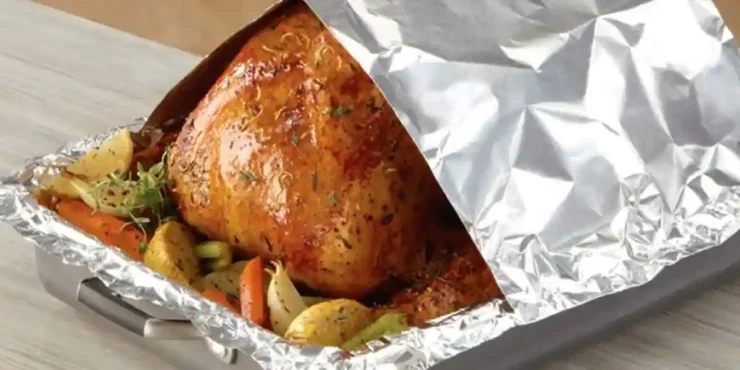 Yes, aluminum foil can be used in any air fryer. It helps the food not to get stuck with the tray. It can be placed onto the tray or the basket and has nothing to do with the cooking.
Can you grill in an Emeril air fryer?
Yes, you can grill in an Emeril air fryer by placing the food on the crispy tray. It can help you grill your favorite food without standing outside in cold or hot weather.
Conclusion
An in-depth comparison of the PowerXL Air Fryer Grill Oven and Emeril Lagasse 360 Air Fryer Grill Oven is drawn in this article. In my opinion, the Emeril is the best and is worth every penny. It has an LCD screen and comes with 12 different functions. Two dials are present for the time and temperature, and it has three food storage shelves. Hence, it is lighter than the PowerXL and has a better value for your money.