Easy and Healthy Chicken Recipe with Few Ingredients. This is what most of us moms are wanting to give to our family, something that they can enjoy and love. You would agree that chicken is one of the most in-demand recipes for kids, but, sometimes we might find it hard to figure out what recipes everyone would enjoy.
Why choose Easy and Healthy Chicken Recipes that have Few Ingredients?
I have noticed that I have been posting recipes for a while and saw the advantage of preparing an Easy Healthy Recipe. It saves you time and energy in the kitchen, and it gives you plenty of time to spend with your family while enjoying healthy food.
You don't need a dozen ingredients to have a wonderfully satisfying meal. What I'll do today is to show you 10 Easy Healthy Chicken Recipes With Few Ingredients that we have prepared in the past.
10 Easy and Healthy Chicken Recipe
Who wouldn't love this Healthy Chicken and Sweet Potato? It was made with just seven ingredients and an easy-to-follow procedure, and most of us might even have these ingredients in our fridge. Namely, boneless chicken breast, broccoli florets, and sweet potato. Another seasoning that you will need in this recipe is salt, pepper, and olive oil, which I'm sure you have. Finally, does anyone notice what makes this recipe more lovely and appealing? Yes, the slices of avocado make it extraordinary! Making the dish look classic and mouth-watering.
Is it winter now? NO NO NO but you shouldn't miss this easy and healthy recipe from juliescafebakery.com. In less than 45 minutes you can enjoy this Quick Chicken Broccoli with Pasta. The good thing about broccoli is that you can cook them in any style of cooking, you can blanch them, saute or stir fry them, microwaved them, steamed, or roast them to name a few. Research says that broccoli is a superfood because of the nutrients we can get from them. Cooking broccoli with pasta and chicken makes it healthier, refreshing, and, filling.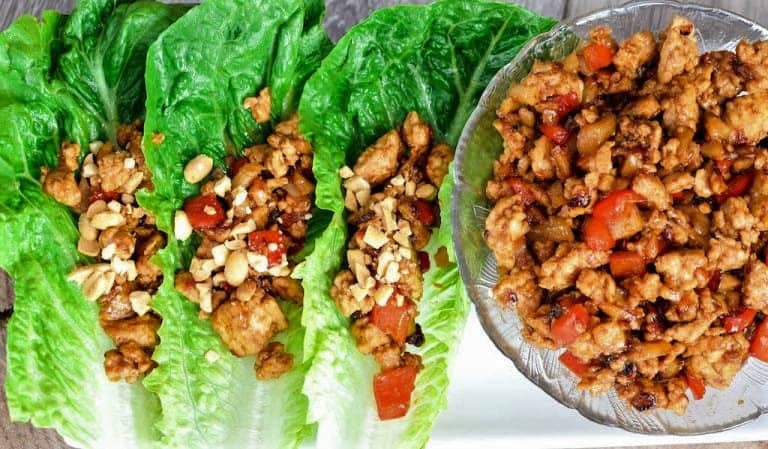 This Chicken Lettuce Wrap is bursting with flavor, easy, and healthy. In just 30 minutes of preparation and cooking, you can have these filling and saucy recipes. Yes, you will be making sauce for these Easy and Healthy Chicken Recipes with Few Ingredients! I'm telling you that sauce has a big impact on making this recipe tastier.
To make the sauce combine soy sauce, hoisin sauce, sesame oil, rice vinegar, peanut butter, honey, chili sauce, garlic powder, and ginger powder. Wow! I love the kick of spice, especially the peanut on top that adds crunch on top of the wrap plus the crunchiness of lettuce.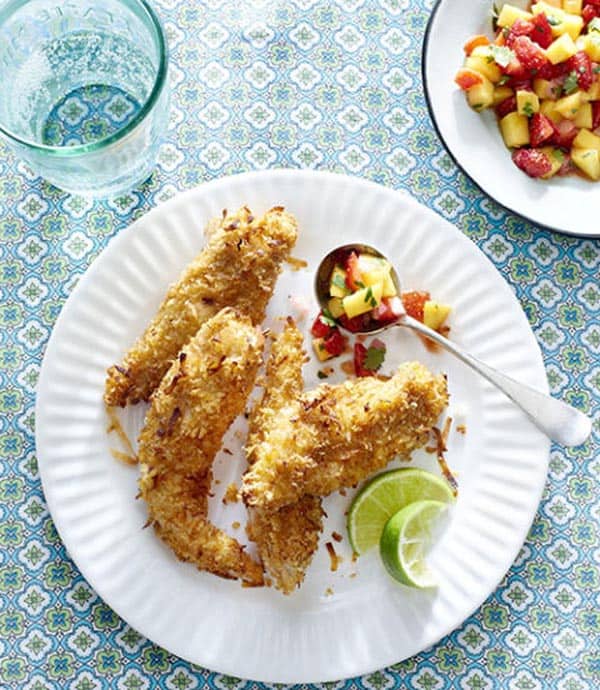 Do you agree that this recipe is lovely? Or am I just assuming? Look how simple the presentation is! A baked crunchy chicken and on the side are strawberry and mango salsa. The chicken is tender and juicy that your little kids would love. You should try this one, trust me it's worth it! In just 40 minutes you can enjoy this delicious recipe.
Have you ever wondered why this recipe was called Baked Coconut Chicken? The Chicken I used was boneless and skinless, seasoned with salt and pepper. I use three different shallow dishes for three different mixtures. First, cornstarch and garlic powder mixture. The second is the scrambled egg. The third shallow dish is a mixture of coconut, breadcrumbs, paprika, and 1/2 teaspoon each of salt and pepper. After that, the dipping of each chicken from cornstarch mixture, egg mixture, to the coconut mixture. Finally, bake it in the oven at 425°F until golden brown.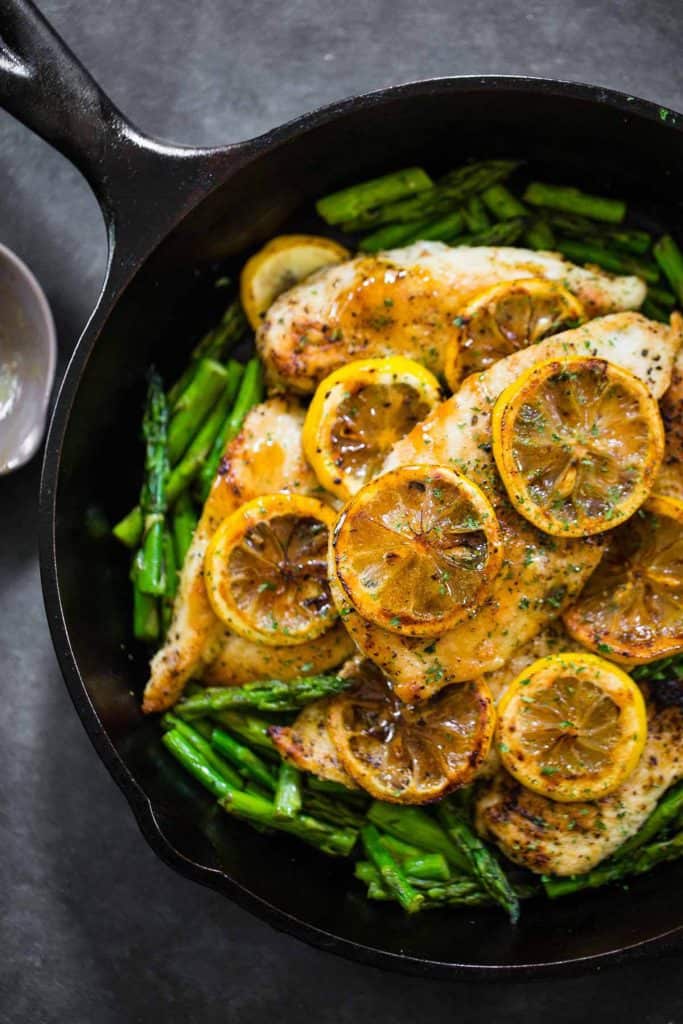 Reading my post, right now, you must be hungry! More hungry when you saw this, another incredible recipe from my favorite site juliescafebakery.com. I like how Joan detailed all the procedures for making this tasty and lovely recipe. I'm so happy that I get the chance to include this wonderful recipe on my list.
I have been cooking this many times and still enjoy this food as I first tasted it. With the outcome, you would agree that lemon and asparagus are perfect together. You would agree more once you tasted this juicy, saucy, and delicious Lemon Chicken with Asparagus Recipe in Under 20 Minutes – 5 Ingredients.
A simple and easy recipe for sure is the best one. Especially if you have fresh asparagus right now, take the chance to give this a shot. Think about it, with only 20 minutes you can enjoy this healthy recipe! Therefore, instead of cooking instant foods that are not healthy, spend time on food that is worth it. Something that makes your tummy happy and satisfied.
Who loves Pot Pie? Who loves Chicken Vegetable Pot Pie? I made this recipe, especially for those who love Pot Pie. But before that, I want to show you, what VEGETABLES go with CHICKEN POT PIE? Let's talk about the filling of this, another awesome recipe. It is the combination of shredded chicken, vegetables like carrots, peas, asparagus, and leek. Make sure you will not overcook the veggies so they will stay tender and crispy, most importantly, to keep the enzymes alive.
The smell of butter melting is soo captivating. It gives spark to whatever recipe I made using it. Now, imagine how your neighbor reacts when they smell the butter melting, then, adding garlic to it. Ohh! Your neighbor would be wanting to eat in no time. Anyway, back in making the sauce, after you add the garlic, mix the flour on it like you are making a paste from it. Next, put the chicken stock gradually while whisking it. And that's it! The sauce is ready! But we're not done yet, let's go mix it into the cooked vegetables. In making the crust for this Chicken Vegetable Pot Pie I just bought a pre-made refrigerated dough in the market, generally, save my time. 
Tasty Grilled Teriyaki Chicken and Pineapple Kebabs
Another Easy Healthy Chicken Recipe with few ingredients. Every time I see a grilled chicken, my first reaction is to grab a stick and taste it. I can't help it! that is how I react with grilled chicken, they are lovely, especially when it turns browny and a little burnt. I love it! Is it just me? I don't think so.
It is easy for us to make a grilled chicken dish. But, this Tasty Grilled Teriyaki Chicken and Pineapple Kebabs caught my attention. I was doing some research for this new Chicken recipe when I first saw this. I thought, oh, I never tried this, it's interesting! What I did was thread the marinated cube chicken into the skewers, with cube pineapple, and green pepper.
The chicken for this recipe should be marinated. So, if you want to have this recipe for dinner, you better spend time marinating it in the morning. This recipe would taste better when marinated, chicken taste soo good plus the tangy taste of pineapple. Perfection indeed! Don't miss this Tasty Grilled Teriyaki Chicken and Pineapple Kebabs.
Delicious Easy Lemon Chicken Romano in 30 Minutes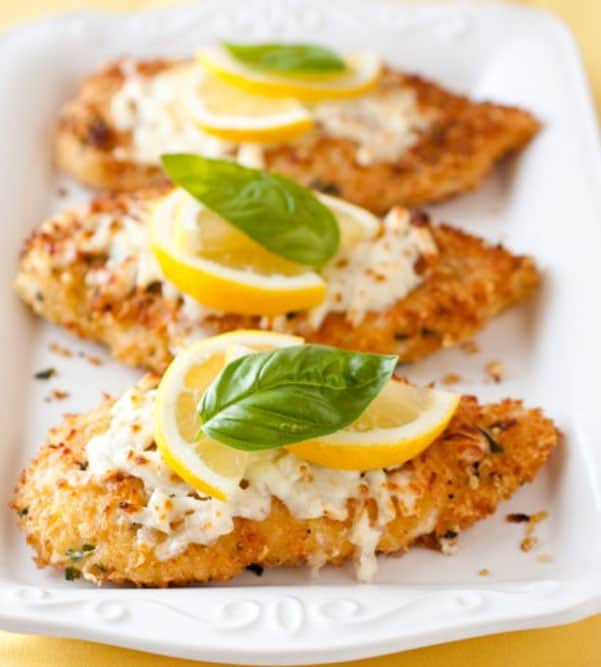 Lemon Chicken Romano @
juliescafebakery.com
Ta-da! A new entry to your weekly recipe. This Delicious Easy Lemon Chicken Romano will be included in the list of your best comfort foods soon. I'm excited to introduce this chicken coated in Romano cheese, pan-fried perfectly. Using mostly organic ingredients makes it healthy and nutritious. This recipe is originally from juliescafebakery.com. Here is the link for the complete recipe: Delicious Easy Lemon Chicken Romano in 30 minutes.
Delicious Creamy Chicken and Herb Skillet
This is one of a crowd-pleasing chicken recipes, skillet-cooked in just 15 minutes. A quick and easy recipe that turns into a flavorful and creamy dish. This will fit your busy weeknights, a good source of protein and calories.
When talking about a chicken recipe, I lost count on how many chicken recipes I have done. I would say creativity is the key, and this Delicious Creamy Chicken and Herb Skillet is one of the Easy Healthy Chicken Recipe with Few Ingredients, that was soo good. If you are into herbs, you would love this. In this style of cooking, your kids can intake herbs and healthy foods, without even noticing that they don't like some of the ingredients. Their focus is on the goodness and creaminess of this Delicious Creamy Chicken and Herb Skillet. What a lovely way to trick your kids! Are you keen to try this recipe? I'm sure you are. Click this link for this recipe: Delicious Creamy Chicken and Herb Skillet.
Healthy Chicken and Broccoli Stir-fry
Finally, the last but not the least is a stir-fry chicken recipe. I'm always a fan of stir fry recipes because my appetite is soo good with this kind of recipe. Therefore, I cooked this meal every other day. Yes, you got that right, I badly want it often. I feel like it is so nice and healthy, will never get bored of it.
For this recipe, I just use carrots and broccoli florets. But, I will tell you a secret that you guys shouldn't miss for this recipe, add mushroom to this recipe, this Healthy Chicken and Broccoli Stir-fry would be tastier. Above all, the saucy sauce is perfect. Take a look at this Healthy Chicken and Broccoli Stir-Fry Recipe.