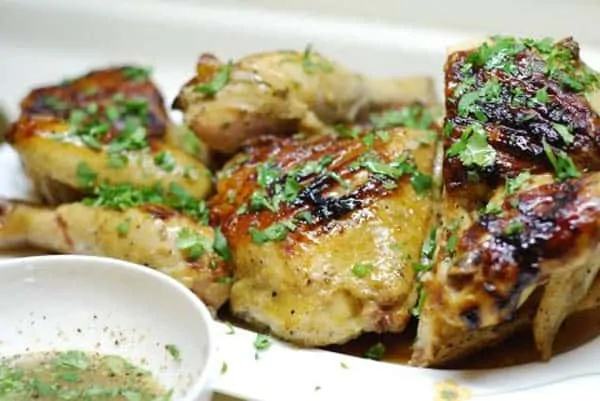 This is another easy or i think relatively easy chicken recipe to make. What I like about this one is the use of Limes. If you are not aware, limes are actually a great powerhouse when you want to bring out the flavor of cooked dishes.
Limes contain some unique flavonoid compounds which have strong antioxidant and I might add anti-cancer properties. Of particular interest in limes are the  flavonoids called flavonol glycosides. These flavonoids have already been shown to actually stop cell division in a great number of cancer cells, they are most interesting for their great antibiotic effects. In few villages in Africa where the cholera epidemics have occurred, the addition of lime juice with the main-meal was proven to have been very protective against the contraction of cholera. Scientists quickly started to experiment with the addition of lime juice to sauces eaten with rice, and was also found to have a strong protective effect against cholera.
So I love the addition of lime juice to my chicken recipes. At any rate its good for you so why not use it.I have it incorporated in the great chicken recipe below. Please also take a look at it below.
Easy Asian Chicken Recipe with Lime Dip – Cancer Fighter
Easy Asian Chicken Recipe with Lime Dip – Cancer Fighter
Ingredients
4 lb. Chicken, flattened (directions below)
1 Tablespoons plus 2 teaspoons of Black Peppercorns or fresh ground using a coarse setting, separated
3 teaspoons of Sea Salt
5 cloves of fresh Garlic, chopped
3 Tablespoons of Soy Sauce
1 Tablespoons of Fish Sauce
1 Tablespoons of Sugar
3 Tablespoons of Vegetable Oil
Fresh Coriander, coarsely chopped
2 fresh Limes
Instructions
FLATTEN CHICKEN:
Using a pair of sharp kitchen scissors, cut the whole chicken along one side of the spine.
Turn the chicken skin side down. Using a very sharp knife, make a cut along the top of the breastbone.
Flip the chicken bone side down. Using your hand, press down on the breast area of the chicken so that it flattens.
MARINATE:
Using a mortar and pestle, grind 2 teaspoons black peppercorns and 2 teaspoons coarse salt.
Add garlic and grind together
Put the mixture into a bowl. Add the soy sauce, the fish sauce, sugar, and 1 tablespoon of. oil. Stir mixture until the sugar is dissolved.
Place the flattened chicken onto a plate. Cover both sides with marinade.
For additional flavor, lift the skin at the top of the breast and spoon in 1 teaspoon of marinade into each breast pocket between the skin and the meat. Using your fingers or a knife, rub marinade down so it spreads over evenly.
At the butt end of the chicken you can lift the skin gently at the top of the thigh and spoon in 1 teaspoon of marinade into each thigh pocket. Rub the marinade down so it is spreads very evenly.
Place the chicken in refrigerator to marinate for 4 hours
COOKING:
Preheat your oven to 325°. Place a iron pan in the oven to heat.
Heat a grill pan on medium-high heat. Add 2 Tablespoons oil to pan, swirling it around to coat evenly. Place the chicken, skin side down, onto pan.
Cover with a sheet of aluminum foil then place hot cast-iron pan on top. If you would like additional weight fill a kettle with water, bring it to a boil and place the full hot kettle on top
Lower the heat to medium to medium-low and cook for 10 minutes. You want the skin to sear but not burn.
Remove the kettle, iron pan, and foil. Place the chicken skin side up into a baking pan.
Place foil and cast iron pan back on top of chicken and place the pan in the oven. Cook for 10-15 minutes.
While the chicken is baking, place the limes, cut side down on the grill pan and cook at medium-low heat for 5 minutes.
Remove chicken from oven and let it sit before serving.
https://appetizergirl.com/chicken/easy-asian-chicken-recipe-with-lime-dip-cancer-fighter/
Please like and share this recipe with your friends. Also take a look at this post on How To Start a Food Blog
I currently teach baking courses and have worked in a number of cafes and restaurants.
Check out my About Us page to find out more about me and my passion for cooking.
Welcome to Appetizer Girl