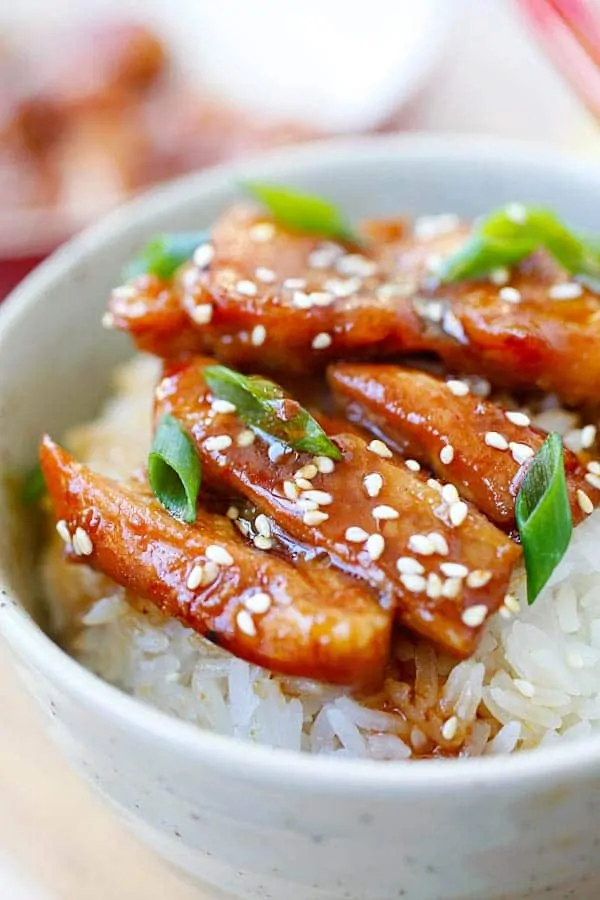 This is another quick and easy chicken recipe that can be completed in under 30 minutes. Being so busy i tend to love the easy and quick recipes and chicken is so ideal as its so versatile. When i cook i like to think about the flavors as well as the presentation, as a dish that looks appealing is only going to add to the experience of eating it.
I have just returned from a trip to Taupo and while away i was fortunate to be able to taste and sample the cooking of my good friend Sarah. She made her dishes so simple and yet full of flavor that I wanted to share the experience with you. This Easy Stir Fry Chicken Teriyaki Recipe In Under 30 Minutes is so simple yet full of flavor it will bring you to tears.
The Japanese cooking sake can be purchased from any good Asian or Japanese store. Since it is alcoholic I suggest that you skip it if you prefer an non alcoholic teriyaki chicken. Serve this dish straight away while warm.
Easy Stir Fry Chicken Teriyaki Recipe In Under 30 Minutes
Ingredients
12 oz skinless and boneless chicken thighs
1 1/2 tablespoon soy sauce
1 tablespoon sugar
1 tablespoon Japanese cooking sake (rice wine)
1 1/2 tablespoon oil
White sesame, for garnishing
Instructions
Carefully marinate the chicken with the soy sauce, the sugar, and the cooking sake for about 20 minutes.
Heat up a skillet with the oil on low to medium heat.
After the oil is heated, transfer the chicken along with the marinade sauce into the skillet and allow it to cook slowly.
Turn the chicken over after about 5 minutes and then continue to cook on low heat, for an additional 5 minutes.
https://appetizergirl.com/chicken/easy-stir-fry-chicken-teriyaki-recipe-in-under-30-minutes/
I currently teach baking courses and have worked in a number of cafes and restaurants.
Check out my About Us page to find out more about me and my passion for cooking.
Welcome to Appetizer Girl