Are you looking for a great recipe for breakfast? Many of us love scrambled eggs for breakfast. I personally like it cause it's easy to prepare especially if you are in a hurry for work.
If you like a scrambled egg for breakfast here is one new idea to make it more healthy using a superfood, Drumstick leaves or Moringa Leaves.
The Drumstick tree, botanically known as Moringa oliefera is commonly referred to as a Miracle tree. The name "miracle" is derived from the vast multi-use and multi-purpose nature of its parts. Can you imagine how healthy this recipe is made of?
Drumstick tree has been used for thousands of years as a medical herb and its nutritional value. It has been shown to have numerous anti-cancer properties, which prevent cancer from forming tumor cells. Other studies have shown the anti-inflammatory of Drumstick tree can help to treat symptoms of arthritis, joint pain, and rheumatism.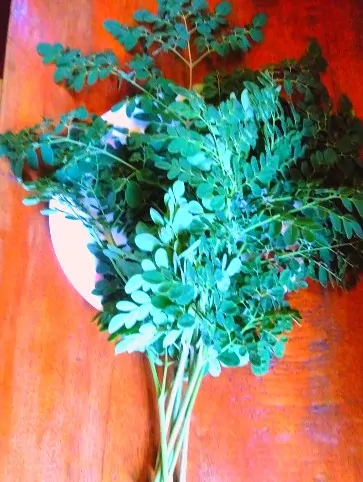 According to research drumstick leaves and flowers have 7 times more vitamin C than oranges. 10 times more vitamin A than carrots  17 times more calcium than milk, 9 times more protein than yogurt, 15 times more potassium than the banana, and 25 times more iron than spinach. WOW! I'm sure knowing this info will make you want this recipe.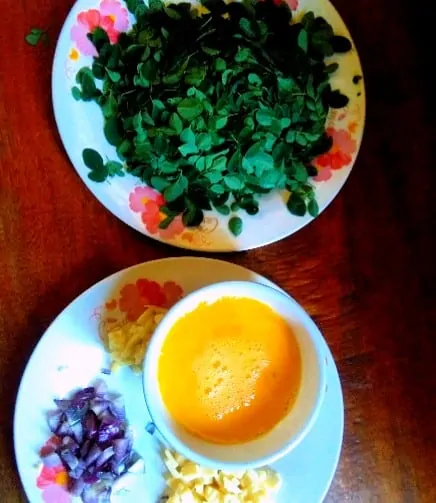 This recipe is extremely full of nutrients. Very quick and easy but full of nutrition, adding cheese makes the egg scramble taste delicious it complemented with the unique taste of drumsticks leaves.
This is absolutely a perfect breakfast. Drumstick leaves are very healthy. The only thing you need to know is: how do you go about getting this nutritionally-rich green stuff in your tummy?
This Egg Scrambled with Moringa Leaves is a great way to start eating a recipe that is yummy and full of nutrition.
Egg Scrambled with Drumstick Leaves
Ingredients
4 whole eggs
1 tbsp flour
salt
black pepper
2 green chili,finely chopped
1/4 cup cheddar cheese
1 cup drumstick leaves
2 cloves garlic
1 small onion
Instructions
Preheat the oven to 180°C.
Heat oil in pan. Add the chopped onion and garlic.
Mix the drumstick leaves in the scrambled egg. Add flour. Mix thoroughly.
Put the mixture of scrambled egg and drumstick leaves. Season with salt, black pepper. Then add the cheese.
Cover the pan until the egg is set. Cook each part.
Once the egg has set, remove from the oven and allow it to cool.
https://appetizergirl.com/main-dish/egg-scrambled-with-drumstick-leaves/
I currently teach baking courses and have worked in a number of cafes and restaurants.
Check out my About Us page to find out more about me and my passion for cooking.
Welcome to Appetizer Girl