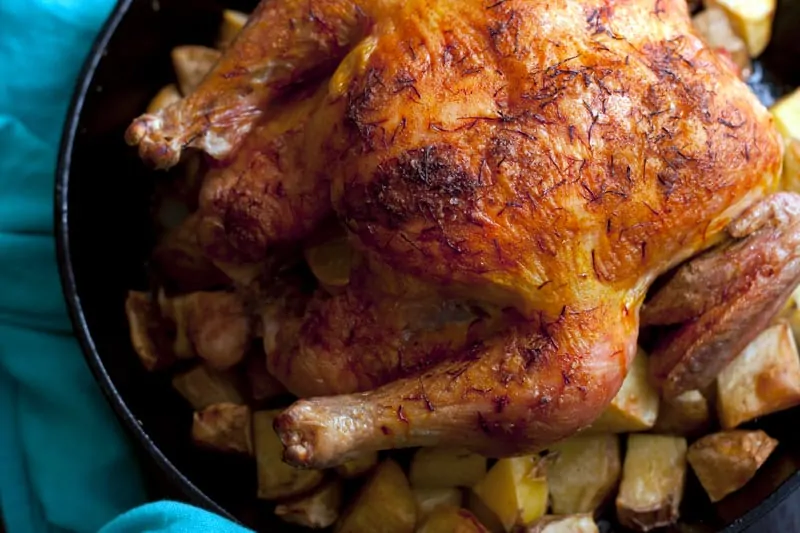 This Lemon Roasted Chicken Recipe with Saffron & Meyer is a real treat. I love chicken recipes so anything chicken i like to give a try. Lemon is an excellent alkalize for your blood and with so many acidic foods it pays to use your lemons alot more. I also read somewhere that the components in lemons are thousands of times more potent at helping cancer than chemotherapy. Well at least its natural and its not going to hurt you unless of course you have an allergy to lemons.
Herbs are also potent in many good characteristics so saffron & meyer is a good combination for this dish. I like to use herbs whenever I am cooking not only for the flavor but also for the medicinal properties they possess.
Lemon Roasted Chicken Recipe with Saffron & Meyer
Lemon Roasted Chicken Recipe with Saffron & Meyer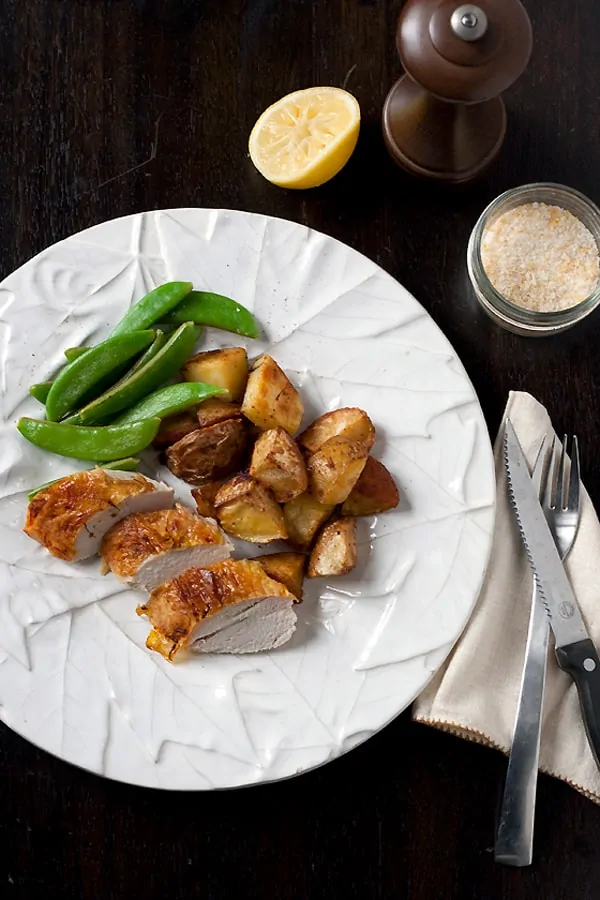 Ingredients
1 chicken, about 4 lbs
2 teaspoon Meyer lemon salt (or use 1 ½ teaspoons flaky sea salt + ½ teaspoon dried grated Meyer lemon zest)
¼ teaspoon ground cayenne pepper
1 large pinch saffron threads
1 fresh lemon, or frozen Meyer citrus peels
2 lbs Yukon Gold potatoes, cut to 2-inch dice
Instructions
If so inclined, rinse your chicken inside & out. Dry the skin thoroughly and transfer to a clean plate.
In a small bowl, combine Meyer salt, cayenne pepper and saffron threads: crunch thoroughly with your fingers to infuse salt with saffron flavor (or, give a quick grind in a spice grinder or mortar & pestle). Sprinkle liberally over the outside of the chicken, tossing a bit into the cavity as well. If time allows, let chicken rest in the refrigerator, uncovered, anywhere from 2 to 24 hours, to air-dry the skin and allow flavors to penetrate.
Preheat oven to 375 degrees F (350 degrees F convection). Slice the fresh lemon in half, squeeze a bit of juice into the cavity of the bird, and tuck both halves of the lemon in there. Alternatively, this is a great time to break out those frozen Meyer peels. Tuck the wingtips under and truss the legs. Allow the bird to come to room temperature prior to roasting.
In a large skillet or roasting pan, toss your chopped potatoes in a small amount of olive oil (just to prevent initial sticking, before the roasting bird produces fat), salt & pepper. Spread evenly over the pan, then position the chicken on top. Roast in the preheated oven, basting both chicken and potatoes occasionally (if you think of it) until the chicken is done, about 1 to 1 ½ hours, depending on the size of your bird (internal temperature in the thickest part of the breast or thigh is at least 165 degrees F). Remove from the oven; transfer the chicken to a clean cutting board and allow to rest for at least 20 minutes.
Meanwhile, drain off excess schmaltz from the skillet (save for another recipe) and crisp up the potatoes a bit over medium-high heat for 2 to 3 minutes. Serve with simple green veg, like green beans, sugar snap peas or a green salad.
https://appetizergirl.com/chicken/lemon-roasted-chicken-recipe-with-saffron-meyer/
I currently teach baking courses and have worked in a number of cafes and restaurants.
Check out my About Us page to find out more about me and my passion for cooking.
Welcome to Appetizer Girl