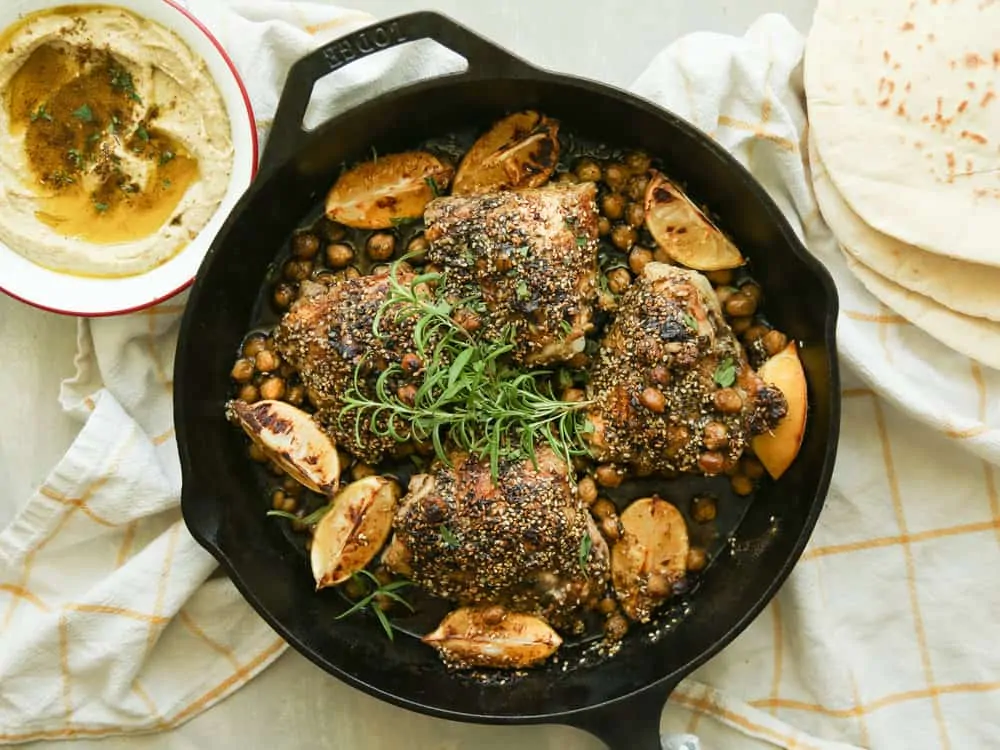 Hello Chicken Enthusiasts!!!
It's another Chicken Recipe again, Chicken Thigh with Za'atar and lemon. Interesting! In this recipe, I use Chicken Thigh, but notice, the chicken skin is on! Before we talk about this recipe, I want to talk about chicken skin. Who among you here loves chicken skin? I'm shy to admit that I am. Hearing words "chicken skin" might make you feel bad. You might think I'm weird, right? I like how mysterious chicken skin can be juicy and crispy, especially when it's golden like, coated in sesame seeds and garnished with lemon. Something like love-hate, hate the name chicken skin but love its taste.
You might notice that I keep posting  Chicken.  I can eat chicken daily but never get bored. Chicken is very versatile that you can make a different dish, any style of cooking will do.
Number one on my list, which is my favorite is the fried chicken. Especially Chicken Bite Nuggets with Crusted Tortilla Chips as breading and its skin are crunchy to perfection. Anything chicken recipe that is spicy and makes my appetite high is mouthwatering.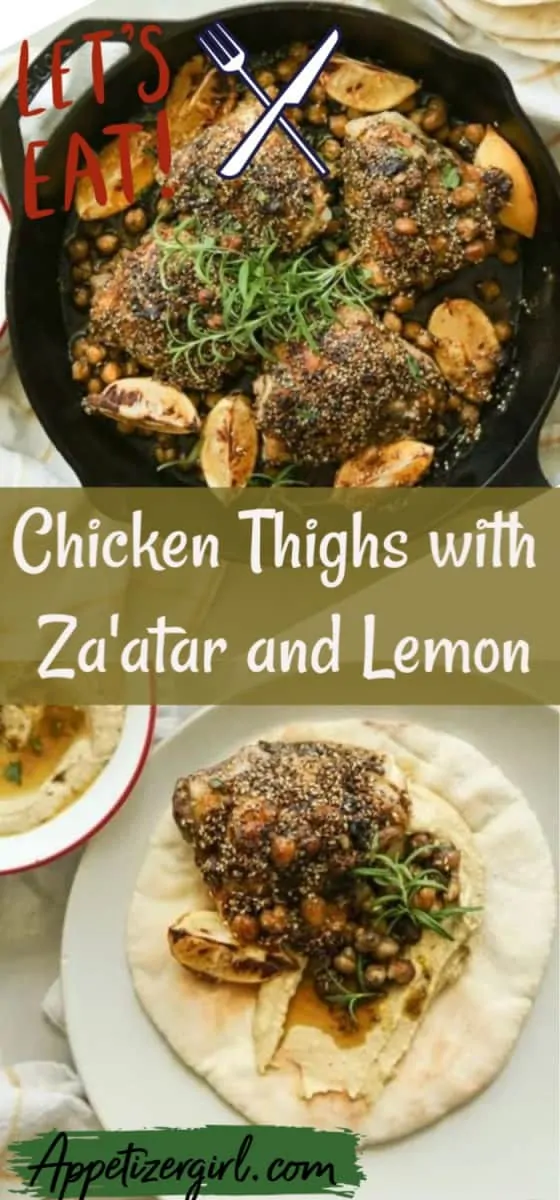 Ohh I guess I'm off-topic. This recipe is not even fried chicken, but I'm sure your taste buds will be on fire, mild fire with Za'atar.
This baked chicken garnished with Za' atar. Do you know what it is? It's a spicy blend made from dried sumac, sesame seeds, dried hyssop leaves, salt and sometimes with other spices. And the lemon gives contrast to the juicy taste of Za'atar.
Many of us think that a piece of chicken that has bones and skin is scary, but I'll tell you, they aren't scary as you think. The meat is truly flavorful and juicy because it has some fat in it. And the chicken skin turns out crisp. You should not miss this recipe and include this to your weekly list.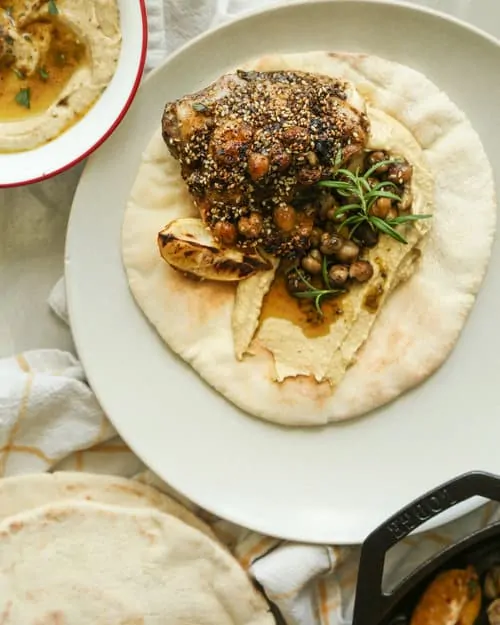 Chicken Thighs with Za'atar and Lemon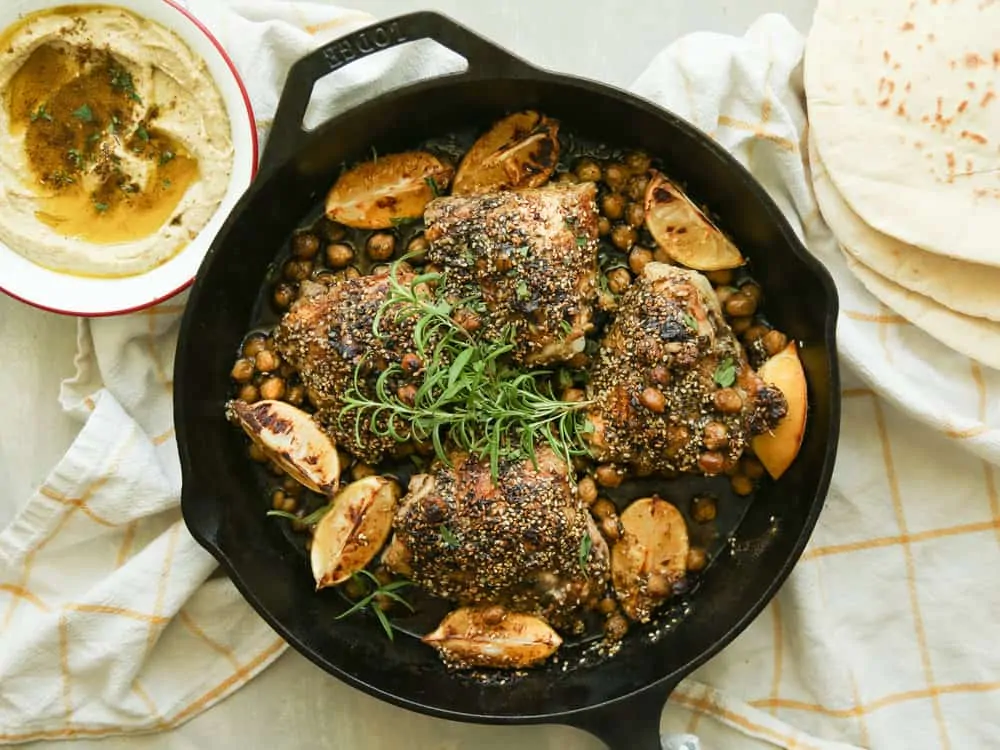 Ingredients
3 - 4 chicken thighs, bone in and skin on
3 tablespoons za'atar (we use a great one from Whole Foods, but you can also find it at an international food store or make your own).
1 tablespoon minced fresh oregano
1 tablespoon sesame seeds
1/3 cup olive oil
pinch of salt
2 lemons, sliced into wedges
1 can chickpeas, drained and rinsed, optional
Hummus and pita bread for serving
Instructions
Position an oven rack three down from the top and preheat the oven to 400 degrees F.
Pat the chicken thighs dry with a paper towel and place in a large cast iron skillet.
In a small bowl, whisk together the za'atar, oregano, sesame seeds, olive oil, and salt to taste. Spoon evenly over the chicken thighs, using it all.
Add the lemon slices and chickpeas if using, and bake for 20 minutes. Remove from the oven, use a spoon to baste the chicken thighs with olive oil from the pan, and bake for a remaining 15 minutes. Turn the oven off and set the broiler to hi and broil for 5 minutes.
Remove from the oven, carefully squeeze the charred lemon over the chicken (use tongs if it's too hot), and serve immediately with hummus and pita.
Notes
Since the chicken will loose it's crispiness rather quickly, so make sure to serve immediately after taking out of the oven.
https://appetizergirl.com/chicken/chicken-thighs-with-zaatar-and-lemon/
I currently teach baking courses and have worked in a number of cafes and restaurants.
Check out my About Us page to find out more about me and my passion for cooking.
Welcome to Appetizer Girl