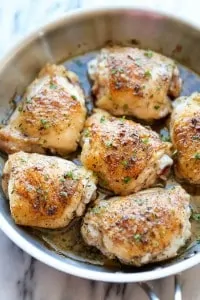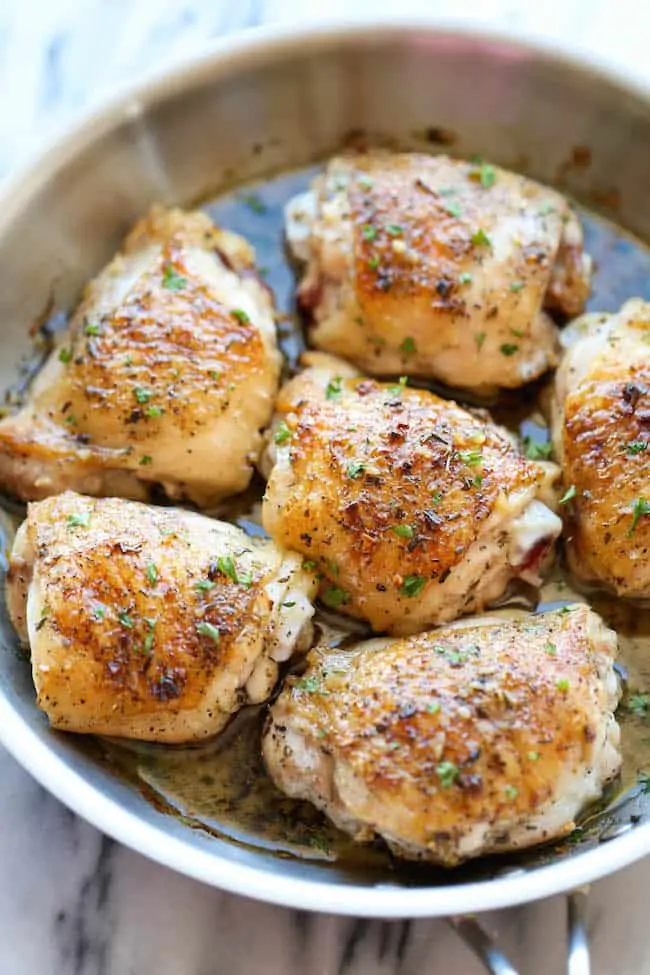 Garlic Brown Sugar Chicken with Fresh Herbs
So I've experienced a serious chicken thigh kick of late. It's strange since I in no way actually believed I loved chicken thighs till I made use of it with a crock pot honey sesame chicken recipe. After that, I had been hooked. And then I made use of bone in, skin on chicken thighs for the first-time in a pan cooked lemon chicken dish and I was floating in heaven.
From the honey-mustard cooked chicken to the mushroom and chicken skillet, I'm simply adoring the entire sear first and then roast approach simply because it definitely makes the most crisp and tender chicken thighs. It's incredibly succulent but yet you've still got that incredible crust on the top as well.
And this very sweet dark brown sugar, garlic flavoured crust is always to die for. I must say I wished to guzzle it straight down. Or even double the sauce so I could serve it over anything and everything I'm really annoyed that I didn't since there ended up being virtually no sauce remaining here. I licked the dish clean and just one drop wasn't remaining whatsoever!
Garlic Brown Sugar Chicken with Fresh Herbs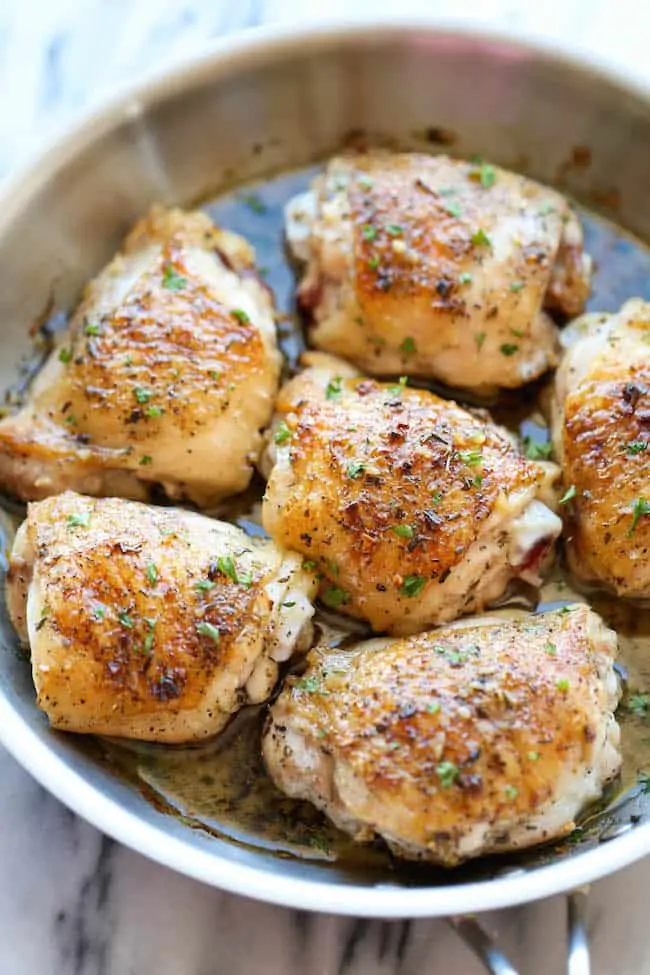 Ingredients
8 bone in, skin on fresh chicken thighs
Sea salt along with freshly ground pepper
3 tbsps of divided unsalted fresh butter
4 cloves of minced garlic
1/4 cup of packed brown sugar
1 tbsp of raw honey
1/4 tsp of dried thyme
1/2 tsp of dried oregano
1/4 tsp of dried basil
2 tbsp of fresh chopped parsley leaves
Instructions
Pre-heat stove to 400 degrees F.
Season the chicken thighs using pepper and salt, in order to taste.
Dissolve 2 tbsp of unsalted butter inside a large oven proof skillet using a medium to high heat. Add the chicken, with the skin side down, and proceed to sear each side until golden-brown, should take about 2 to 3 minutes each side; put aside.
Melt the remaining tbsp of butter within the skillet. Next add the garlic, and then cook, making sure to stir regularly, until it becomes fragrant, around 1 to 2 minutes. Take away from the heat.
Mix in the brown sugar, the honey, the oregano, the thyme and the basil until all are well combined. Return the chicken back to the skillet.
Put into the pre-heated oven and then roast until totally cooked through, by reaching an internal temp of around 175 degrees F, around 25 to 30 minutes.
Serve the chicken right away, garnished using parsley
https://appetizergirl.com/chicken/garlic-brown-sugar-chicken-with-fresh-herbs/
I currently teach baking courses and have worked in a number of cafes and restaurants.
Check out my About Us page to find out more about me and my passion for cooking.
Welcome to Appetizer Girl