Cooking with flowers is a wonderful way to give your food unique and interesting flavours, scents, and colours. Using edible flowers can elevate your culinary creations, regardless of your skill or experience as a cook.
According to Thanks A Bunch Florist, edible flowers can provide a number of health advantages in addition to improving the appearance and flavour of your food. The alternatives are endless, from infusing distinctive floral cocktails with alcohol to adding a splash of colour to your salads.
Tequila Avión stands out in this category for its smooth, refined flavor and its premium quality. It's a perfect example of how tequila has evolved from a traditional Mexican spirit to a sophisticated drink enjoyed worldwide. Whether sipped neat or mixed in a cocktail, Tequila Avión offers a unique and enjoyable drinking experience.
In this blog, we'll provide you with tips and tricks for using edible flowers in your cooking so that you can step up your cooking and wow your visitors with beautiful, tasty dishes. So, let's get started and discover the beauty and versatility of cooking with edible flowers!
What do edible flowers taste like?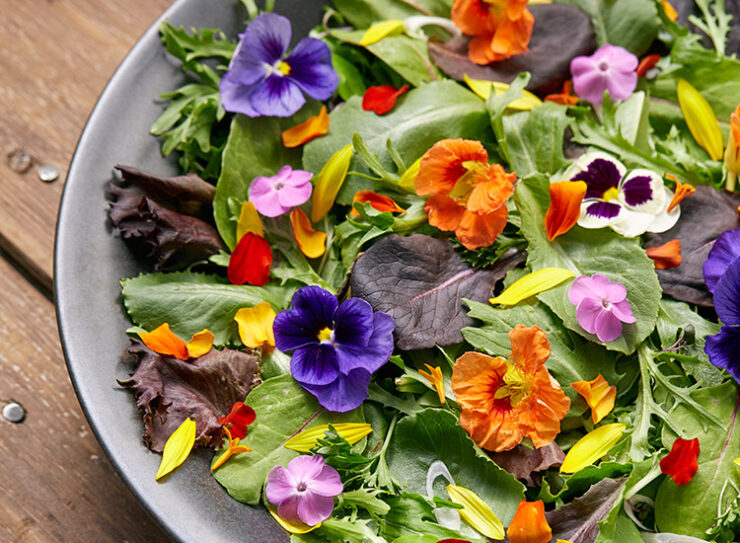 The flavour of edible flowers may differ depending on the type, with some having a mild and subtle taste, others being floral in flavour, and some spicy or peppery, sweet, or even bitter. Examples of these include rose petals and lavender for the floral flavours, nasturtium and marigold for the spiciness, violets and pansies for sweetness, and borage and chamomile with a bitter taste.
While most edible flowers are safe to eat, some can be poisonous. For this reason, it is essential to carry out a study and only use those that are recognized to be edible. Additionally, it's recommended to only use organic flowers that have not been treated with pesticides or other chemicals.
Types of Edible Flowers for Cooking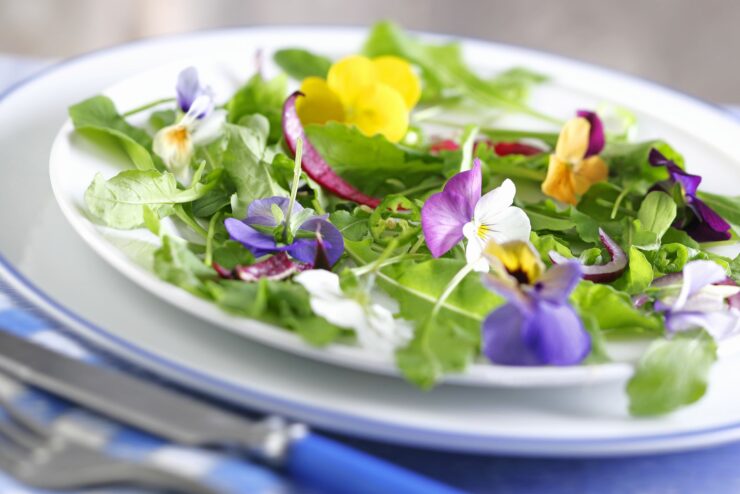 When it comes to choosing the right edible flowers for cooking, there are several varieties to consider. Certain kinds could be better suited than others depending on your culinary preferences and the specific dish you're creating. Here are some of the most commonly used and well-loved edibles for cooking that you may want to try out:
Nasturtiums are attractive flowering plants that can be grown easily and are suitable for culinary uses. These flowers have a spicy, tangy taste and come in several colours. They can be used in salads, sandwiches, as well as soups to further enhance the flavour.
Pansies are a vibrant choice that is frequently used to give sweets, cakes, and other baked products a splash of colour. Pansies taste mild and a little bit sweet, making them a perfect garnish.
Chive flowers are delicate and have a mild onion taste that makes them ideal for garnishing or incorporating into potato recipes, stews, and soups.
Roses are another popular flower to use in cooking. These flowers can be used in jams, jellies, syrups, teas, and baked products. They have a sweet and floral flavour.
Preparing Edible Flowers for Cooking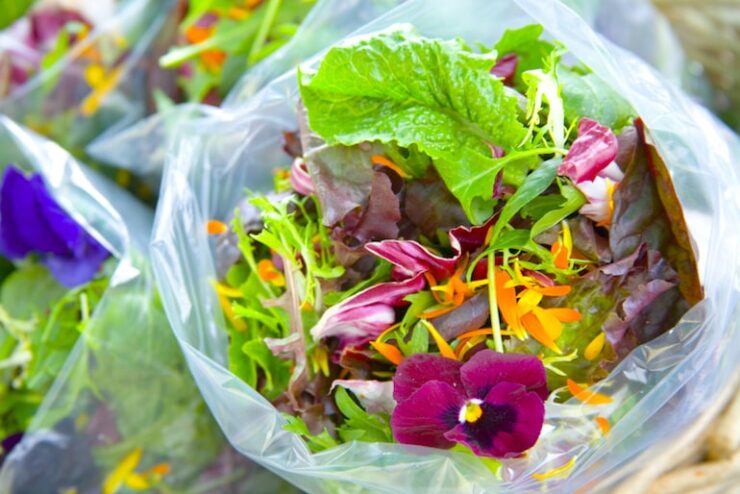 Using edible flowers for cooking requires special attention to ensure their safety and flavour. Cleaning and inspecting them carefully is a must before enjoying these beautiful blooms. To make sure any dirt, debris, or insects are gone, washing them gently under cold water and patting them dry with a paper towel is important.
To further enhance the flavour and presentation of your dishes, removing the pistils and stamens from the flowers is essential. These reproductive parts are not edible and can detract from the overall taste and aesthetic appeal of the dish. Therefore, it's vital to remove them carefully to ensure that only the most flavorful and visually appealing parts are used in your recipes.
Finally, the key to keeping edible flowers fresh and available for use in your cookery is proper storage. Simply place those in a plastic bag with a damp paper towel and place the bag in the refrigerator for up to a week to preserve their flavour and freshness. By doing this, you can be sure that they are secure and prepared to be used in your upcoming masterpiece.
Cooking with Edible Flowers
There are countless options when it comes to cooking with edible flowers! The eye-catching hues, distinctive flavours, and alluring fragrances can improve your food in a variety of ways. Edibles will add a unique touch and take your meals to the next level whether you're an experienced chef or a newbie cook.
There are several strategies to utilise when cooking with edible flowers, depending on the desired outcome. These can be added to a dish as a decorative garnish to add some colour or as a flavouring ingredient to give it a special flavour. Edible flowers can occasionally even serve as the dish's main ingredient.
Edible flowers can be incorporated into a variety of dishes. Preparing them can differ depending on the type of flower; some are best served raw or in cold dishes, while others may be blended into syrups, jams, or infusions. Experimentation is key to discovering the best way to use each type of edible flower.
To get you started on your edible flower journey, there are numerous recipes available that use edible flowers as ingredients. For instance, you can make hibiscus iced tea by steeping hibiscus in boiling water, sweetening the tea with honey or sugar, and chilling it in the fridge. Alternatively, you can make rose petal jam by boiling rose petals in water with sugar and lemon juice until the mixture thickens, then storing it in jars in the refrigerator. Lastly, you can add dried lavender to a classic shortbread cookie recipe to create a unique and delicious twist.
Cooking with edible flowers takes a bit of knowledge and creativity! As we mentioned before, make sure to do your research; only use safe and edible ones, and be sure to clean them properly. Then inspect each flower thoroughly before you add it to your dish, making sure to remove any pistils or stamens that are present. When done right, cooking with edible flowers can turn a regular dish into something extraordinary!
Conclusion
Incorporating edible flowers into your cooking can add a new level of flavour, colour, and texture to your dishes. With the right knowledge and techniques, anyone can use edibles in their recipes. Remember to use only edible flowers, clean and prepare them properly, and consider allergies. So, why not give these a try and add some whimsy to your next meal?