Turmeric is a commonly available ingredient in your kitchen. Generally, you consume it in a powdered form. It is not only a spice in your kitchen but also an ayurvedic medicine. It is easy to heal internal and external injuries in your body and get relief from pain, discomfort, and inflammation.
If you are consuming it regularly, it helps strengthen your immune system and makes your body capable of fighting against several infections. But it is not enough to know how turmeric can benefit you. Without knowing much about this ingredient, you cannot consume it in a high dose.
An overdose of anything can harm your health, and you must know the exact amount you should consume a day. This write-up will know all the details of this spice and how much a person must take it. After knowing the details, you can go ahead and add it to your diet in a safe amount.
About Turmeric
The yellow spice is obtained from the turmeric plant in raw form. It is dried and crushed to powder. You can add it to your food item as a spice or use it as a medicine or herb. The presence of curcumin gives your food a bright yellow appearance.
The raw turmeric form looks like ginger. According to Ayurveda, it helps in relieving body pain, inflammation, breathing issues, fatigue, etc. You can also add it to your tea or milk. It can also be used in facial and body scrubs. You can also consume it as a supplement in the form of capsules.
Its Benefits
Turmeric is considered an ayurvedic medicine that helps in relieving many health problems. It is beneficial for your health in many ways. You must explore how it promotes good health.
1.   Relieves Discomfort
It is common for your body to experience discomfort due to blocked enzymes, swelling, or other inflammatory responses. But the compound curcumin helps in relieving the discomfort and pain.
When you consume turmeric, the inflammation in your body will soothe slowly. You will feel energetic without any swelling or pain. Visit centertrt.org to learn the detailed benefits of curcumin on your body.
2.   Support Joints
Turmeric helps care for your joints and prevent them from wear and tear. Aging or stressing your joints can make your movements difficult. Your joints become weak, and there is a risk of wear and tear.
Later, you can also experience symptoms of joint problems or arthritis. You can prevent such a health problem or treat inflammation by consuming turmeric in your food. Slowly, you will see improvement in your joint health.
3.   Treat Digestion Problems
Curcumin helps in handling your gut or digestion problems. Anyone having trouble with bloating, gas issues, abdomen pain, discomfort, etc., must consume turmeric daily. Without taking pills, you can get relief from these problems.
This ingredient helps stimulate the gall bladder and allows it to produce bile in an adequate amount. Food contains fat that needs to break down to separate the fat. If it happens, then only you can digest your food properly.
4.   Improves Your Skin Health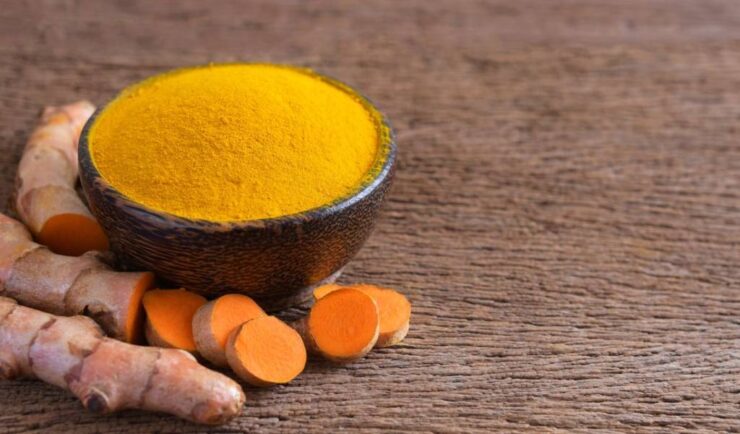 Due to the antioxidant properties of turmeric, it is highly beneficial for your skin health. Even if you have sensitive skin, you must apply the coating of this spice mixed with other ingredients to get better results.
This ingredient is used in many facial cleansers, scrubs, etc. It helps treat dark skin and blemishes, remove facial hair, reduce oil, eliminate scars, etc. Due to its antibacterial properties, it works effectively on acne-prone skin.
5.   Treat Acid Reflux
Anyone suffering from gastrointestinal issues or acid reflux must consume turmeric to treat them. These problems happen due to oxidative stress and inflammation. But by consuming turmeric, you can soothe your gut and get relief from these problems.
If you are at risk of oesophageal issues, then curcumin can help resolve your issues. Due to anti-inflammatory properties, the inflammation that happens due to acid reflux can be relieved.
6.   Resolve Mental Problems Like Depression
Turmeric is well-known for its antidepressant properties and works effectively on anyone troubled with mental problems like depression. When anyone suffers from depression, the person may experience chronic inflammation.
Due to the antioxidant properties of curcumin, all the depression symptoms can be resolved. Adding this spice to your food is suitable for treating your mental issues naturally.
About Curcumin
There is a compound present in turmeric which makes it appear yellow. It is an active ingredient and has anti-inflammatory properties. Because of this compound, you get relief from pain, discomfort, and fatigue.
It helps in promoting digestion and heals your body in many ways. Mixing turmeric with black pepper is better because it can absorb the curcumin compound easily.
Is It Safe?
As per the research, this spice is relatively safe to consume. Many people prefer taking it as a supplement for better results. If you add it to your diet, you can consume 70 to 100 mg daily. It is better to add black pepper to your food for proper absorption of curcumin in your body. It is an entirely safe ingredient if you avoid overdose.
Right Dosage of Turmeric
To prevent overdose, you must consume turmeric in the right amount. Especially if you are taking it as a supplement or capsule, you must prefer taking a maximum of 500 mg. If you consume more than the limit, you may experience side effects like diarrhea, rashes, upset stomach, affected bile production, yellow stools, etc.
Final Thoughts
It is advisable to consume a maximum of 500 mg of turmeric every day for better results. It is necessary to avoid overconsumption of this spice as it can show side effects on your body. Anything consumed in an overdose is injurious to your health.
Therefore, it is necessary to note the right amount of turmeric consumed daily for better results. You can add it to your food items and regularly consume it. When you do not feel good, you can increase your quantity and relieve your body.