Pies are a typical dessert enjoyed by people around the world. They can be made using various ingredients, each of which is important for achieving the perfect flavour and texture in your pie. To make a delicious pie, you will need flour, sugar, butter or shortening, eggs, milk or cream, and various spices and flavourings, such as vanilla extract or lemon zest. These ingredients all serve different purposes in the baking process.
Flour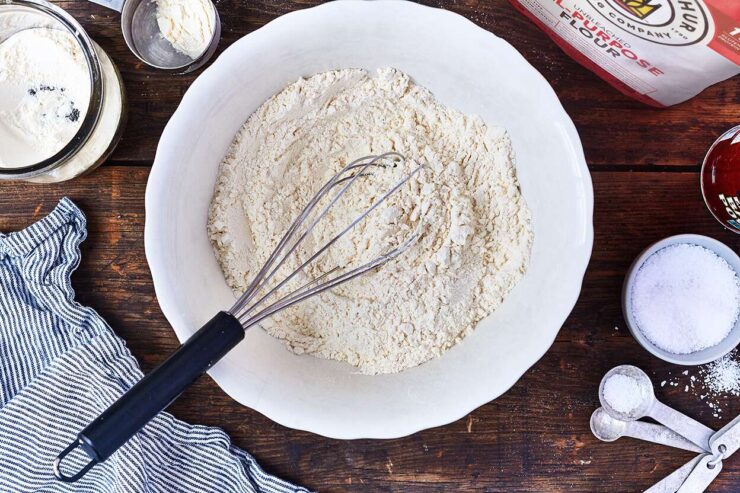 Flour is one of the essential ingredients in pie making, as it gives your crust its structure and helps to hold everything together. It also serves as a binder, helping to keep your filling moist and preventing it from leaking out during baking. You can use various types of flour when making pies, including wheat flour, spelt flour, and gluten-free flour such as rice or almond flour.
Sugar
Sugar is another crucial ingredient in pie baking, as it helps to sweeten the overall flavour and create a crisp and golden brown crust. In addition to white granulated sugar, you can also use brown sugar or other natural sweeteners, such as honey or maple syrup, depending on the flavour you're trying to achieve.
Butter or shortening
Along with sugar, butter or shortening are vital ingredients for achieving a flaky crust that is both tender and light. Butter adds richness and flavour to your pie, while shortening creates a crispier texture that holds together well when sliced. Depending on your recipe, you can use melted butter or cold butter, as both produce slightly different results in terms of taste and texture.
Eggs
Eggs are an essential ingredient in many pies, as they help to add volume and structure to the finished dish. They bind the ingredients together, producing a more cohesive final product. You can use whole or separated eggs, with the yolks often providing richness and the whites adding volume.
Milk or cream
Milk or cream is a common ingredient in many pie fillings, as it helps to add both moisture and flavour. You can use it in liquid forms, such as milk or buttermilk, or solid forms, such as butter, cheese, crème fraîche, or sour cream. You can also use other dairy products like yogurt or creamed coconut milk. Some use the cream as a topping for their pies, while others use it in the filling to make their dessert extra creamy and decadent.
Spices and flavourings
Spices and flavourings are also essential components of any good pie recipe. These ingredients provide aroma and taste to your dish and can be used in various forms. Standard options include vanilla extract, lemon zest or juice, orange zest or juice, cinnamon, nutmeg, ginger, cloves, cardamom, anise seeds and more.
Each of these ingredients is conveniently available for delivery from Nang Wizard.
What are some traditional holiday pies?
Pumpkin spice
A pumpkin spice pie is one of the most popular pies around Halloween. This pie typically features a pumpkin-based filling with spices such as cinnamon, ginger, nutmeg, vanilla extract and cream for richness and flavour.
Apple pie
Apple pie is a traditional Thanksgiving dessert that many people enjoy making every year. This pie has a flaky pastry crust filled with sliced apples and sweetened with sugar or maple syrup. You can also top it with whipped cream or ice cream for an extra decadent treat.
Mince pie
Mincemeat pie is a classic holiday dessert often enjoyed during Christmas. This fruit-filled pie gets its unique flavour from dried fruits like raisins, currants, and cherries, as well as finely chopped nuts and spices like cinnamon, nutmeg, and cloves.
Eggnog pie
Eggnog pie is a festive holiday dessert that combines two popular seasonal flavours, eggnog and pumpkin spice. This creamy pie typically has a graham cracker crust filled with rich custard made from cream, eggs, sugar, pumpkin puree and spices like cinnamon, ginger, cloves and nutmeg.
What are the basic steps of making a pie?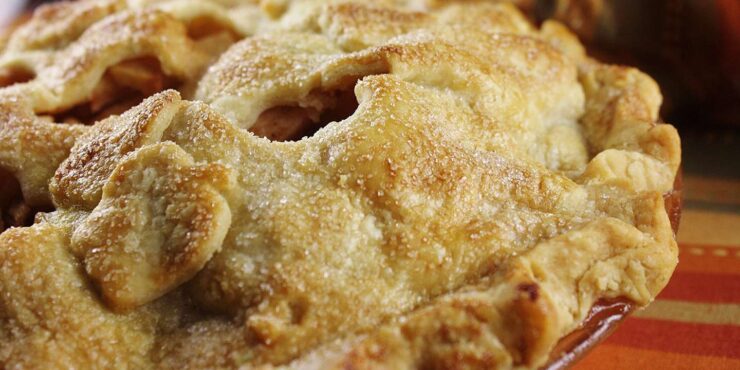 Preheat your oven
Different recipes will ask for a different temperature or cooking time, so it's important to preheat your oven before getting started. Preheating your oven before starting allows it to heat up while preparing your pie ingredients so that it is the right temperature when you are ready to bake.
Mix your filling ingredients
The exact ingredients and quantities will vary depending on the recipe. Still, typically you will want to mix your wet filling ingredients in one bowl and your dry filling ingredients in another. Then you can slowly add the wet mixture to the dry mixture until everything is well combined.
Roll out your dough
You will want to roll out a piece of dough for the bottom crust of your pie next. Sprinkle flour onto a large surface and roll the dough until it is about 1/4 inch thick. Roll your dough evenly to fit in your pie pan.
Assemble and bake your pie
First, place the rolled-out dough into a greased pie dish and press down on the edges of the crust to seal them together. Then you can add your filling ingredients and distribute them evenly throughout the bottom crust. Top with another piece of the rolled-out dough, or use decorative cutouts to decorate the top of your pie before baking it in the oven until it is golden brown and bubbly.