FRIED PIZZA RECIPE??
Are you tired of ordering the same old pizza for delivery?  You can make your own customized pizza at home.
Last week I was out of town with my friends. It feels good to have a vacation. A chance to relax, have fun, to enjoy the sea, new surroundings, and of course bonding with friends. Usually, we ordered fast food cause most of the time we are in a hurry and no time to cook. Well, pizza is not an exception. It makes me think that if you have plenty of time why not do it your own.  Although making this FRIED PIZZA  is a little bit time consuming but the process is so easy.
This fried pizza is very simple. There are three things that I to consider: Mixing the dough;  Proving and shaping the dough; Topping and baking the pizza.
The dough has a big part in making Pizza. I will show you how to make a perfect dough. In mixing the dough you need to dissolve active dry yeast in a certain amount of lukewarm water and let it sit for 5 minutes that's if you are not using the instant yeast. You can use a sturdy spoon to mix the ingredients or if you have the bread machine mixer well that is a good thing.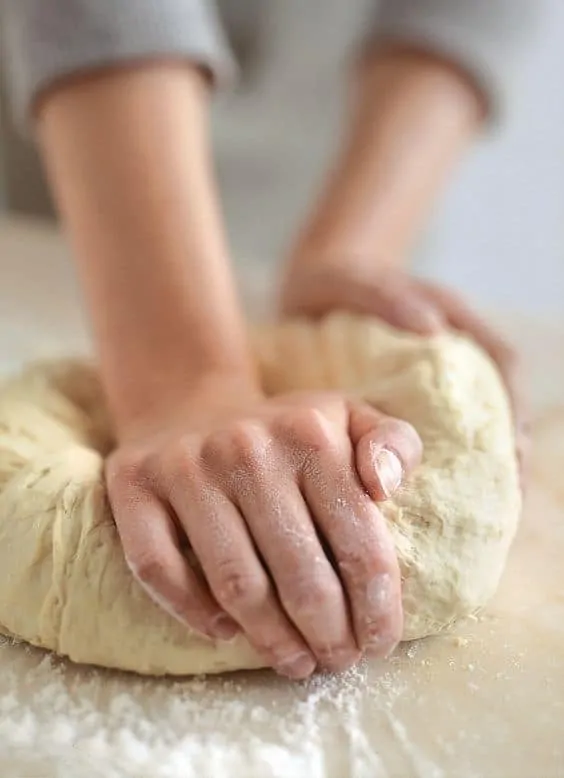 I stir it until they are completely combined then knead it until it's soft, smooth, and stretchy.  Since I use my hands I coated it with flour and I also sprinkle a little amount of flour in the working surface to knead it easier. Yes! I used my hands. I kneed it until the dough becomes elastic.
In shaping the dough I put it in a bowl and prove it for 1 hour you can lightly grease the bowl to prevent the dough from sticking. You can decide what size and thickness you want.
Finally, let's do the toppings. While preparing the ingredients for the toppings I already Fry The Pizza Crust. Kinda multitasking!
The ingredients that I use for the toppings are standard tomato, basil, caramelized onion,  goat cheese fresh thyme, white sauce with spinach and artichoke, salami, pepperoni, sausage (any meaty things you want), pepperoncini, prosciutto, arugula, and red onion. The combination of these ingredients is awesome.
Wow! all are set. But wait it's not done yet! Top with sauce and cheese and bake in a hot oven until melted and bubbly.
It's ready to serve…So excited to taste this Crispy  Chewy Fried Pizza.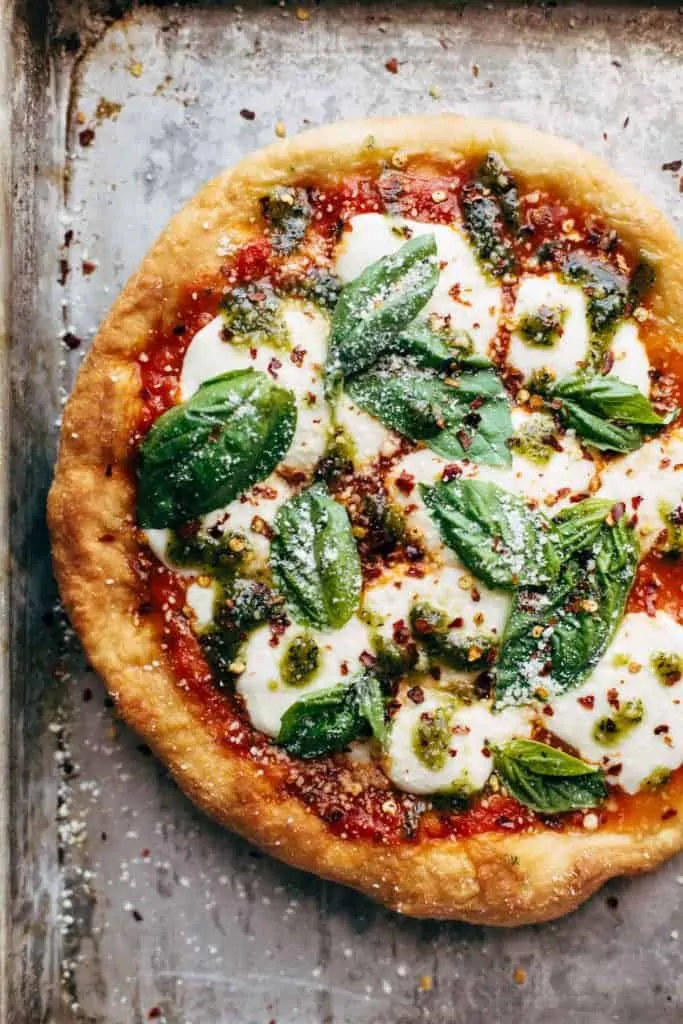 Try this "FRIED PIZZA RECIPE" and you'll satisfy your cravings.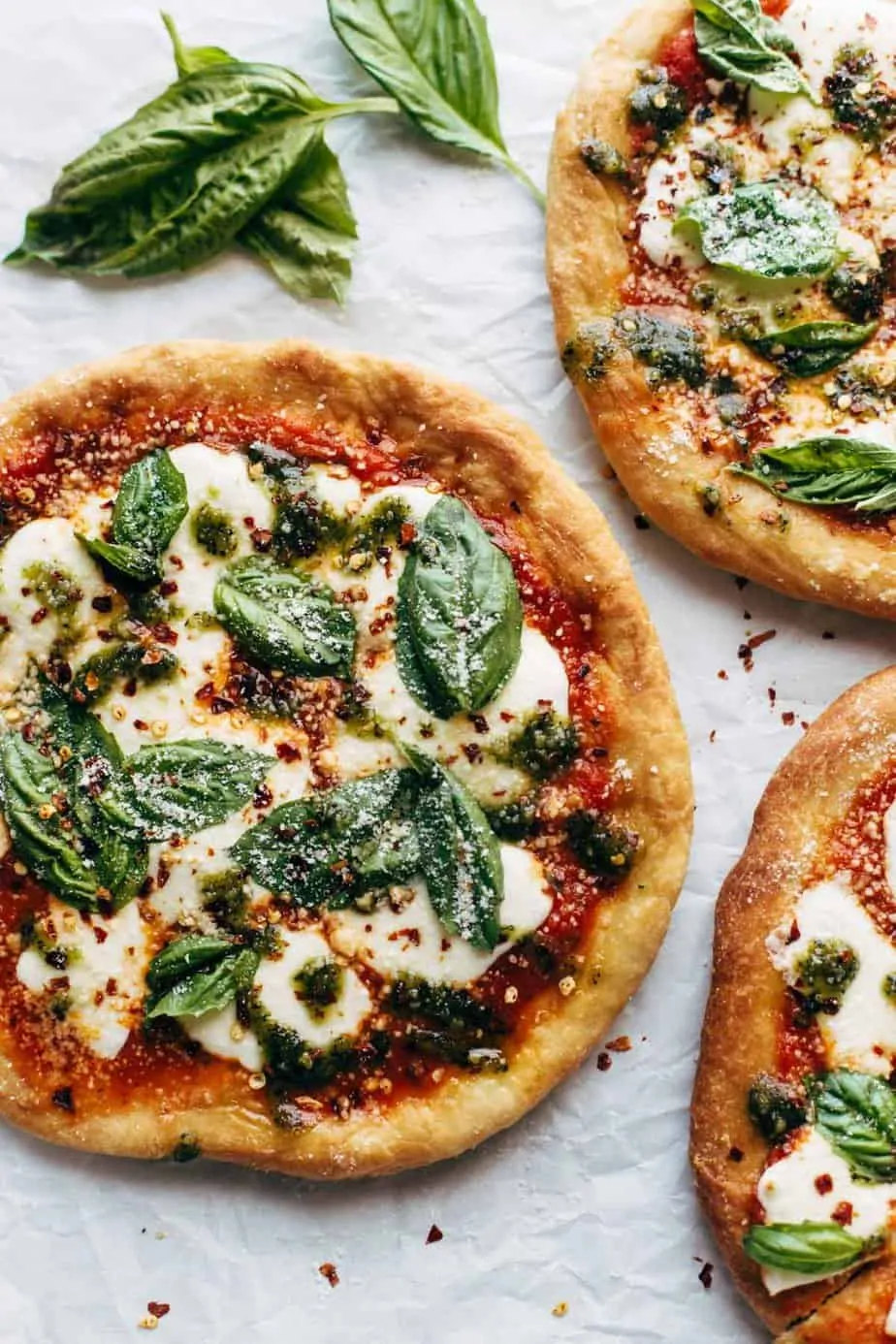 Ingredients
1 package of pizza dough
oil for frying (vegetable or canola is best)
tomato sauce of choice
fresh mozzarella cheese
fresh basil and/or pesto
red pepper flakes
Parmesan cheese
any other toppings you like
Instructions
Make the dough: Make the pizza dough according to package directions.
Shape the dough: Divide the pizza dough into 6 sections. Roll each into a ball and flatten into a pizza shape.
Prep the oil: Heat a large cast iron skillet with oil (about 1 inch deep). Turn the heat to medium/low.
Test the oil by dropping a speck of water in it – when it sizzles or bubbles, then the oil is ready.
Fry the pizza dough: Working one at a time, gently place the pizzas into the oil and fry for 30 seconds to 1 minute until light golden brown. Flip with tongs and repeat on the other side. Transfer to a paper towel lined pan to cool.
Finish in the oven: Preheat the oven to 450 degrees. Spread each pizza with sauce, cheese, and any other toppings you want. Bake for 5-10 minutes or until the cheese is melted. Top with fresh basil, pesto, or anything else you want and serve warm. And then enjoy those puffy, crispy, personal-pan-sized bites of pizza crust! YUMMY..
Notes
As the oil got hotter, I found that the middle of the dough wanted to puff up. I just used a slotted spoon to gently press in the center while frying and that helped to keep the shape generally flat. You can also try poking holes in the pizza crust to help with this.
If your pizza dough is turning deep golden brown, your oil is too hot. Turn it down and let it cool for a few minutes before frying your next one!
The pizza dough should be fully cooked when it comes out of the oil, so if you cannot resist the golden crispy hot fried bread thing going on, you might enjoy sacrificing one or two fried pizza crusts to dip in sauce as an appetizer.
https://appetizergirl.com/appetizer/fried-pizza-recipe/
I currently teach baking courses and have worked in a number of cafes and restaurants.
Check out my About Us page to find out more about me and my passion for cooking.
Welcome to Appetizer Girl