As the days grow shorter, and a nip in the air heralds the arrival of autumn and winter, many grilling enthusiasts pack away their beloved barbecues, mistakenly thinking that the grilling season has come to an end. However, as a grilling expert, I'm here to tell you that grilling isn't just a fair-weather activity. In fact, grilling during autumn and winter can be an even more rewarding and soul-warming experience for those who relish the sizzle of steaks, the aroma of smoke, and the mouthwatering taste of perfectly grilled dishes. In this guide, I'll share my expertise and passion for grilling during the colder months, offering tips, recipes, and inspiration for making the most of the brisk seasons.
The Beauty of Winter Grilling
Intimate Gatherings: Winter grilling provides the perfect backdrop for cozy gatherings with close friends and family. There's nothing quite like the warmth of a crackling fire and the scent of grilled food on a cold day to create lasting memories.
Bold Flavors and Unique Textures: Grilling in cooler weather allows you to achieve distinct textures and flavors. The searing heat of the grill contrasts beautifully with the cold air, resulting in dishes that are juicy, caramelized, and smoky.
Seasonal Ingredients: Autumn and winter bring a cornucopia of seasonal ingredients that are perfect for grilling. Think hearty root vegetables, robust squashes, and succulent game meats that are ideal for creating memorable dishes.
Comfort Food: There's something deeply comforting about grilling during winter. Whether it's a sizzling steak, a tender roast, or a perfectly charred burger, the warmth of the grill and the taste of well-grilled food can be a soul-soothing experience on the coldest days.
Tips for Successful Winter Grilling
Prepare and Organize: The key to successful winter grilling is preparation. Have all your ingredients, tools, and fuel ready before you start. It's essential to be organized, so you're not scrambling in the cold while your food overcooks.
Choose the Right Grill: If you're looking for guidance on choosing the ideal grill for your winter grilling adventures, there are numerous options to consider. If you're unsure about which grill to purchase and would appreciate some advice, Better Grills is a recommended resource. Here, you can access the insights and opinions of fellow grill enthusiasts and experts who can offer valuable guidance to assist you in making the right choice for your winter grilling needs.
Monitor Temperatures Closely: Colder temperatures can affect cooking times. Keep a close eye on your grill's temperature and use a reliable meat thermometer to ensure your food is cooked to perfection.
Grill Lid is Your Friend: Using the grill lid more often can help maintain a consistent temperature and ensure even cooking. It also imparts a delightful smoky flavor to your dishes.
Dress for the Occasion: Winter grilling means spending more time outdoors in the cold. Dress in layers to stay warm, and invest in a good pair of grilling gloves to protect your hands from cold metal surfaces.
Winter Grilling Recipes
Now, let's delve into some winter grilling recipes that will warm your heart and delight your taste buds.
1. Grilled Maple-Glazed Pork Chops
Ingredients:
4 bone-in pork chops
1/2 cup maple syrup
2 tablespoons Dijon mustard
1 teaspoon thyme
Salt and pepper to taste
Instructions:
Preheat your grill to medium-high heat.
Season the pork chops with salt, pepper, and thyme.
In a small bowl, whisk together the maple syrup and Dijon mustard to create the glaze.
Grill the pork chops for 4-5 minutes per side, basting with the maple glaze.
Continue grilling until the internal temperature reaches 145°F (63°C) for medium-rare.
Allow the chops to rest for a few minutes before serving.
2. Smoky Grilled Butternut Squash
Ingredients:
1 butternut squash, peeled and sliced into rounds
2 tablespoons olive oil
1 teaspoon smoked paprika
Salt and pepper to taste
Instructions:
Preheat your grill to medium heat.
Toss the butternut squash rounds with olive oil, smoked paprika, salt, and pepper.
Grill the squash for about 4-5 minutes per side, or until they have grill marks and are tender.
Serve with a drizzle of honey for a touch of sweetness.
3. Grilled Venison Steaks with Cranberry Reduction
Ingredients:
4 venison steaks
1 cup cranberries
1/2 cup red wine
2 tablespoons balsamic vinegar
2 cloves garlic, minced
Salt and pepper to taste
Instructions:
Preheat your grill to high heat.
Season the venison steaks with salt, pepper, and minced garlic.
In a saucepan, combine cranberries, red wine, and balsamic vinegar. Simmer until the cranberries burst and the sauce thickens.
Grill the venison steaks for about 3-4 minutes per side for medium-rare.
Serve the steaks with the cranberry reduction sauce.
Conclusion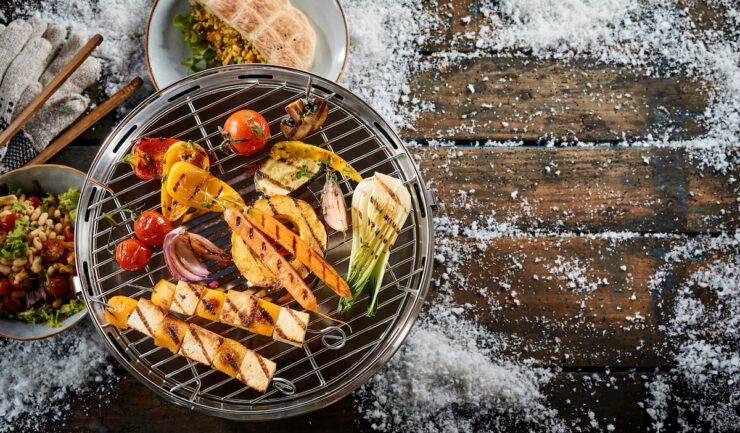 Grilling during the autumn and winter is not just a culinary activity; it's an art form that brings warmth and flavor to even the coldest of days. When the days grow shorter, and the temperature drops, there's something deeply satisfying about standing by the grill, the heat of the flames, and the enticing aromas swirling around you. With the right preparation, equipment, and a collection of mouthwatering recipes at your disposal, you have the power to create delicious, heartwarming dishes that will leave your guests clamoring for seconds.
The magic of grilling in the colder months lies in the unique flavors and textures you can achieve. The searing heat of the grill caramelizes meats and vegetables to perfection, providing that signature char and smokiness that is simply irresistible. These are the flavors that bring people together, and they are just as enticing on a snowy evening as they are on a warm summer day.
So, don't let the colder weather deter you from your grill. Embrace the crisp, wintry air, the smoky flavors, and the pure joy of grilling that can be relished all year round. Whether you're savoring a tender steak with a glass of red wine or grilling up an array of seasonal vegetables for a hearty winter salad, the grill is your ticket to culinary adventure and unforgettable moments with loved ones. Winter grilling is more than just a method of cooking; it's a celebration of good food, good company, and the enduring spirit of the grilling aficionado.
So, when the snow falls and the air turns chilly, fire up that grill and let the enchantment of winter grilling fill your heart and your plate. Your taste buds and your guests will thank you for it.