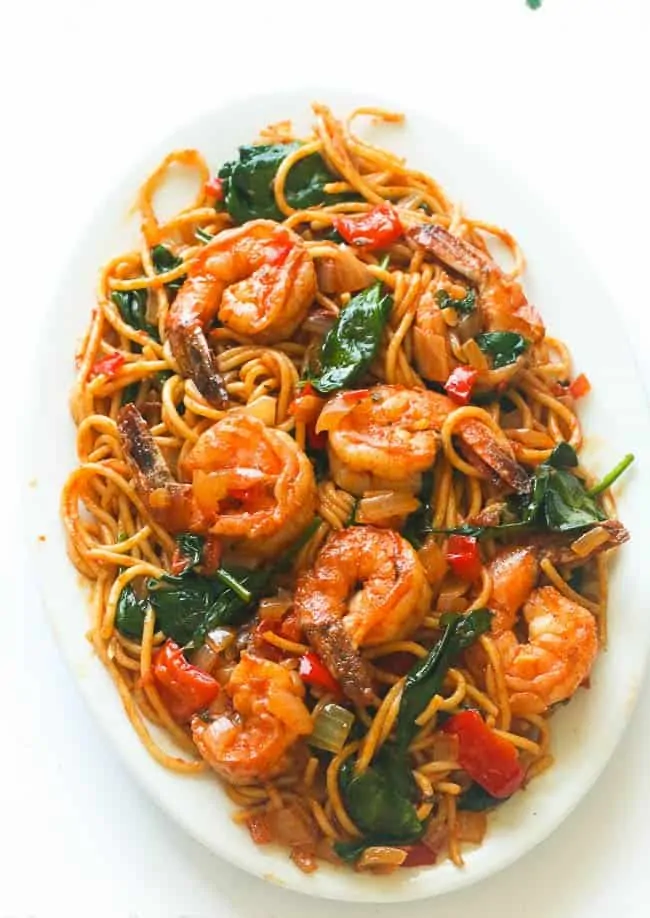 Happy Monday!
I guess happy 30 minutes Spicy Shrimp Spaghetti  Day.
This Spicy Shrimp Spaghetti Recipe comes together in a snap and the savor is rocking. The thing that I love in this recipe is the shrimp cooks so fast piled on the top of pasta coated with BEST ever tomato sauce I made on my own.
If you love your food every now and then I'm sure you'll go crazy with this Spicy Shrimp Spaghetti Recipe. This recipe is bursting with flavor and with healthy ingredients. Whole wheat pasta, fresh vegetables,  and protein.
I usually bought peeled and deveined shrimp. This will save you time because it takes 20 minutes to peel and devein the shrimp. Save your time and no hassle. I think I already mention it here on my blog.
In Spicy Shrimp Spaghetti Recipe the red sauce itself is the source of flavor. In making this yummy and delicious sauce here are the tips: I cook the sauce with butter. Then chop the fresh tomatoes, onions, bell pepper, and minced garlic. Thyme and smokes paprika and chilies complete the mixture of this tasty sauce.
I'm not a fan making a last minute dash to the store. Sounds silly right? I am afraid to run out of pasta in the pantry. I used to stock up during the sale. So, every time I need it I'm ready to go. Especially on special occasions you would agree that Spaghetti is the kids favorite. I never meet any kids that don't love spaghetti. I'm sure YOU would agree.!
What do I love about Spicy Shrimp Spaghetti Recipe? It's easy, fast, and yummylicious. Comfort food in just a handful of ingredients.
Do you like shrimp recipe? You can try Spicy Pineapple Shrimp Recipe and Avocado Shrimp Salad Tasty.
Try this Recipe.
Spicy Shrimp Spaghetti Recipe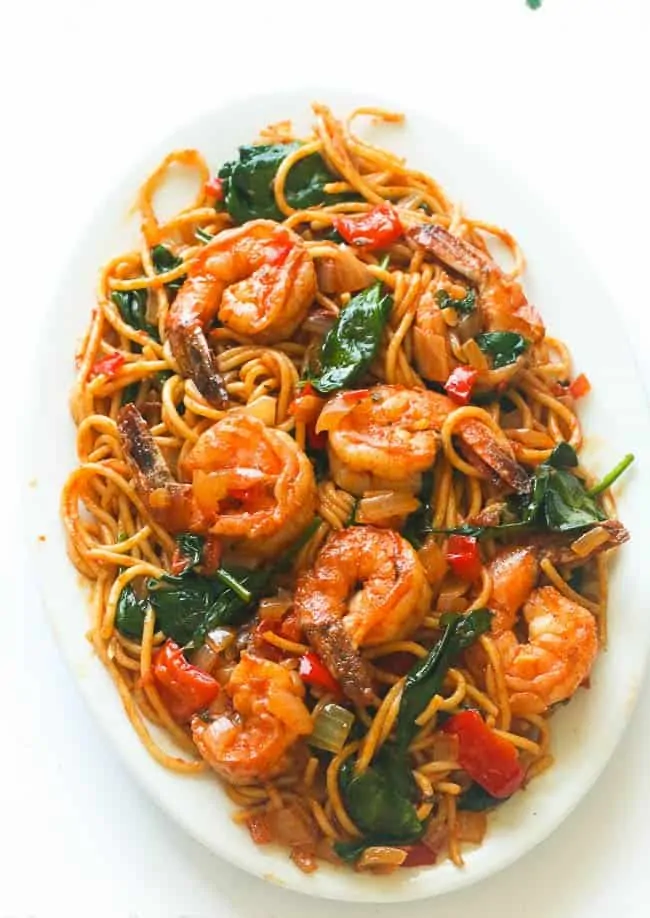 Ingredients
½ pound spaghetti
1- pound jumbo shrimp peeled and deveined
1-2 teaspoons creole seasoning
2 Tablespoon Olive oil or Canola Oil
2 Tablespoon unsalted butter
½ medium onion diced
2 medium tomatoes diced
1/2 large bell pepper chopped
2 teaspoons thyme
1 teaspoon smoked paprika
1 Tablespoon minced fresh garlic
½ teaspoon red pepper flakes or cayenne pepper optional
½ to 1 juice of one whole fresh lemon
½ cup chicken broth or more replace with ¼ cup spaghetti water and ¼ cup water with ½ teaspoon chicken bouillon
4-6 cups fresh leaf spinach
Salt and pepper to taste
Instructions
Start by boiling spaghetti in a large pot, according to the box instructions. Drain and set aside.
While the spaghetti is boiling chop onions, tomato and bell pepper, if using whole garlic then mince
Lightly season the shrimp with creole spice. Heat oil over medium heat in a heavy bottomed Dutch/ or skillet
Add, about 1-2 Tablespoons of oil, followed by shrimp, sauté for about 3-5 minutes or until the shrimp is bright red and begins to curl.
Remove shrimp from skillet and transfer to a plate
Add about 1-2 Tablespoons of butter to the pan. Followed by onions, garlic, tomatoes, thyme, bell pepper, smoked paprika and pepper flakes.
Let it simmer for about for 3-4 minutes, stirring occasionally to prevent any burns.
Pour in chicken stock, and lemon juice. Stir until combined. Cook for about a minute, and then season with salt and pepper.
Add drained spaghetti and spinach to the skillet, mix to fully combine all ingredients. Adjust seasoning to taste with salt and pepper
Turn off heat and let it soak up some of the sauce. Serve warm and garnish with lemon wedge.
https://appetizergirl.com/shrimp/spicy-shrimp-spaghetti-recipe/
I currently teach baking courses and have worked in a number of cafes and restaurants.
Check out my About Us page to find out more about me and my passion for cooking.
Welcome to Appetizer Girl