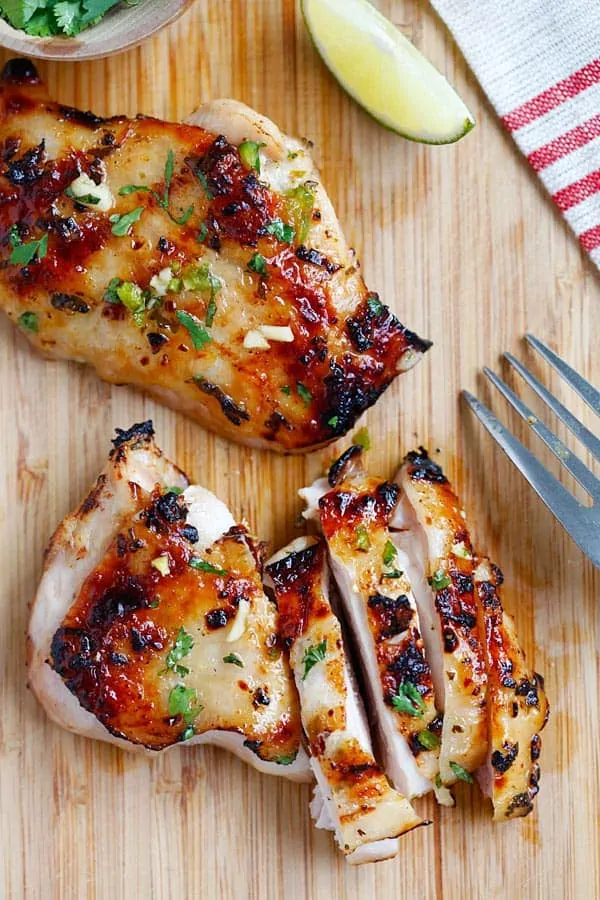 This Chili Lime Chicken Marinade recipe was one that I had been wanting to try for a while but hadn't got around to it. Its easy and quick but the marinade will take a couple of hours so do this in advance if you don't have a lot of time as the cooking time is only about 15 minutes.
The skin of the chicken is left on as it browns and crisps giving that beautiful taste that just delights the taste buds. I prefer to use a skillet to make this chicken recipe but you may also use a cast-iron pan.
I like to make this for evening meals as the aroma of the chicken fills the house reminding me of my childhood days when my mum used to cook chicken dishes.
Chili Lime Chicken Marinade Recipe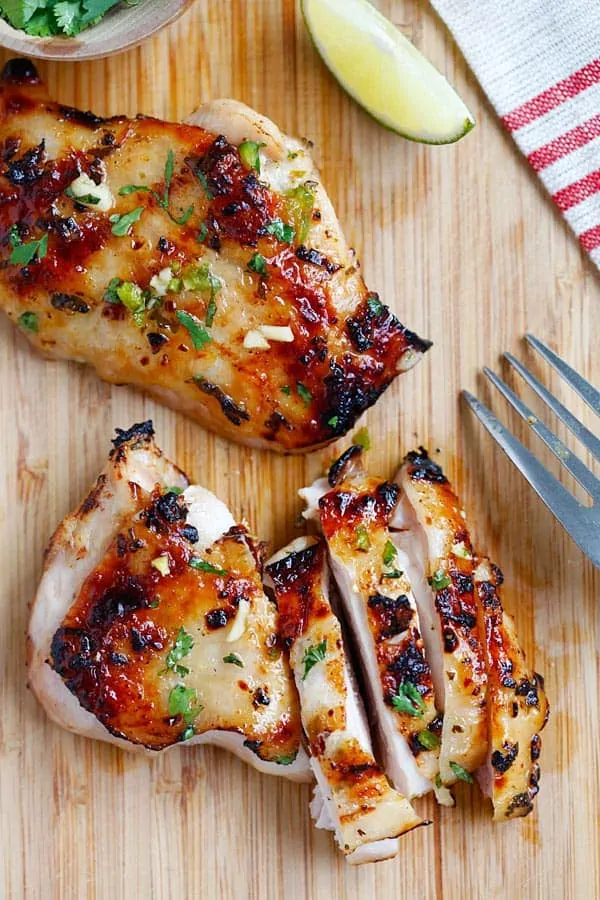 Ingredients
2 – 2.5 lbs skin on chicken thighs
Marinade:
1/2 cup lime juice
3 teaspoons lime zest
1/4 cup organic olive oil
4 tablespoons chopped finely fresh cilantro
2 jalapeño, chopped very finely
4 chopped garlic cloves
1 tablespoon honey
2 teaspoons seasalt
1 teaspoon chili powder
Instructions
Rinse thoroughly the chicken thighs, making sure to remove the bones, leave the skin on, and pat dry with paper towels. Put aside.
Get a large bowl, mixing all of the ingredients of the Marinade together using a clean whisk. Make sure that the Marinade is very well combined together.
Add the chicken to the Marinade, make sure that you stir and coat the chicken thighs evenly. Marinate for 2 hours.
Turn on the grill, brush a little bit of oil on the surface. Add a some of the garlic, cilantro, and the jalapeno from the Marinade on top of the chicken and then grill them until they turn golden brown and charred on both sides. Serve immediately.
https://appetizergirl.com/chicken/chili-lime-chicken-marinade-recipe/

If you like this Chili Lime Chicken Marinade Recipe we would love to know. Please leave a comment below and share with your friends.
I currently teach baking courses and have worked in a number of cafes and restaurants.
Check out my About Us page to find out more about me and my passion for cooking.
Welcome to Appetizer Girl