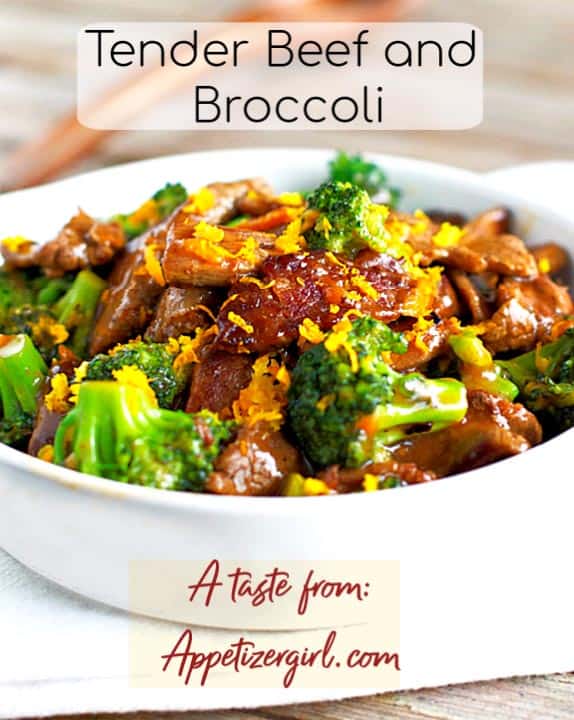 Does this Tender Beef and Broccoli look familiar to you?
If you have been following my blog, you would be familiar with this recipe, since I have been making a variation of it. You might remember the Healthy Chicken and Broccoli Stir-fry recipe that I made, which turns out great. Today, I will be using beef instead of chicken.
This dish can be better than those take out meals that you have, I'll tell you. Especially when served with rice. The zest of orange lime had dressed up to this recipe into a classic combination.
I love beef steak, the only problem, it takes a few hours to cook them. But for this recipe, no more worries. I used flank steak, very thinly sliced, so it cooks fast. I bought it online from Grassland Beef, they have a wide variation of that you can choose. Therefore, forget all the hassle in waiting time to cook it and focus on making this drolling Tender Beef and Broccoli.
I want to share with you some tips in slicing the beef thinly. Certainly, these tips are helpful. First, remember to freeze the beef within 30 minutes, so you can easily slice it thinly. If you can slice thinner than what I had, then you are lucky. Second, do you like roasted beef? Do you have some leftover? You can still use them for this recipe. But I recommend you to use uncooked beef for this recipe, for a fresh outcome.
Who would not get tempted with this fresh broccoli? Raise your hand! No one for sure. The crunchy broccoli is undeniably complementing the taste of the beef.
Additionally, who wouldn't love the creamy and yummy sauce. Ohh yum yum yum! Combination of orange juice, orange marmalade, low sodium soy sauce, beef broth, corn starch, garnishing with fresh orange zest. Ohh so-oo good! What a great recipe!
Guys, you might not be a lover of beef, but I can wrap my heart, head, and soul for this recipe. You shouldn't miss this. I thought I would share my little secret on the best beef I have purchased by far none. I shop at this shop here, you can order online as well, Grasslands Beef, Just click here and take a look at Grasslands Beef. I have found the price and quality exceptional, especially for this recipe.
Ingredients
juice of 1 orange
1 tablespoon fresh orange zest
2 tablespoons low sodium soy sauce
1/4 cup beef broth
1/3 cup orange marmalade
2 tablespoons cornstarch
1 teaspoon oil
1 lb. flank steak, very thinly sliced
2 cloves garlic, minced
1 head broccoli, washed and cut into bite-sized pieces
Instructions
First, mix the first 6 ingredients listed above, whisking until the cornstarch is dissolved. Boil the broccoli for just a few minutes, until tender crisp. The broccoli will cook a little more once you add it in with the sauce, so make sure not to boil it for too long.
Second, heat oil in a skillet over high heat.
Third, add the steak and garlic, draining off extra fat after a few minutes. Flip the pieces until each piece is cooked through and the meat is browned.
Finally, add the sauce to the pan and stir for 1 minute until the sauce starts to thicken. Remove from heat and stir in broccoli. Serve over rice and garnish with orange zest and/or scallions.
https://appetizergirl.com/beef/tender-beef-and-broccoli